Experience the joy of abbondanza (a life of plenty) at PIGNETO, where every meal is a relaxed, family-style affair. Sit beside one of the open show kitchens and watch our expert chefs craft seasonally inspired Italian cuisine, or step out onto the lively outdoor terrazza and savour sweeping Tokyo views alongside a selection of Milanese aperitivi.
Hours
Breakfast

7:00 am – 10:30 am

Last order at 10:00 am

Lunch

11:30 am – 2:30 pm

LAST ORDER AT 2:30 PM AND 4:30 PM FOR À LA CARTE

Afternoon Dining

2:30 pm – 5:00 pm

Last order at: 4:30 pm

Dinner

5:30 pm – 10:00 pm

last order at 8:30 pm and 9:00 pm for à la carte

Outdoor Terrace

Open April – October

Closed November – March
Signature Dishes
T-Bone Steak (1 kg), Chianti Wine Sauce

Tomato, Spring Basil, Olive Oil, Vinegar

Tomato Sauce, Mozzarella, Basil

Garlic, White Wine, Parsley, Garlic Bread
Italian cuisine is generous and cozy – it's food for the soul.

Marco Riva

Executive Chef
Events
Available for LUNCH & DINNER

A Trip Around Italy

The menu for November draws inspiration from the northern region Piemonte, famous for its wine, beef and delicacies of truffles. The Regioni Menu offers two beef dishes – thinly sliced veal in tonnato sauce and red wine braised beef cheeks. No trip to Piemonte would be complete without a taste from maestro pizzaiolo Alessandro de Leo's truffle pizza. Regioni Menu: JPY 13,000 for six courses. Pizza: starting at JPY 3,950.

View menu

Available Daily, 11:30 AM – 7:30 PM

TAKEAWAY PIZZA

Enjoy PIGNETO's gourmet hand-thrown pizzas by Pizzaiolo Alessandro DeLeo in the comfort of your home or office. Orders must be placed at least 30 minutes before your desired pickup time.

View Menu
Meet the Team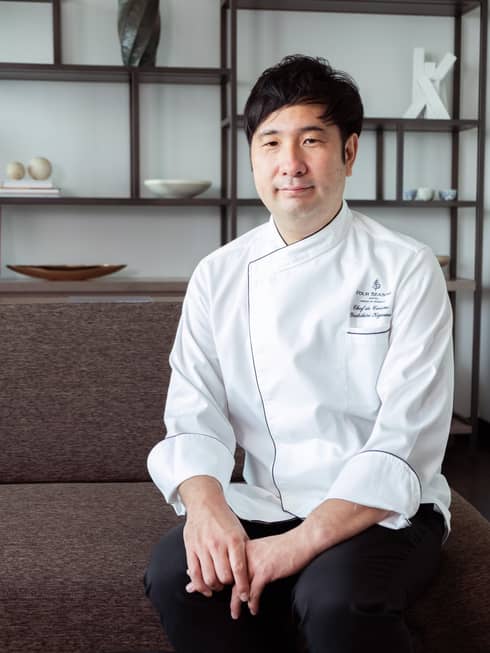 Yoshihiro Kigawa
Chef de Cuisine
Armed with years of training in Italian kitchens and under Michelin-starred masters, Chef de Cuisine Yoshihiro Kigawa brings a deep knowledge of his craft to PIGNETO. Menus are crafted through a careful process that draws on the landscape of ingredients, the skills of producers and the cultural background of dishes, along with more technical aspects such as nutritional profiles and the concentration of salt and sugar. Yoshihiro also finds creative inspiration in the myriad of shapes and colours around him, from fashion to art and architecture.
"For me, pure ingredients and thoughtful simplicity are the highest form of sophistication."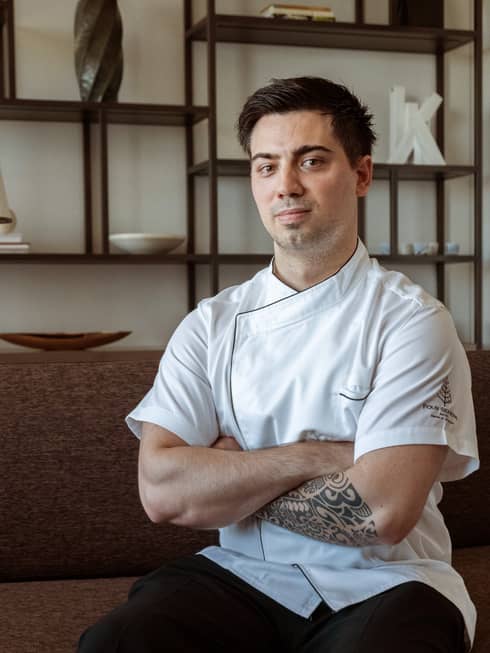 Alessandro DeLeo
Maestro Pizzaiolo
Hailing from the Italian city of Naples, Specialty Pizza Chef Alessandro Luca de Leo draws on his legacy to bring the finest traditions of pizza-making to PIGNETO. Building on authentic Italian techniques, Alessandro crafts pizzas best described as Neapolitan 2.0. In place of the standard 00 flour, he uses an innovative 0-type flour that is extremely pure and made with 100 percent Italian grains, unlike most brands in Asia which include a mix of foreign grains. This flour became available in Japan only last year, with Alessandro playing an instrumental role in bringing it to the country.
"Pizza is a way of life in Napoli. We've perfected the art over centuries – it's in our blood. If you start making pizza in Napoli, it means you want to be the best."
Jonathan Montolieu
Restaurant Manager
With an impressive track record across Paris and Tokyo, Jonathan's seemingly-relaxed approach rests on a prestigious foundation. From training employees to deliver exceptional service to creating positivity within a fast-paced work environment, Jonathan managed a well-known French restaurants including the famed L'Orangerie at Four Seasons Hotel George V, Paris. At PIGNETO, he combines his inherent passion with Michelin-sharpened credentials to infuse the dining experience with excitement, delight and a sense of abbondanza – "a life of plenty."
"We're breaking the old rules of hotel gastronomy. No stuffy service or hushed silences here – it isn't a library! We're keeping things lively, approachable and fun."