Experience the joy of abbondanza (a life of plenty) at PIGNETO, where every meal is a relaxed, family-style affair. Sit beside one of the open show kitchens and watch our expert chefs craft seasonally inspired Italian cuisine, or step out onto the lively outdoor terrace and savour sweeping Tokyo views alongside a selection of Italian aperitivi.
Hours
Breakfast

7:00 am – 10:30 am

Last order at 10:00 am

Lunch

11:30 am – 2:30 pm

LAST ORDER AT 2:30 PM AND 4:30 PM FOR À LA CARTE

Afternoon Dining

2:30 pm – 5:00 pm

Last order at: 4:30 pm

Dinner

5:30 pm – 10:00 pm

Last course order at 9:00 pm and 9:30 pm for à la carte

Outdoor Terrace

April – October
Signature Dishes
T-Bone Steak (1 kg), Red Wine Sauce

Tomato, Mozzarella, Basil

Garlic, White Wine, Parsley, Garlic Bread
Outdoor Terrace
Our sky-high, open-air terrace – a rare luxury in our exclusive Tokyo neighborhood – offers soaring views of the Imperial Palace gardens, the cityscape and Mount Fuji during select seasons. Enjoy an aperitivo, evening cocktails or meal with the best seats in town.
MEET THE TEAM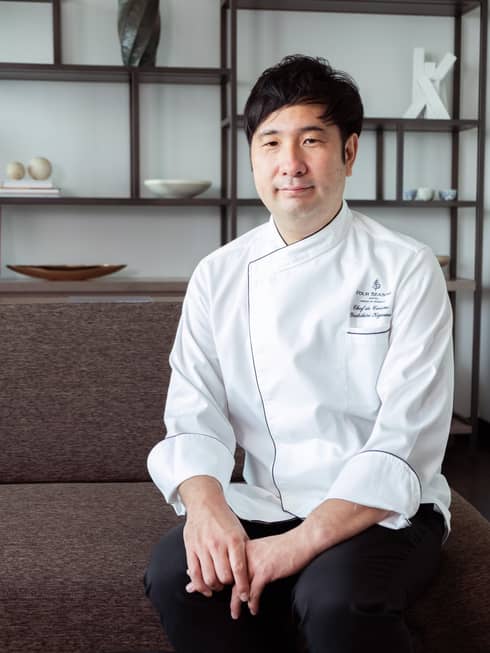 Yoshihiro Kigawa
Chef de Cuisine
Armed with years of training in Italian kitchens and under Michelin-starred masters, Chef de Cuisine Yoshihiro Kigawa brings a deep knowledge of his craft to PIGNETO. Menus are crafted through a careful process that draws on the landscape of ingredients, the skills of producers and the cultural background of dishes, along with more technical aspects such as nutritional profiles and the concentration of salt and sugar. Kigawa also finds creative inspiration in the myriad of shapes and colours around him, from fashion to art and architecture.
"For me, pure ingredients and thoughtful simplicity are the highest form of sophistication."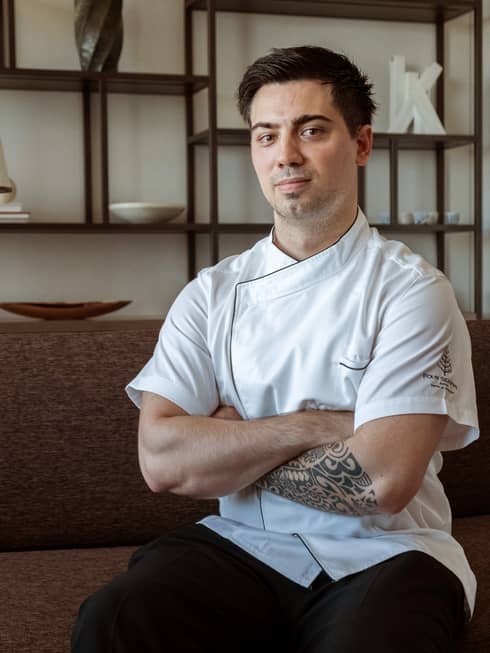 Alessandro De Leo
Maestro Pizzaiolo
Hailing from the Italian city of Naples, Specialty Pizza Chef Alessandro Luca de Leo draws on his legacy to bring the finest traditions of pizza-making to PIGNETO. Building on authentic Italian techniques, de Leo crafts pizzas best described as Neapolitan 2.0. In place of the standard 00 flour, he uses an innovative 0-type flour that is extremely pure and made with 100 percent Italian grains, unlike most brands in Asia which include a mix of foreign grains. This flour became available in Japan only last year, with de Leo playing an instrumental role in bringing it to the country.
"Pizza is a way of life in Napoli. We've perfected the art over centuries – it's in our blood. If you start making pizza in Napoli, it means you want to be the best."
Events
Available for LUNCH & DINNER

Monthly Pizza

Enjoy handcrafted pizzas by maestro pizzaiolo Alessandro de Leo. Hailing from Naples, the birthplace of pizza, de Leo brings the finest traditions of pizza-making to Tokyo. JPY 3,900.

Reserve now

Available for LUNCH & DINNER

Viaggio in Treno

Embark on a delectable train journey through Italy for a glimpse into regional Italian cuisines. Our new menu at PIGNETO winds its way through various regions of the country, inviting you to taste traditional specialties along the way. October: Central (Firenze, Rome). JPY 15,000 per person.

Reserve now