Chef Guillaume Bracaval crafts contemporary French cuisine shaped by the Japanese terroir at Michelin-starred est, which known for its eco-conscious approach to fine dining. By sourcing 95% of ingredients locally, our team supports independent farmers, fishermen and foragers across Japan.
Awards
One Michelin star on Michelin Guide Tokyo 2022
One Michelin star on Michelin Guide Tokyo 2023
Award of Excellence on Wine Spectator Restaurant Awards 2022
Hours
Lunch

Tuesday to Sunday, 12:00 noon – 3:00 pm

Last course order at 1:30 pm and 2:00 pm for à la carte

Dinner

Tuesday to Sunday, 6:00 pm – 10:00 pm

last course order at 8:00 pm and 8:30 pm for à la carte
Japan has long appreciated the presence of life in all aspects of nature – from seasonal landscapes and climates to the plentiful water sources in and around the country. This reverence is at the heart of Japanese values and culture, enabling a close relationship with nature that weaves through mystical mountains, majestic volcanoes, breathtaking coastlines and vast forests.

In a modern society, it's easy to forget the relationship between nature, food and daily life. Grocery stores are stocked with perfectly manicured and packaged ingredients year-round and our diets seem to exist outside nature's rhythms.

The team at est believes in tasting and relishing the richness of food that incorporates seasonal ingredients and coexists with nature. Drawing on this reservoir of appreciation, est presents an innovative cuisine that's in harmony with Japan's natural abundance yet rooted in classical French cooking. This culinary vision is guided by a deep desire for future generations to experience the true relationship between food and nature.

Motivated by the belief that the seeds of the future were planted in the past, our team honours those who came before them. From small-lot farmers and purveyors to independent foragers and hunters, many of our partners practice time-honoured methods passed down through generations.

Reflecting Japan's micro-seasons, our menus offer eco-conscious cuisine with a minimal carbon footprint: 95% of ingredients are of local origins. High-quality meat and seafood, such as Wakayama Wagyu and Hokkaido sea urchins, are sourced responsibly from Japanese producers, while specialty items like truffles and caviar are imported from France.

Additionally, creative desserts with an artistic flair are intricately crafted and presented. The beverage program opens another door into Japan with locally produced wines and bottled water, as well as old-world vintages and new-world discoveries.
Sustainable Highlights
Our eco-friendly offerings include tofu cheese, which is animal-free and made from soybeans.

Locally sourced ingredients

We sources 95% of our ingredients from within Japan.

Japan-focused beverages include natural wines and a water menu sourced entirely from the country's alps.

Friandise uses eight local honeys corrected by bees.
MEET THE TEAM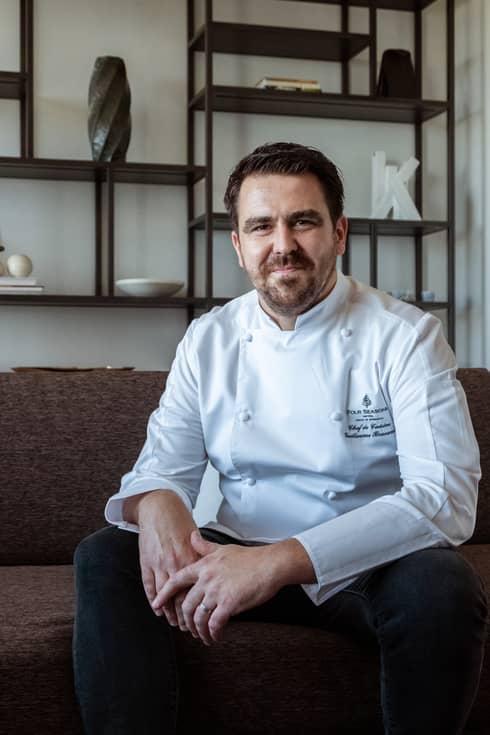 Guillaume Bracaval
Chef de Cuisine
Born in a tiny village in northern France, Chef Guillaume Bracaval found his earliest inspiration in his family's vegetable gardens and farmyard. It was there that he learned to love and respect the origins of ingredients, while in his mother's kitchen he delighted in kneading, stirring, roasting and baking. Now, at est, Bracaval presents innovative French cuisine, inspired by a deep respect for produce from the Japanese terroir.
"A good chef has to think like an artist. My creative spark can come from anywhere – from the market, from a little ramen shop or even from my wife's Japanese cooking at home."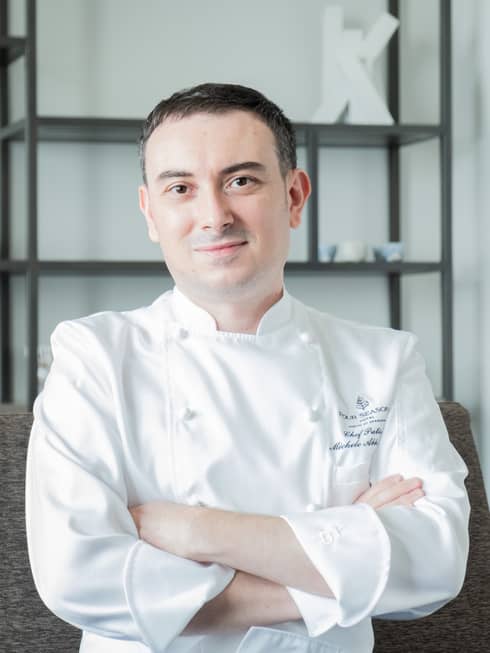 Michele Abbatemarco
Pastry Chef
From the vibrant markets of Monferrato in Italy to the elite Michelin-starred kitchens of Europe and Japan, Pastry Chef Michele Abbatemarco has been on a fascinating culinary journey ever since he was a child. While Michele's foundation in pastry-making is decidedly European, the move to Japan changed his perspective, leading to a years-long process of studying local ingredients, understanding Japanese culture and reviewing his personal recipes.
"Tastes are like poems that speak to our palate. Just like with art, we can experience emotions with a dish. If that feeling becomes a lasting memory, then my work is completed."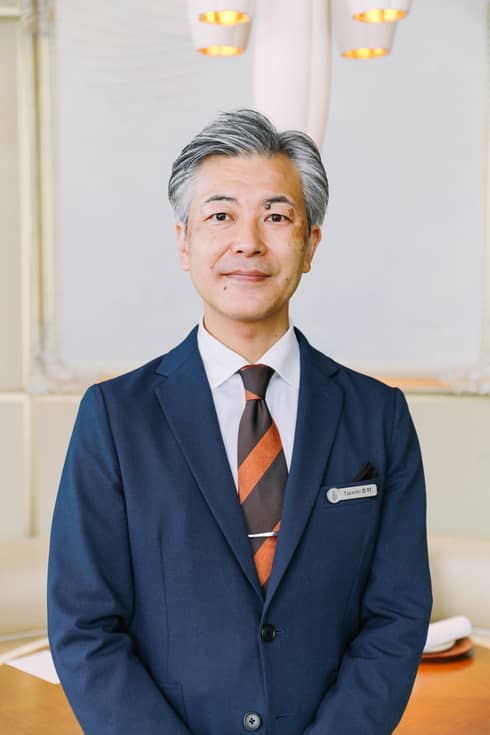 Takeshi Shimura
Head Sommelier
Growing up in Hiroshima, Takeshi Shimura was introduced to the art of gastronomy from an early age, exploring Mediterranean restaurants with his father, a professional cook, and learning about kaiseki cuisine from his mother. With nearly two decades of experience as a sommelier, Takeshi brings with him a distinctive approach to fine wine. As Head Sommelier at est, he is delighted to share the history of Japan's wine-growing prefectures and the stories behind vintage bottles, taking guests on a journey of discovery with each sip.
"When food and wine work together in harmony, they create a beautiful gastronomic landscape, bringing out intricate flavours in one another."
Events
June 15 and 16 at 6:00 pm

est x villa aida collaboration dinner

Join us for a collaboration between Chef de Cuisine Guillaume Bracaval and Chef Kanji Kobayashi of villa aida in Wakayama prefecture. With a deep respect for Japanese ingredients, est provides a new fusion of Japanese and French cuisine using French techniques while villa aida, awarded two Michelin stars for its garden gastronomic cuisine that coexists with nature, will use vegetables from its own garden. JPY 60,000 per person with a welcome glass of champagne. Add wine pairing for JPY 30,000 or tea pairing for JPY 15,000.

Reserve now

AVAILABLE FOR LUNCH AND DINNER COURSES

SEASONAL MENU

Award-winning Chef Guillaume Bracaval presents innovative French cuisine prepared with fresh produce and delicate techniques. He and Pastry Chef Michele Abbatemarco make regular visits to local farmers markets to seek out the fall's best produce and to find inspiration. The waters just off of Hakodate coastline also offer a bounty of culinary treasures for the est team to work with.