Feast your eyes on the open show kitchen as Michelin-starred Chef Guillaume Bracaval crafts innovative French cuisine inspired by the Japanese terroir. Enjoy a spirited meal in the sophisticated, modern dining room with panoramic Tokyo views.
Hours
Lunch

11:30 am – 2:30 pm

LAST ORDER AT 1:30 PM FOR COURSE AND 2:00 PM FOR A LA CARTE

Current Dinner Hours

5:30 pm – 8:00 pm

Last order at 6:30 pm. Alcohol service until 7:00 pm.

Regular Dinner Hours

6:00 pm – 10:00 pm

LAST ORDER AT 8:30 PM FOR COURSE AND 9:30 PM FOR A LA CARTE

Outdoor Terrace

March 15 – October 31

Afternoon Menu on the Terrace

Friday through Sunday & public holidays, 2:30 PM – 5:00 PM

Last order at 4:30 pm

Aperitif Hour on the Terrace (beginning March 15)

5:30 PM – 7:30 PM

Last order at 7:00 pm

EST IS CLOSED ON WEDNESDAYS.
Signature Dishes
CARPACCIO DE POISSON AUX AGRUMES

Fish Carpaccio, Herbs, Citrus

PÊCHE D'HOKKAIDO ET JARDIN DE LÉGUMES

Hokkaido, Vegetables
Events
5:30 PM – 7:30PM (LAST ORDER 7:00 PM)

Bubbles in the Sky: Santé Apéro

Welcome the turn of the season with our al fresco aperitif hour, hosted at est's open-air terrace. Gaze out at dramatic views as you sip free-flowing Champagne or cocktails for two hours. JPY 10,000 for Bollinger Champagne and cocktails; JPY 15,000 for Henriot Rosé Champagne and cocktails (free flow for two hours)

FRIDAY – SUNDAY AND PUBLIC HOLIDAYS|2:00 pm – 5:00 pm

CAFÉ GOURMAND AT THE TERRACE

Extend the sunlit celebration with light desserts, served alongside tea and coffee – a classic French tradition. Under the masterful touch of Pastry Chef Michele Abbatemarco, each sweet treat is composed like a work of art and plated with precision. JPY 5,000 per person

May 1

Four Hands Lunch & Dinner

Join two award-winning chefs for a gastronomic adventure that brings together the best of France and Japan. Chef Guillaume Bracaval teams up with Chef Hiroyuki Sato to create a menu featuring a curation of sushi, maki and sashimi, alongside a French base of meats and vegetables. A wine and sake pairing enhances each course. Lunch: seatings at 12:00 noon and 1:00; JPY 25,000. Dinner seatings at 5:00 pm and 6:00 pm; JPY 38,000.

View est Website
Meet the Team
Jonathan Montolieu
Restaurant Manager
As Restaurant Manager of est, Jonathan Montolieu sets the keynote for the dining experience. Brimming with energy, his young and dynamic team is poised to shake up Tokyo's French gastronomy scene. Jonathan combines his inherent passion with his Michelin-sharpened credentials to infuse the guest experience with warmth and excitement. Thoughtful interactions elevate the entire culinary journey, with the service team creating a dynamic ambience and revealing the story behind each plate.
"We're breaking the old rules of fine dining. No stuffy service or hushed silences here - it's not a library! We're keeping it lively, approachable and fun."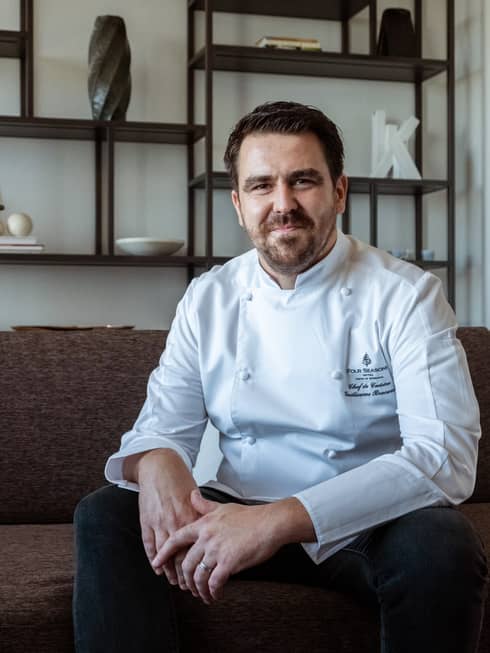 Guillaume Bracaval
Chef de Cuisine
Born in a tiny village in northern France, Chef Guillaume Bracaval found his earliest inspiration in his family's vegetable gardens and farmyard. It was there that he learned to love and respect the origins of ingredients, while in his mother's kitchen he delighted in kneading, stirring, roasting and baking. Now, at est, Bracaval presents innovative French cuisine, inspired by a deep respect for produce from the Japanese terroir.
"A good chef has to think like an artist. My creative spark can come from anywhere – from the market, from a little ramen shop or even from my wife's Japanese cooking at home."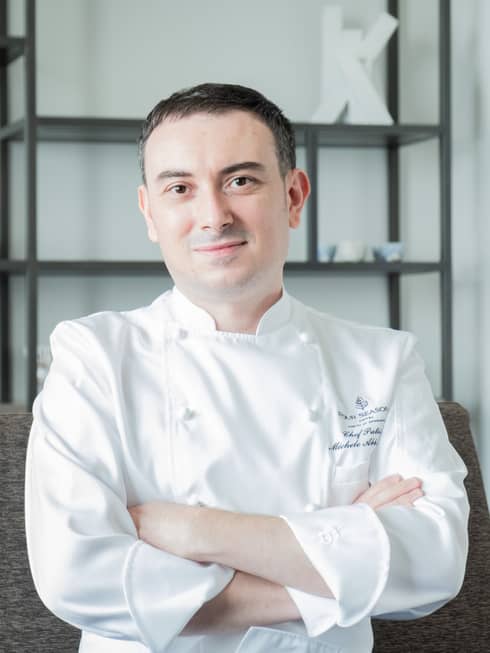 Michele Abbatemarco
Pastry Chef
From the vibrant markets of Monferrato in Italy to the elite Michelin-starred kitchens of Europe and Japan, Pastry Chef Michele Abbatemarco has been on a fascinating culinary journey ever since he was a child. While Michele's foundation in pastry-making is decidedly European, the move to Japan changed his perspective, leading to a years-long process of studying local ingredients, understanding Japanese culture and reviewing his personal recipes.
"Tastes are like poems that speak to our palate. Just like with art, we can experience emotions with a dish. If that feeling becomes a lasting memory, then my work is completed."
Yuta Yoshida
Chief Sommelier
Combining rigour with an element of surprise, Chief Sommelier Yuta Yoshida introduces a dynamic approach to wine. Along with earning a diploma from the Japan Sommelier Association, Yuta has spent years refining his talents in Tokyo's cutting-edge gastronomic landscape. His carefully curated collection draws on tradition as well as innovation, featuring venerable French and Italian winemakers alongside unsung heroes from the New World.
"Wine appreciation is as much an art as a science. From the legends and ancestry, to the viticulture and vocabulary - all these are integral components of the journey."