Hours
Spa

Monday to Thursday, 10:00 am – 8:30 pm (last entry at 7:30 pm)

Friday to Sunday and holidays, 10:00 am – 9:30 pm (last entry at 8:30 pm)

Pool & Ofuro

6:30 am – 9:30 pm

Fitness Centre

24 hours
Please note that we set maximum capacities within Spa and Fitness Facilities in consideration of physical distance. Advance reservations are required for the usage of our swimming pool and OFURO both on weekdays and weekends until further notice. Usage will be limited to one 75-minute session per stay. To make a reservation, please contact the Spa reception by phone or via the chat app.
The minimum age required to use the fitness facilities is 12 years old. Children ages 12 to 15 must be accompanied by an adult in the gym.
The minimum age required to use the pool is 5 years old. Children ages 5 to 15 must be accompanied by an adult in the pool area.
The minimum age required to use the Ofuro is 16 years old.
Favourites
THE SPA RETURN GUEST BENEFITS

THE SPA Return Guest Benefits offer exclusive welcome back perks including spa treatments, dining experiences, hotel stays and more.

Details

Embark on a luxurious journey of well-being with our tailored Spa and Fitness Membership Program.

Details

Visit THE SPA boutique by ADELAIDE for our gift collection, featuring limited edition items by Chiyono Anne and others.
Spa Services
All the treatments are available for guests over age 16.
Seasonal Offers
Yoga and Pilates Classes

Join our new expert-led yoga and pilates classes to improve your well-being.

View schedule

Now through September 30

Weekday Indulgence

Foster a sense of deep relaxation with a 60-minute or more soothing spa treatment, followed by a hydrotherapy relaxation session of equal time value.* Boost your immune system, relieve stress and reduce muscle tension as you flow between the indoor pool, rejuvenating mist chairs, vitality pool, steam room and chill showers before retreating to the skyline-facing ofuro (Japanese bath). *Complimentary access to pool and water therapy facilities is for a duration equal to the treatment time booked.

NOW THROUGH OCTOBER 31

Jasmine Citrus Refreshers

After intense summer heat and long humid days, the crisp autumn air can take its toll on our bodies with chapped lips and dry skin. This season, THE SPA is offering two seasonal body treatments using citrus and jasmine. Experience healthy and radiant skin with an exfoliating back scrub of natural rice flour and ground almonds or focus on the delicate areas of the head and neck with a hydrating treatment leaving the skin smooth and rejuvenated. Finish with a full-body oil massage using a luxurious blend of refreshing citrus and jasmine to promote cell regeneration and anti-inflammatory benefits.
Meet the Team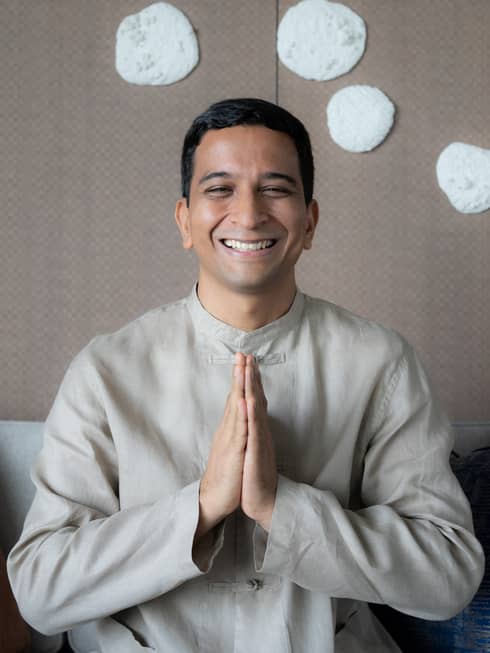 FARAAZ TANVEER
SPA DIRECTOR AND WELLNESS MANAGER
With over a decade of experience in luxury wellness, Faraaz Tanveer's approach is complemented by a sustained and genuine interest in how we can become our best selves. Inspired to delve more deeply into yogic disciplines, he spent several months training in the Indian city of Rishikesh (the birthplace of yoga) and went on to facilitate workshops around yogic healing, meditation and breathwork. Along the way, he also trained in alternative knowledge systems like Qi Gong, Reiki and Vipassana. Anchored by a vision of integrated wellness, Faraaz also has a keen interest in creating new avenues to relaxation and renewal.
"Life is a balance of attention and intention. With focused attention and conscious intention, life flows smoothly and allows you to achieve so much more."
Wellness Services
Correct your movements and improve the quality of your training with Mirror Fit, an advanced device designed for self training.
Indoor Pool

Take your workout to the water or simply enjoy a leisurely swim in our heated pool, framed by energizing views and natural light. Experience our refreshing mist chairs between dips, then wind down with a relaxing hydromassage in the vitality pool.
Personal Training

Book a one-on-one training session with an instructor to work on your individual fitness goals. Yoga and stretch sessions are also available.
Join our new expert-led yoga and pilates classes to improve your well-being.
Journey from the bustling city life of Tokyo and shift your awareness inwards with Moving Into Stillness well-being workshops.
DAY PASS

Visitor pass for 120 minute-use of our swimming pool and Ofuro facility is available weekdays for JPY 12,650 per person. Prior reservation is required.
Float above the city in our relaxing sanctuary on the 39th floor. After a few laps in our 20-metre (66-foot) indoor heated pool, enjoy a soak in the warm waters of our adjacent vitality pool, or simply lie back on one of our poolside chairs or sofas and lose yourself in total relaxation.

Reservations

Enhance your journey of well-being with our water and heat facilities. Steam rooms and Ofuro (Japanese baths) are available in both the men's and women's locker rooms.

INSTRUCTOR-LED WELLNESS CLASS

From pilates to yoga sessions, immerse yourself in these diverse wellness practices.

Our 24-hour gym looks out to sweeping views of the Imperial Garden and the Tokyo skyline. There's no better backdrop for a workout – be it a heart-pumping run or your favourite yoga asanas.