Hours
Spa

Monday to Thursday, 10:00 am – 8:30 pm (last entry at 7:30 pm)

Friday to Sunday and holidays, 10:00 am – 9:30 pm (last entry at 8:30 pm)

Pool & Ofuro

6:30 am – 9:30 pm

Fitness Centre

24 hours
Minimum Age Requirements
Fitness Facilities: 12
Ofuro and Steam Bath: 16
Locker Areas: 4
Pool: None; Children under age 4 must wear swimming diapers
*Children under age 16 must be accompanied by an adult in all facilities.
Spa Services
All the treatments are available for guests over age 16.
Seasonal Offers
Weekdays, 7:00 am – 9:00 pm

Spa Day Pass

With our spa day pass, enjoy access to our facilities, including fitness centre, pool, jetted tub, hot bath, steam sauna and lockers. Swimwear, gym wear and shoes are available for rental. Towels, drinking water and swimming caps are complimentary. Room reservations not required. JPY 12,650 per person (ages 16 and up).

Email us

Available beginning November 11

Deep Sleep Rituals Treatment

Combined with NEOM Sleep Body Oil, prepare for a restful night with a blend of 19 essential oils. English lavender calms both the mind and body, coupled with sweet basil and heady jasmine for potent sleep. The 60-minute treatment soothes tension at the head, neck, shoulders and back to activate the parasympathetic "lulling" response, whereas the 90-minute treatment includes a warm clay pack placed on the sacral area to promote deep muscular release, remove swelling and promote detoxification. 60 minutes: JPY 36,700; 90 minutes: JPY 46,900.
Meet the Team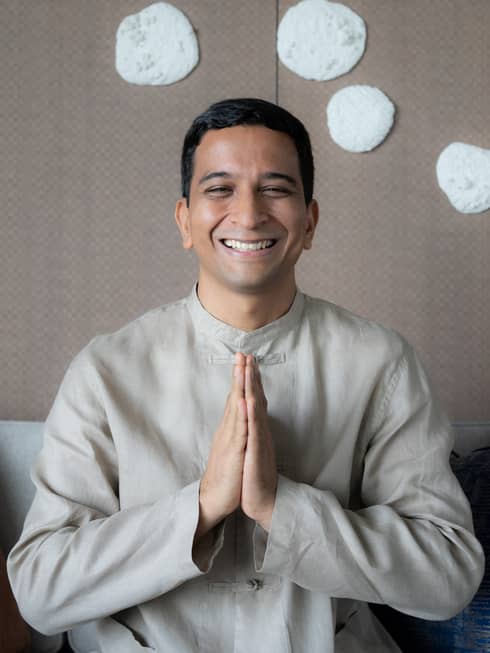 FARAAZ TANVEER
Senior Director of Spa
With over a decade of experience in luxury wellness, Faraaz Tanveer's approach is complemented by a sustained and genuine interest in how we can become our best selves. Inspired to delve more deeply into yogic disciplines, he spent several months training in the Indian city of Rishikesh (the birthplace of yoga) and went on to facilitate workshops around yogic healing, meditation and breathwork. Along the way, he also trained in alternative knowledge systems like Qi Gong, Reiki and Vipassana. Anchored by a vision of integrated wellness, Faraaz also has a keen interest in creating new avenues to relaxation and renewal.
"Life is a balance of attention and intention. With focused attention and conscious intention, life flows smoothly and allows you to achieve so much more."
Wellness Services
Indoor Pool

Take your workout to the water or simply enjoy a leisurely swim in our heated pool, framed by energizing views and natural light. Experience our refreshing mist chairs between dips, then wind down with a relaxing hydromassage in the vitality pool.
DAY PASS

Visitor pass for 120-minute use of our swimming pool, ofuro, steam sauna and fitness centre is available weekdays for JPY 12,650 per person. Prior reservation is required.
Embark on a journey of wellness and healing with results-driven wellness programs that incorporate proven healing modalities, spa rituals, mindfulness practices and nutrition, tailored to address some of the most common challenges brought about by our modern lifestyles.
Float above the city in our relaxing sanctuary on the 39th floor. After a few laps in our 20-metre (66-foot) indoor heated pool, enjoy a soak in the warm waters of our adjacent vitality pool, or simply lie back on one of our poolside chairs or sofas and lose yourself in total relaxation.

Enhance your journey of well-being with our water and heat facilities. Steam rooms and ofuro (Japanese baths) are available in both the men's and women's locker rooms.

INSTRUCTOR-LED WELLNESS CLASS

From pilates to yoga sessions, immerse yourself in these diverse wellness practices.

Details

Our 24-hour gym looks out to sweeping views of the Imperial Garden and the Tokyo skyline. There's no better backdrop for a workout – be it a heart-pumping run or your favourite yoga asanas.