All Food and Drink
Experience the joy of abbondanza (a life of plenty) at PIGNETO, where every meal is a relaxed, family-style affair. Sit beside one of the open show kitchens and watch our expert chefs craft seasonally inspired Italian cuisine, or step out onto the lively outdoor terrace and savour sweeping Tokyo views alongside a selection of Italian aperitivi.

Chef Guillaume Bracaval crafts contemporary Japanese-French cuisine at Michelin-starred est, which is known for its eco-conscious approach to fine dining. By sourcing 95% of ingredients locally, our team supports independent farmers, fishermen and foragers across Japan.

Snacks and cocktails

VIRTÙ

Pay homage to the art of drinking at VIRTÙ, where our head bartender employs modern Japanese techniques to reinterpret classic French flavours using our world-leading collection of vintage French spirits and rare cognacs.

Sweets and savouries, Afternoon Tea

THE LOUNGE

Take afternoon tea to new heights with a colourful and imaginative selection of seasonal sweets and savouries against the beauty of Tokyo afar. Indulge in delectable dishes and toast to life's special moments as you enjoy live music and unobstructed sky-high views.

In-Room Dining

Whether it's a late-night meal, breakfast in bed or a midday pick-me-up, make your selection from our extensive menu and we'll provide an incredible dining experience in the comfort and privacy of your guest room or suite.

Celebrate in the comfort of your own home with artful cakes for all occasions. A selection of cookies, chocolate gifts and homemade pizza from PIGNETO is also available.
Great food, great company – there's no better combination. From private sushi dinners, to intimate whisky experiences, light up your stay with our tailored collection of inspiring gourmet adventures.
Featured Culinary Experience
Seasonal Specialty Course at Est (Dinner)

"Est" (ten-course dinner) introduces you to contemporary Japanese-French cuisine at Michelin-starred est – known for its eco-conscious approach to fine dining. Sourcing 95% of ingredients locally, our team supports independent farmers, fishermen and foragers across Japan.

Learn More
Events
AVAILABLE FOR LUNCH & DINNER

VIAGGIO IN TRENO at PIGNETO

Embark on a delectable train journey through Italy for a glimpse into regional Italian cuisines. Our new menu at PIGNETO winds its way through various regions of the country, inviting you to taste traditional specialties along the way. December: Northern Mountainous Area (Domodossola, Milan and Torino). JPY 15,000 per person.

Reserve now

December 1–25

Festive Afternoon Tea at THE LOUNGE

Join us for afternoon tea at The Lounge, adorned with festive décor. The tables' crimson curves draw your attention to the glass desserts, while the elegant yet playful sweets embellished with snowflakes and ornaments enhance the Christmas spirit. For the savoury selection, truffles and foie gras, essential ingredients for France's festive season, create a lavish afternoon tea experience. Weekdays JPY 9,800; weekends: JPY 10,800 with a SABOE tea selection.

Reserve now
MEET THE TEAM
SATORU HIRANO
Executive Chef
Growing up in Yokohama, Saturo Hirano developed a love of gastronomy from both his parents. His mother owned a coffee shop where he would help out as a child, while his father loved to dine at renowned restaurants, giving young Hirano the chance to sample a range of fine foods very early in life. In 2020, Hirano's growing reputation caught the eye of the pre-opening team of Four Seasons Hotel Tokyo at Otemachi. Originally joining as Banquet Chef, he was soon promoted to Executive Sous-Chef and then Executive Chef, a role in which he oversees the entire culinary operations at our Hotel.
"The secret lies in building strong, consistent relationships across the entire culinary journey. By working together, we are able to create an extraordinary dining experience to delight our guests."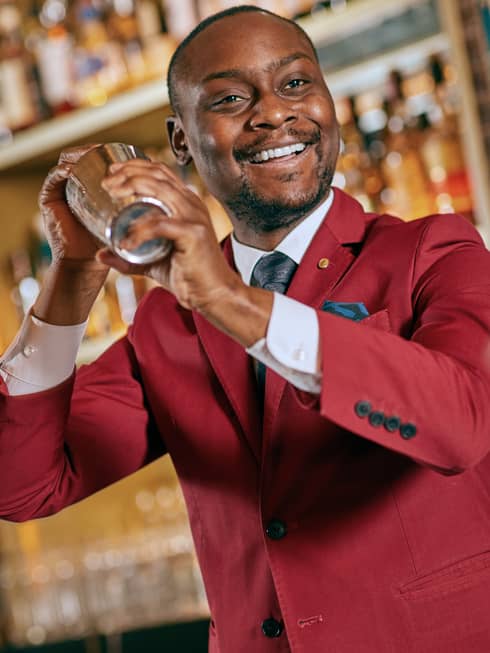 Keith Motsi
Head Bartender and Beverage Operations at VIRTÙ
Bringing an intriguing blend of charisma and diligence behind the bar, Keith Motsi oversees an extraordinary drinking experience at VIRTÙ, our Paris-meets-Tokyo bar. Here is a Head Bartender who does it all, from keeping a close eye on whether each guest is having a memorable time to putting on his dancing shoes on lively nights – regulars will soon know all his signature moves.
"At the end of the day, we are on stage. And every moment is showtime."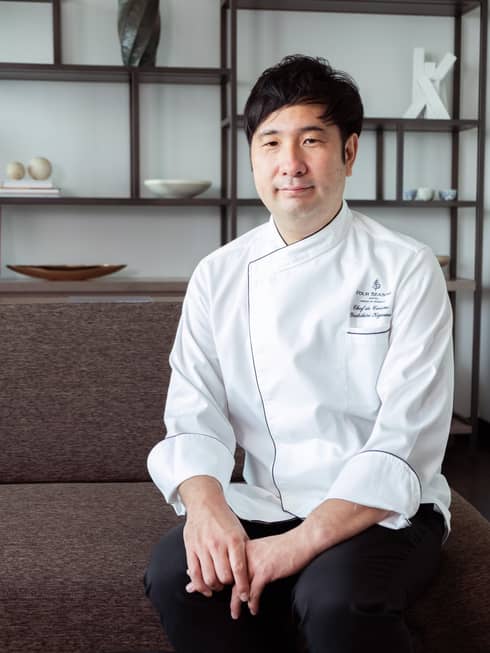 Yoshihiro Kigawa
Chef de Cuisine at PIGNETO
Armed with years of training in Italian kitchens and under Michelin-starred masters, Chef de Cuisine Yoshihiro Kigawa brings a deep knowledge of his craft to PIGNETO. Menus are crafted through a careful process that draws on the landscape of ingredients, the skills of producers and the cultural background of dishes, along with more technical aspects such as nutritional profiles and the concentration of salt and sugar. Kigawa also finds creative inspiration in the myriad of shapes and colours around him, from fashion to art and architecture.
"For me, pure ingredients and thoughtful simplicity are the highest form of sophistication."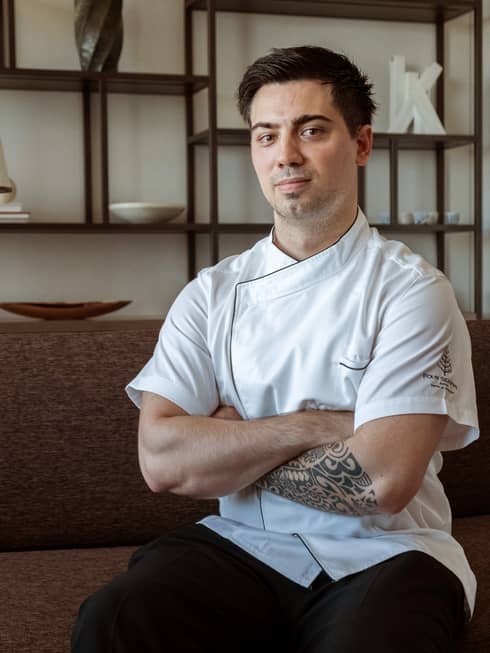 Alessandro De Leo
Maestro Pizzaiolo at PIGNETO
Hailing from the Italian city of Naples, Specialty Pizza Chef Alessandro Luca de Leo draws on his legacy to bring the finest traditions of pizza-making to PIGNETO. Building on authentic Italian techniques, de Leo crafts pizzas best described as Neapolitan 2.0. In place of the standard 00 flour, he uses an innovative 0-type flour that is extremely pure and made with 100 percent Italian grains, unlike most brands in Asia which include a mix of foreign grains. This flour became available in Japan only last year, with de Leo playing an instrumental role in bringing it to the country.
"Pizza is a way of life in Napoli. We've perfected the art over centuries – it's in our blood. If you start making pizza in Napoli, it means you want to be the best."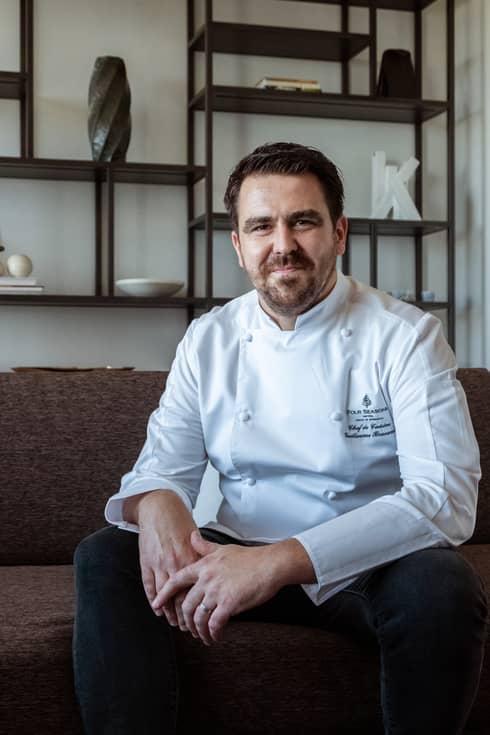 Guillaume Bracaval
Chef de Cuisine at est
Born in a tiny village in northern France, Chef Guillaume Bracaval found his earliest inspiration in his family's vegetable gardens and farmyard. It was there that he learned to love and respect the origins of ingredients, while in his mother's kitchen he delighted in kneading, stirring, roasting and baking. Now, at est, Bracaval presents innovative French cuisine, inspired by a deep respect for produce from local producers.
"A good chef has to think like an artist. My creative spark can come from anywhere – from the market, from a little ramen shop or even from my wife's Japanese cooking at home."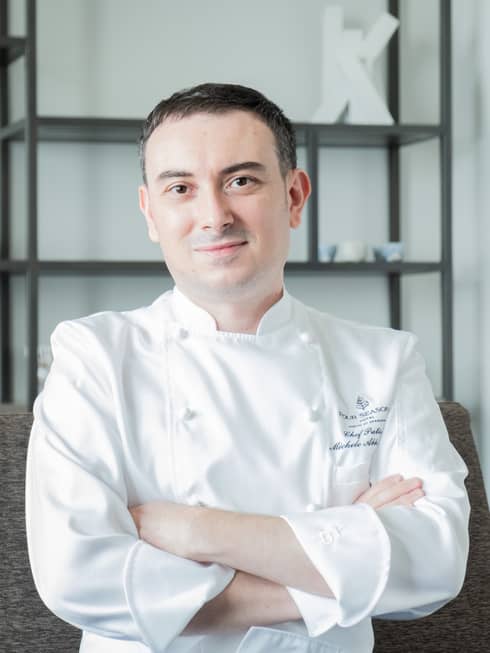 Michele Abbatemarco
Pastry Chef at est
From the vibrant markets of Monferrato in Italy to the elite Michelin-starred kitchens of Europe and Japan, Pastry Chef Michele Abbatemarco has been on a fascinating culinary journey ever since he was a child. While Michele's foundation in pastry-making is decidedly European, the move to Japan changed his perspective, leading to a years-long process of studying local ingredients, understanding Japanese culture and reviewing his personal recipes.
"Tastes are like poems that speak to our palate. Just like with art, we can experience emotions with a dish. If that feeling becomes a lasting memory, then my work is completed."