Guest Rooms (4)
Our stylish and well-appointed Guest Rooms offer the very best in comfort and privacy, while providing a peaceful retreat in which to relax and unwind throughout your stay.
Suites (7)
Ideal for both business trips or family vacations, these expansive Suites provide all the extra space you could need for your stay, with separate sleeping and living spaces.
Featured Amenities
Complimentary Premium Wi-Fi
Barrier-free rooms
We offer barrier-free rooms for guests with special needs. In addition, we also have accessible rooms that comply with the criteria of the "Barrier-Free Building Ordinance" by the Tokyo Metropolitan Government, which ensures more comfortable accessibility for the elderly and people with disabilities. For inquiries or to make reservations, please contact us.
Design and Features
A STUDY IN CONTRASTS
Our 190 guest rooms and suites ensconce you in a sophisticated urban haven, with the vivid contrast between the Four Seasons modern design aesthetic and traditional Japanese elements resulting in a harmonious simplicity of comfort and style.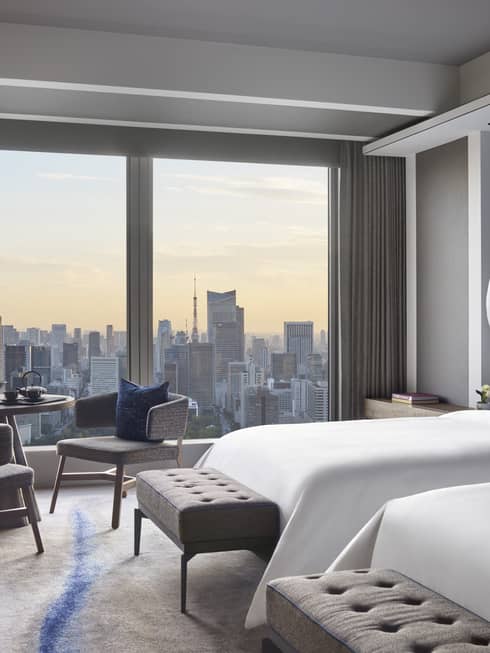 A CITYSCAPE AS CANVAS
See Tokyo from on high in the comfort of your guest room or suite. With spectacular Imperial Palace, Mount Fuji and cityscape views on full display, the large windows draw in natural light and showcase the energy of a city perpetually in motion.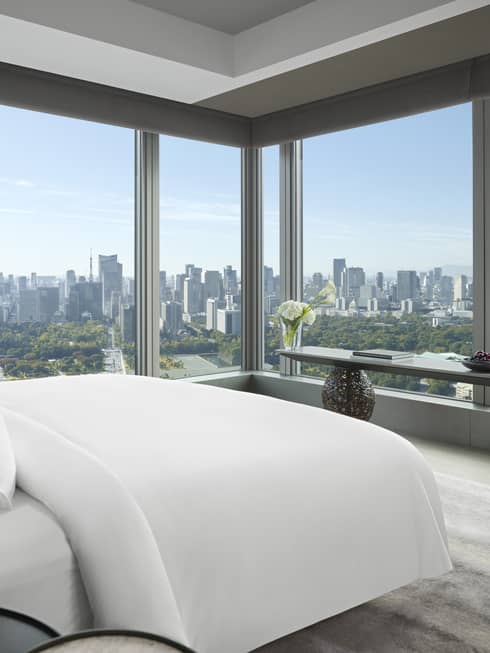 Connecting Rooms
A perfect choice for multigenerational families, two families or groups travelling together to go back and forth between two or more rooms without using the hallway. Our connecting rooms are available for the Superior Room – City View, Superior Room – Imperial Garden View, Premier Studio, Panoramic Suite or Imperial Suite categories, and offer more comfort by adding extra space, privacy and convenience.