Restaurants
Bahía by Richard Sandoval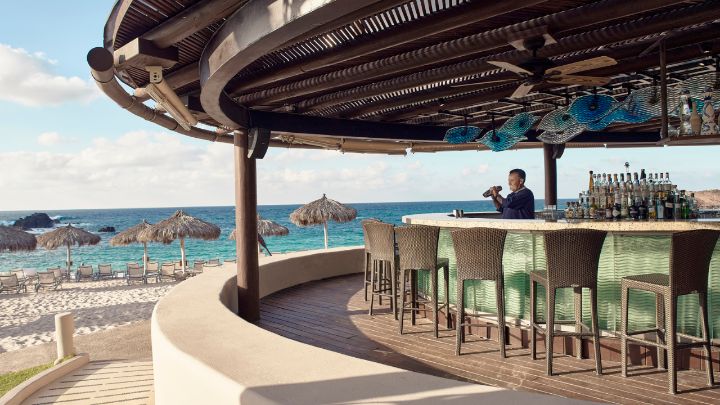 Named for the Spanish word for "bay," Bahía by Richard Sandoval enjoys a prime spot amongst giant manzanilla trees on the Resort's Las Cuevas beach. This contemporary seafood-centric beachfront grill and restaurant offers a relaxed atmosphere with a sleek, contemporary Mexican design.

Overview
In Bahia, Richard Sandoval is taking full advantage of the daily bounty to the Resort's beach by local Puerto Vallarta area fishermen. Enjoy an innovative beach front grill menu that tastes just picked and just caught.

This restaurant has been positioned to take advantage of the cool ocean breezes and some of the best views of Punta Mita sunsets. Three times a week, the chef gathers guests on the beach to participate in our famous "catch of the day" programme, where guests can work with the chef to choose from a variety of fresh seafood right off a local fishing boat. The chef will prepare selections as requested.

Bahía features al fresco seating areas, perfect for large parties. Bahía's bar is the perfect place to enjoy one of our own global coastal list of cocktails while gazing at the Pacific. The restaurant also offers an à la carte and children's menu.
Specialties
Chef Sandoval re-interprets coastal Latin cuisine, blending traditional Latino flavours with global ingredients. Start your meal with a variety of small plates, made for sampling and sharing. From the wood burning grill, choose fresh seafood, served ocean to table, prime cuts of beef, or pork and chicken seasoned with vibrant Latin marinades. Signature sauces and spice blends accompany each dish, along with plentiful sides of local market produce.
Learn more about Richard Sandoval
Cooking classes
Every Thursday, Bahía hosts cooking classes with one of our chefs. Participants learn about each stage of the preparation of a fresh seafood lunch featuring their choice of fish from the catch of the day. The first half of the four-hour class is devoted to cooking instruction, while the second half is spent savouring the results. For more information or to book a class, contact Bahía at +52 (329) 291-6000, extension 3208.
Hours
Dinner
Thursday to Monday
6:00 pm – 11:00 pm
Note: Hours vary seasonally.
Please contact the restaurant directly for more information.
Quick Reference
Location
Las Cuevas beach
Attire
Casual
Reservations
Required