Take a seat at the intimate sushi bar for a hand-selected meal of fresh-caught fish, share a one-of-a-kind dining experience at our private teppan table, or join friends and family on the cliff-side terrace: At any spot, you'll savour the innovative Japanese cuisine of world-renowned Chef Nobu Matsuhisa, next to sweeping views of the Pacific Ocean.
HOURS
Open Daily

5:30 pm – 8:30 pm (last seating)
Signature Dish
Black cod steeped in sweet miso, then oven-baked to perfection
I want to make people happy with my food. This means buying high-quality ingredients and using only the freshest fish.

Nobuyuki "Nobu" Matsuhisa

Chef and Restaurateur
The Team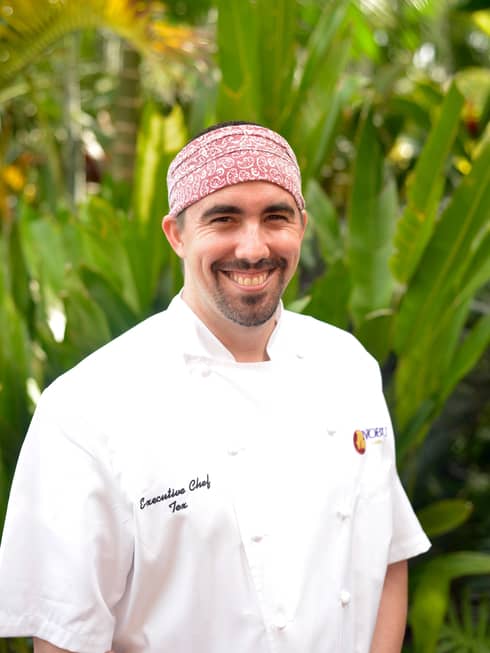 Christopher "Tex" Texeira
Executive Chef, NOBU LANAI
Born and raised on Kailua on Oahu, Chef Tex jumped right into the culinary world after high school, attending the KCC Culinary Arts Program in Oahu and never looking back. He now brings more than 15 years of experience to NOBU LANAI, being well-versed in Nobu's famed philosophy and style, having worked in the kitchens at Nobu Waikiki before heading to Lanai to help open our Resort's restaurant in 2012. He couldn't stay away for long, though, and ultimately returned to Lanai in 2013, eager to enjoy the island's peaceful quietness and become a member of our close-knit community.
Events
On request with seatings at 6:00 pm and 8:00 pm

Teppanyaki at NOBU LANAI

Enjoy an unforgettable, 15-course, private-dining experience consisting of fresh, local ingredients simply yet elegantly prepared. You'll have NOBU LANAI's eight-person teppan table all to yourself, allowing for a unique opportunity to converse with and observe Teppanyaki Chef Hung Nguyen up-close.