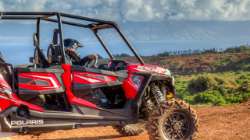 Unlimited Activities with Your Stay
Add our Love Lanai Unlimited Activities Pass to enjoy unlimited championship golf, horseback riding, Polaris off-road adventures, archery/clays, mountain biking, tennis and water sports.

Offers available at Lanai (6)
Offers available at Lanai (##)
Best Rate Guaranteed
Book direct and get the best rate, most favourable cancellation terms and our highly personalized service, guaranteed.
Room Rate
Best available Room Rate. Our most flexible option.
Discover Lanai
Use your valuable activity credit to experience a variety of exciting land and ocean activities.
Love Lanai
Enjoy unlimited activities, including golf, horseback riding, off-road adventures, sporting clays, archery, mountain biking, tennis, water sports and more.
Bed and Breakfast
Enjoy a perfect night's sleep followed by an expertly prepared meal from our top-rated chefs – a flawless way to start your day.
We're sorry, Lanai does not support online booking at this time. Please call 1 (800) 321-4666 for assistance.