Favourites
Lanai Tai Signature Scrub

Pineapples hold a special place in Lanai, once home to an island-wide, pineapple plantation. This fragrant scrub uses the antioxidant-rich fruit mixed with honey and sugar to leave your skin refreshed and smelling sweet.

This cooling, aromatic wrap begins with wild algae, aloe vera and green-tea gel, followed by a calming overlay of fresh ti leaves, perfect for sun-drenched summer skin.
Spa Services
Wellness Services
On the beach or in our state-of-the-art studio, practise mindfulness and build strength and flexibility during a variety of yoga classes, no matter your skill level.
Find your centre during a guided mediation session, learn the graceful movements of tai chi, or allow our expert instructors to customize a private wellness session just for you.
Live, Play, Namaste. Pair activities with tailored massage treatments and wellness classes designed to aid recovery and rejuvenation to enhance your stay.
The Team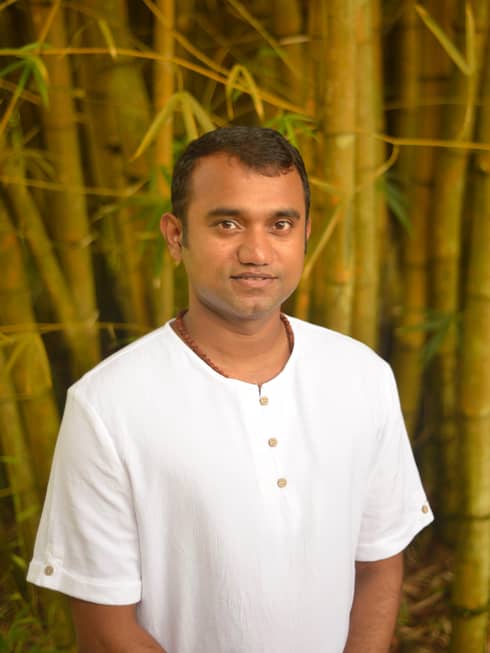 Rajanish Govind
Resort Yogi
Inspired by Sadguru Mani Swamy at Sadguru Yogashram Palakkad in Kerala, India, Rajanish started his yoga journey at the age of 15. His yoga practices and teachings emphasize a variety of styles, including hatha yoga, vinyasa yoga, power yoga, kriya yoga, therapeutic yoga and Vipassana meditation. In addition to leading these sessions, he provides private and group yoga instruction, yoga therapy, pregnancy yoga, lectures on yoga philosophy and more at our Resort. Trained by AntiGravity yoga founder, Christopher Harrison, Rajanish is excited to share this high-flying technique with guests in our new Yoga Studio.
Suite Serenity just for two

Spend four blissful hours in your private couple's suite, enjoying side-by-side, oceanic body scrubs, signature Hawanawana massages and facials, and light, healthy plates topped with glasses of Champagne to toast your time together.

Ten suspended, silk hammocks welcome all skill levels for fun and liberating AntiGravity Yoga sessions that can help reduce stress and pain while restoring length and openness in your spine.

Indulge in pure pampering from head to toe with a foot scrub, a mask and a warm, oil scalp treatment during this aromatic massage experience.