Meet up with friends and mingle indoors by the fireplace, grab a seat at the sleek and modern bar, or, book a table on the large waterside terrace overlooking the pond garden and enjoy the uncomplicated, seasonal menu at our relaxed, light-filled brasserie.
Breakfast

7:00 am – 10:30 am

Lunch

11:30 am – 2:30 pm

Dinner

5:30 pm – 10:00 pm

Friday, November 16, 2018

Closed for a private event from 2:30 pm to 10:00 pm
Signature Dishes
with seasonal vegetables consommé, aroma of ginger cooked to crispy perfection Matsukasa-yaki style

seasonal Japanese ingredients at the height of their flavour, gathered from regions specializing in the very best

Tamari Soy sauce infused with Sansho Pepper served with Kyoto brown rice risotto.

Start your morning with a visit to our fresh and flavourful breakfast buffet
Our modern European menu is made using local Kyoto ingredients as well as fresh, seasonal ingredients from Japan as much as we can.

Tsuyoshi Iryo

Head Chef
Events
December 5, 10:00 am reception, 10:30 am – 12:00 noon seminar and 12:00 noon - 2:00 pm lunch

Cooking Seminar & Luncheon

Join us for a "Christmas Feast" created by Brasserie Chef de Cuisine Tsuyoshi Iryo and Executive Pastry Chef Yoshihide Hamamoto, followed by a luncheon with selected wines. Prices start at JPY 12,000.

September 10 – November 30, from 5:30 pm to 10:00 pm

Discover Dinner Course

Ingredients from across Japan have been gathered to create this special dinner course. Mushrooms from Nagano Prefecture are steamed for six hours to create "mushroom tea." A plush sauté of Rockfish from Nagasaki joins tenderloin of Hiraigyu, Kyoto' s top brand of beef, as the main dish. Other seasonal delicacies find a place in our celebration of Japanese flavours, recommended in particular for those visiting from abroad. Prices start at JPY 16,000 (Subject to 15% service charge and 8% consumption tax).

Friday, October 12 – Sunday, November 11, 2018, 4:30 pm – 7:00 pm

Kyoto Bakushu Craft Beer

Now is the time to enjoy a glass of beer at the Brasserie terrace overlooking our Shakusui-en pond garden amidst the beautiful changing leaves. Kizakura Kyotobakushu is the first craft beer in Kyoto established in 1995 by Fushimi ward's largest sake brewerer, Kizakura. Enjoy the selection of beers on tap or try our beer tasting set with our a la carte menu that includes the likes of Kyoto Kuro Shichimi Spicy Sausage.
Meet the Team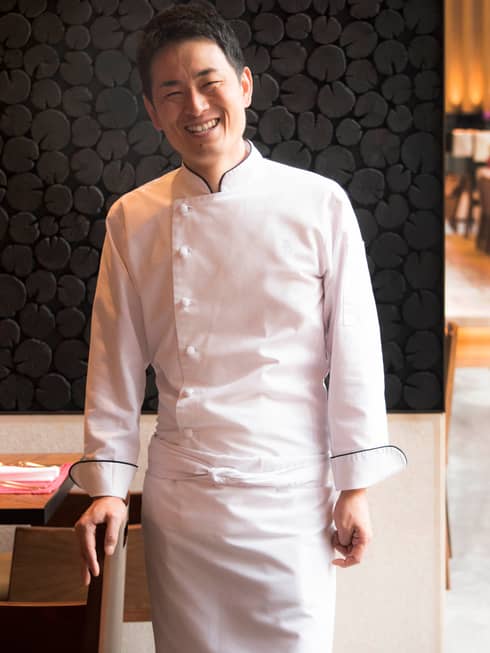 Tsuyoshi Iryo
Head Chef
Chef Iryo sees it as his cultural duty to showcase the abundance of Kyoto's fresh ingredients in dishes that encapsulate Brasserie's ethos. Take his signature crispy amadai: a snapper-like fish cooked Matsukasa-yaki style enveloped by a crystal clear crustacean consommé with local ginger. Or his equally noteworthy duck confit with maple and sansho pepper for a teriyaki twist, served with Kyoto brown rice risotto.
"I like simplicity. Our team is very selective when it comes to ingredients."