Meet up with friends and mingle indoors by the fireplace, grab a seat at the sleek and modern bar, or, book a table on the large waterside terrace overlooking the pond garden and enjoy the uncomplicated, seasonal menu at our relaxed, light-filled brasserie. * Please note that hours may change without notice. Chat with us to ask for more information.
HOURS
Breakfast

7:00 am – 10:30 am

Lunch

11:30 am – 2:30 pm

Dinner

5:30 pm – 9:00 pm

Please note that hours may change without notice. For information, please contact the hotel directly.
Champagne Garden
Friday, July 3 – Sunday, November 8, 4:00 pm – 7:30 pm

Indulge in Champagne, served in the relaxing atmosphere of the terrace overlooking the historic Shakusui-en pond garden, during our free-flowing premium Champagne promotion, extended for a two-month period this year. Accompanied by an array of canapés created for the occasion by Chef de Cuisine Ryuji Koga, Champagne from famed Maison Bollinger, founded in 1829, complements the spring season.
Signature Dishes
with burrata cheese and truffle

with caviar and hazelnut oil

Start your morning with our fresh and flavourful breakfast, from American style to Authentic Japanese style.
My mantra and guiding principle is to only ever serve food that I think is pleasing to the eye and delicious to the palate.

Ryuji Koga

Chef de Cuisine
Meet the Team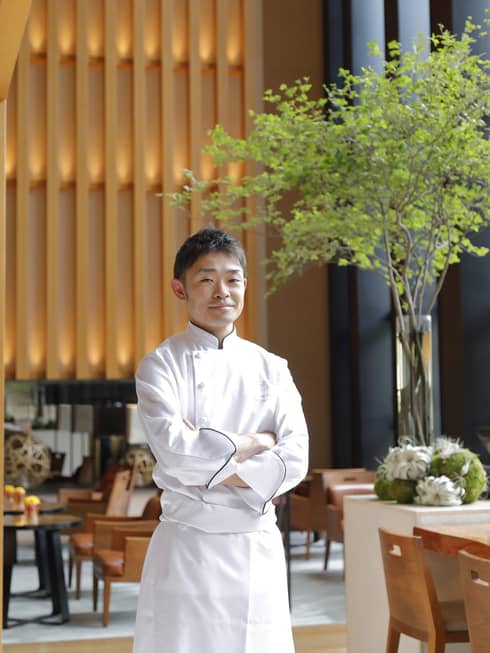 Ryuji Koga
Chef de Cuisine
Chef Koga, the first Japanese Sous Chef of Le Cinq at Four Seasons Hotel George V, under three-star Michelin Chef Christian Le Squer, provides an unrivalled culinary experience by merging meticulous French cuisine techniques with Japanese ingredients, creating his own style of Japanese-French fare at the Brasserie restaurant at Four Seasons Hotel Kyoto.
Events
Premium Gift Certificate

Purchase a Four Seasons Premium Gift Certificate by September 30, 2020, to enjoy additional value. Take time for yourself and experience something new together. With this limited-time Premium Gift Certificate, you can enjoy accommodation, dining, spa treatments and activities at Four Seasons Hotel Kyoto.

Details

Friday, July 3 – Sunday, November 8, 4:00 pm – 7:30 pm

Champagne Garden

Indulge in Champagne, served in the relaxing atmosphere of the terrace overlooking the historic Shakusui-en pond garden, during our free-flowing premium Champagne promotion, extended for a two-month period this year. Accompanied by an array of canapés created for the occasion by Chef de Cuisine Ryuji Koga, Champagne from famed Maison Bollinger, founded in 1829, complements the spring season.

Details