Pay homage to the art of drinking at VIRTÙ, where our head bartender employs modern Japanese techniques to reinterpret classic French flavours using our world-leading collection of vintage French spirits and rare cognacs.
HOURS
Weekdays

5:00 pm – 12:00 midnight

Last order at 11:00 pm

Weekends & Public Holidays

12:00 noon – 12:00 midnight

Last order at 11:00 pm

Please note

Reservations are available from 12:00 noon to 5:00 PM
For a more exclusive bar experience, VIRTÙ offers Private Bar seating up to 10 people with views of the Tokyo skyline.
SIGNATURE DRINKS
Rice Shochu, Sake, Sakura Liqueur, Grapefruit, Lemon, Sakura Salt, Absinthe,Tonic Kizashi

Okayama Gin, Campari, Antica Formula, Picon, White Peach Liqueur, Chartreuse Elixir Vegetal

Homemade Brandy Umeshu, Japanese Whisky, Hinoki Bitters
Meet The Team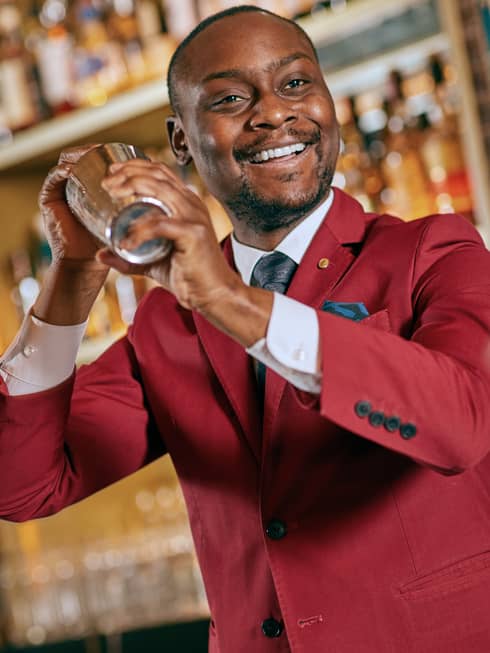 Keith Motsi
Head Bartender and Beverage Operations
Bringing an intriguing blend of charisma and diligence behind the bar, Keith Motsi oversees an extraordinary drinking experience at VIRTÙ, our Paris-meets-Tokyo bar. Here is a Head Bartender who does it all, from keeping a close eye on whether each guest is having a memorable time to putting on his dancing shoes on lively nights – regulars will soon know all his signature moves!
"At the end of the day, we are on stage. And every moment is showtime."
Events
Bar Master Series

VIRTÙ, our Paris-meets-Tokyo destination bar, welcomes top bartenders from Japan and beyond for series of one-night-only guest shifts. January 8: Zest, Seoul (#48 on Asia's 50 Best Bars 2022); January 29: Atsushi Suzuki from The Bellwood, Tokyo; February 19: SCARFES Bar, London.