Experience Lanai and explore a 90,000-acre island with limitless options for adventure. Ride horseback through wooded upland trails, explore heritage sites on UTV tours, practice target shooting and discover untouched Hawaii on this one-of-a-kind island. Daily outings available. You can also create your own adventure, customized just for you and your travel companions.
Call +1 (808) 565-2072 or send an email for pricing, reservations and further information.
Clay Shooting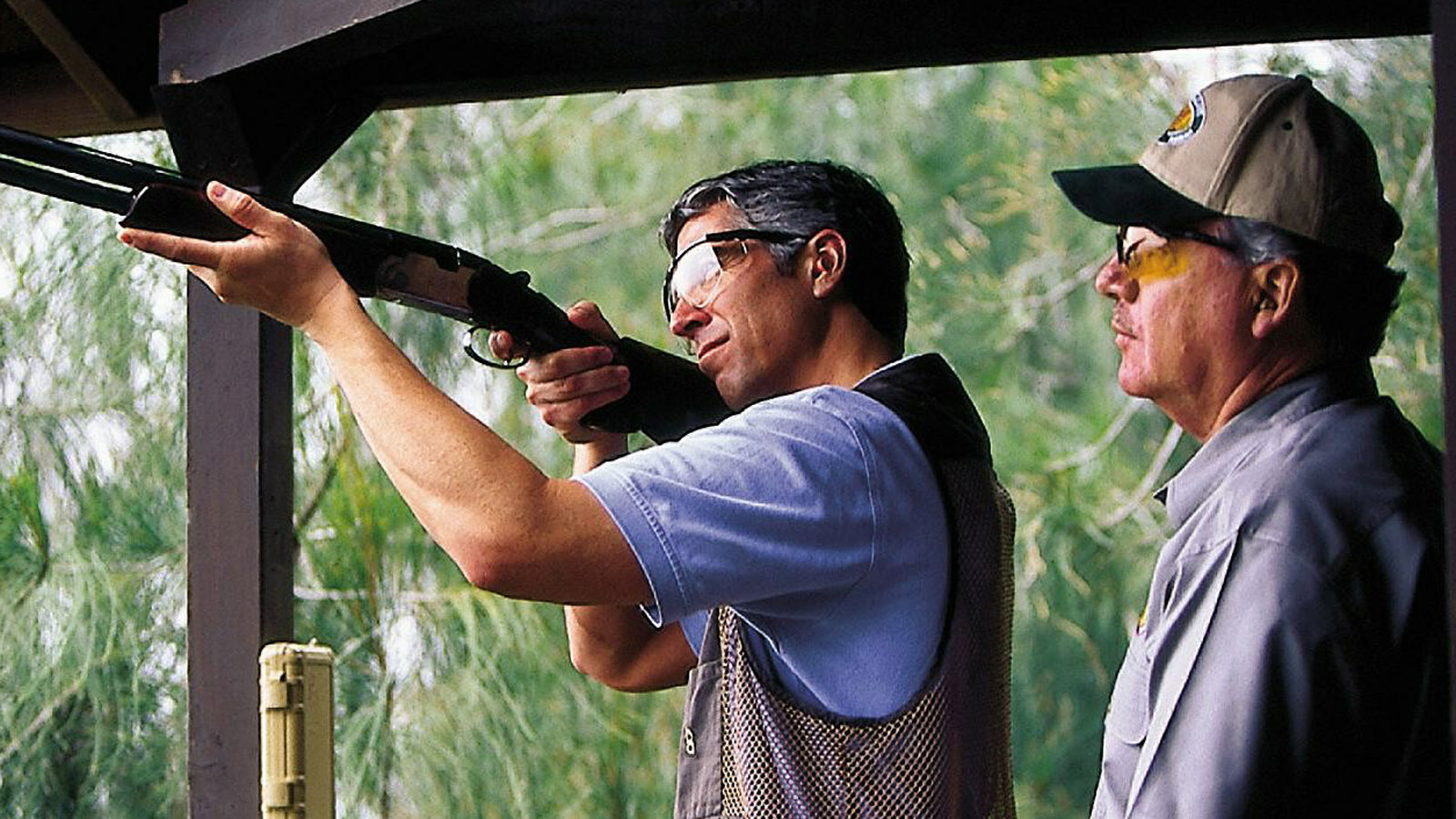 The 14-station course in the wooded uplands challenges shooters of all skill levels regardless of age, size or experience level. The introductory private lesson covers gun safety and awareness, course rules and shooting etiquette, instruction, and all necessary equipment. Clays are sprung in various directions and angles to simulate flight patterns of different game birds, as well as rabbits. Covered stations allow for shooting in most any weather condition. Experienced shooters, please call for additional pricing.
Private Lessons Offered Daily:
1 person 1 hour: USD 125
2 hours: USD 200
2 people, 1 hour: USD 225
2 hours: USD 300
3 people 1.5 hours: USD 350
2.5 hours: USD 450
4 people, 2 hours: USD 450
3 hours: USD 550
Archery
Hone your skills at this ancient art in the wooded hills of Lanai. A knowledgeable guide will walk you through all facets of archery and archery hunting. Anyone who can safely handle a bow, regardless of age, size or experience level is welcome to try their hand at the archery course. The private introductory lesson covers bow and arrow safety and etiquette, instruction, and the necessary equipment for a 'bullseye' of a time. Set your sights on 3D animal targets, such as turkey, deer, T-Rex, ram or boars, or take aim at traditional archery targets, from five to 25 yards away. Experienced shooters, please call for additional pricing.
Private lessons offered daily
1 person, 1 hour: USD 75
1 person, 2 hours: USD 125
Off-Roading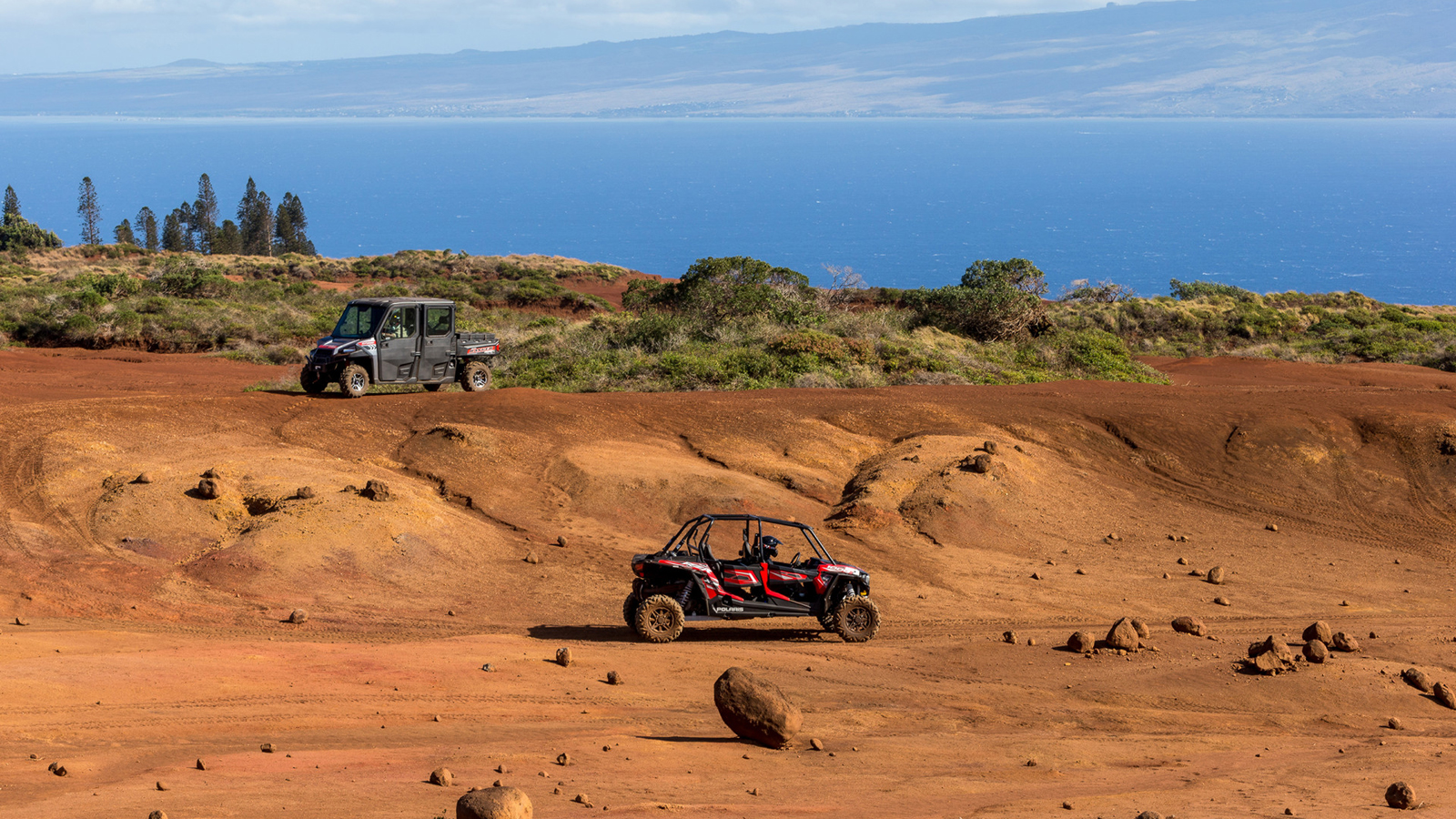 Polaris Guided Tour
Explore Lanai's rugged off-the-beaten trails on a guided Polaris off-road tour and meander through the island's majestic Ironwood forests, verdant valleys and inspiring scenic vistas overlooking the neighbouring islands. Our exciting experiences take you on an incredible off-road ride as you learn about the diverse landscapes, history and natural environment from your driver and Activity Guide.
Guided Tours
Offered Daily
Day Guest
USD 395 per couple
USD 247.50 single supplement
Custom Tours
Upon Availability
Private Guided Sunrise Tour
Welcome the morning with a two- or three-hour custom-guided sunrise tour in a Polaris RZR or Ranger. Take in the mountain-top heiau (sacred temple site) Puu Makani with vistas of water and forests either side, then head to the Naha lookout for sunrise. Travel over to Bench Lands for a cultural tour of the Waiapa'a area or Hi'i, a Hawaiian dryland agricultural complex which had been covered over by pineapple cultivation for many years and not accessible to visitors. Preservation workers have planted taro and wauke, paper mulberry used for making clothing, and removed eucalyptus, albizia and silver oak trees from an area containing remnants of a heiau, an imu and a lua pau (refuse pit). Guests can pre-order breakfast to go as an add-on experience.
*Sunrise tour operates seasonally due to changing phases of the sun; check for availability.
Guided Private Tours
Offered Daily
Day Guest 2-hour tour (5:30 am – 7:30 am)
USD 495 per couple
USD 375 single supplement
Day Guest 3-hour tour (5:30 am – 8:30 am)
USD 545 per couple
USD 425 single supplement
Lanai by Horseback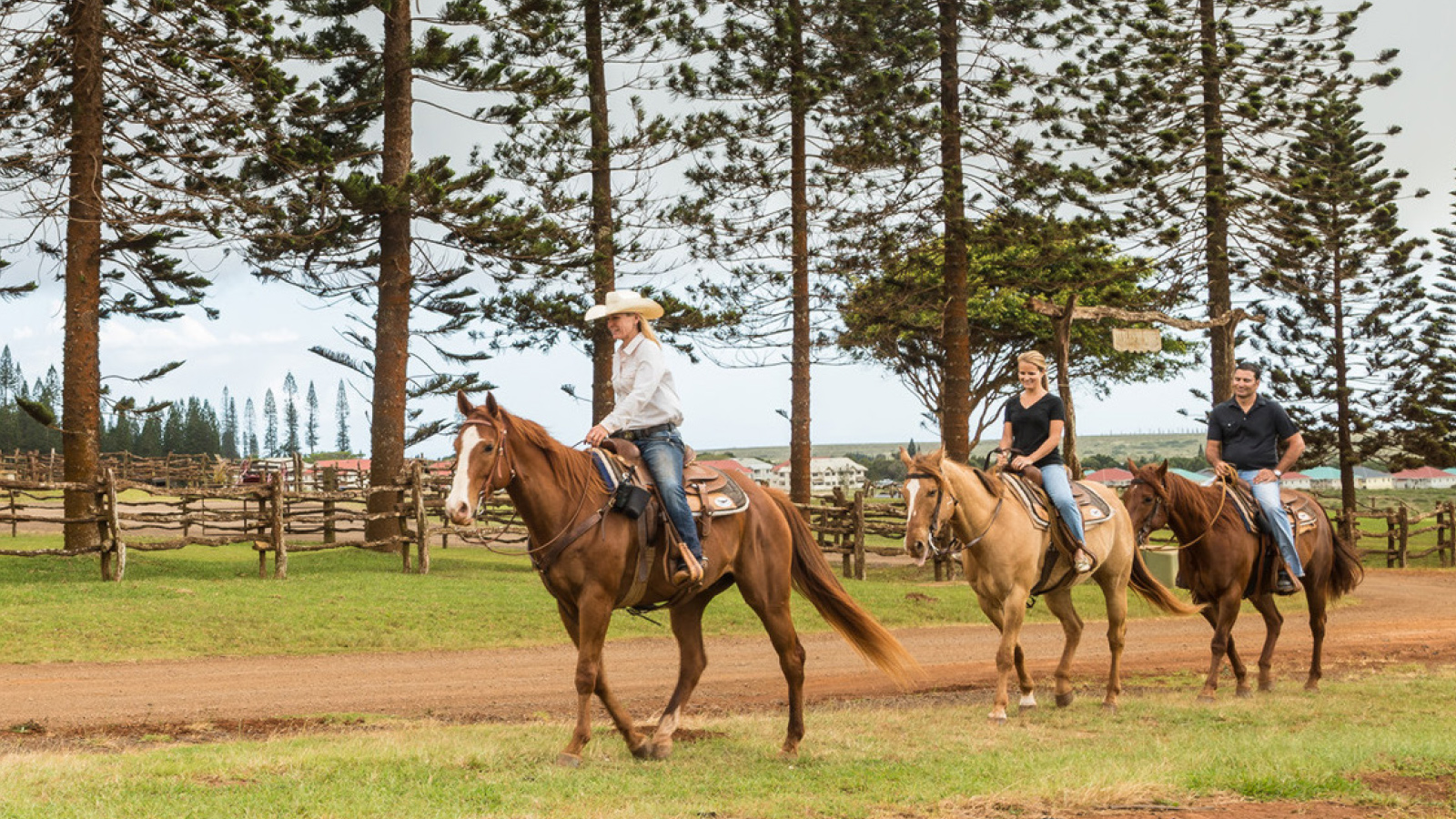 Ride horseback into the hills surrounding Koele – once the centre of ranching operations on the island – or explore the wooded valleys and trails of this extraordinary upland terrain, home to axis deer, Mouflon sheep and turkey. Custom tours and private lessons are also available. Kind and gentle, the horses are suitable for all levels of rider, whether beginner or experienced.
| | |
| --- | --- |
| Horseback Rides | Offered daily |
| Day Guest | USD 195 |
| Private/Custom Tours | Upon availability |
| Lessons/Children's Lessons | Upon availability |
Open to guests of the Resort as well as the general public. Transportation from Four Seasons Resort Lanai included. Pricing available for larger groups. As the climate in the uplands can be cool, participants are encouraged to wear layers, long pants and closed-toe footwear.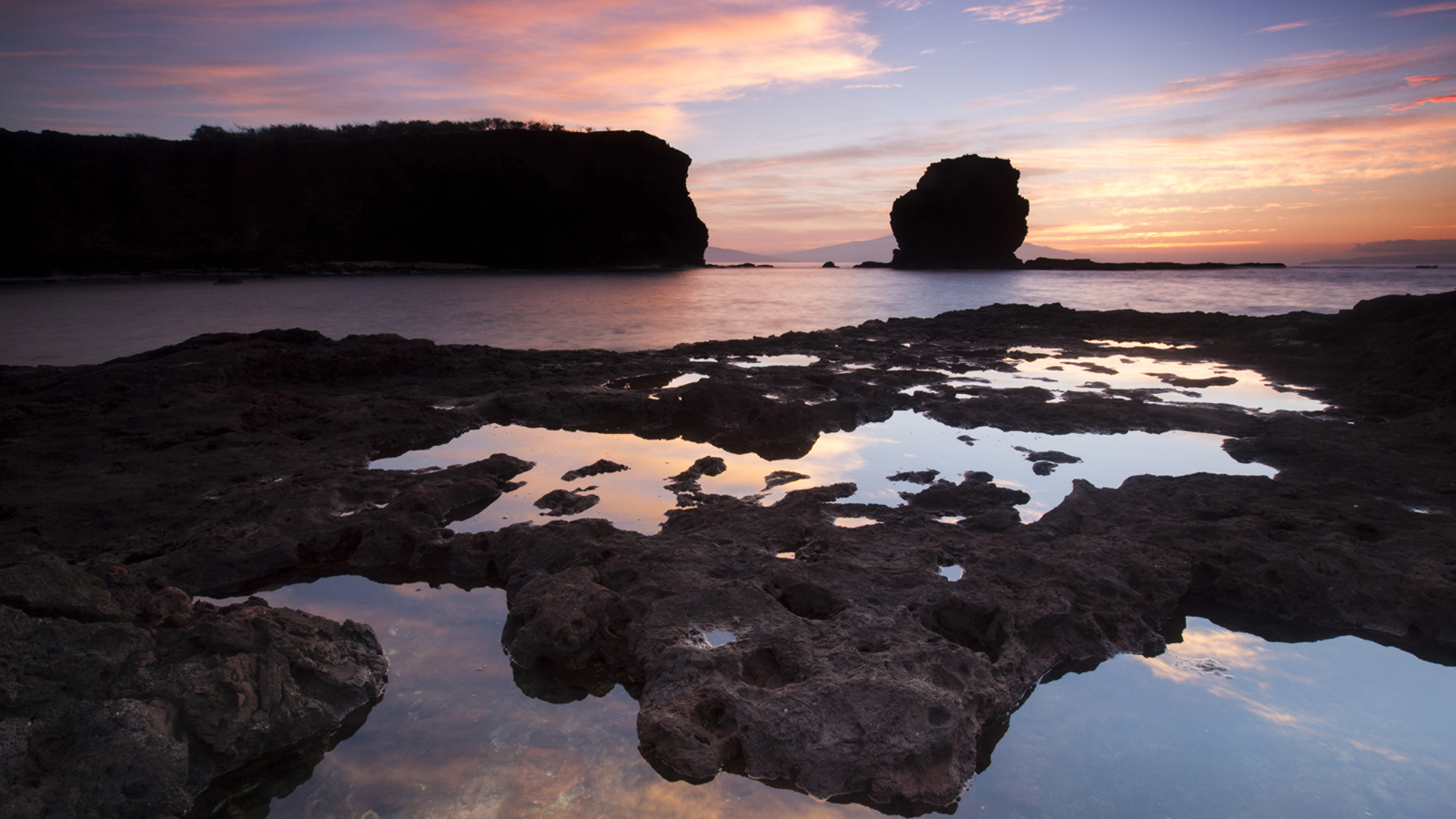 INTERACTIVE FEATURE: THE BEST OF LANAI
Whether you're seeking an outdoor adventure, a romantic escape or a cultural discovery, you'll find it on Lanai.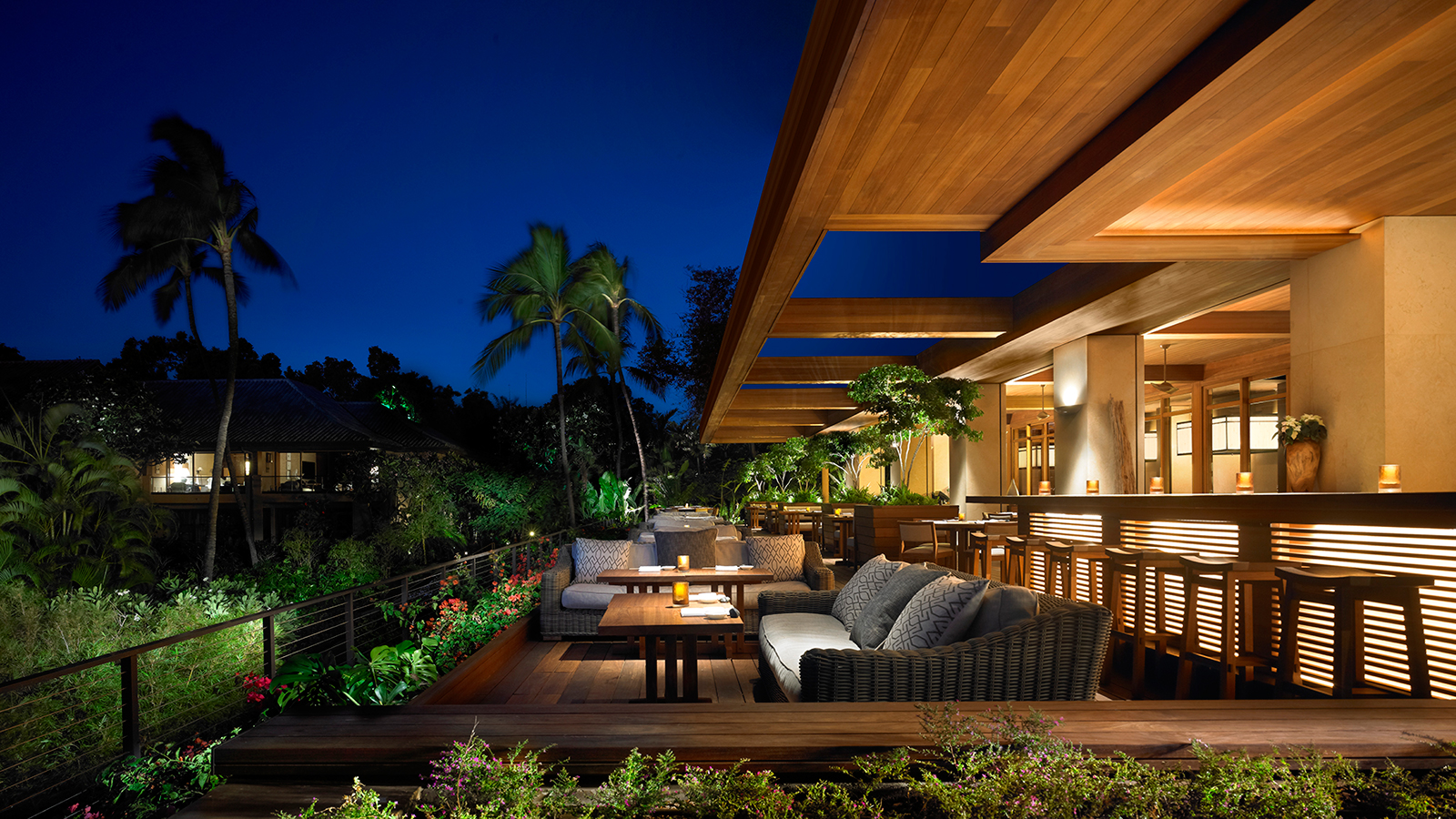 Experience More With Four Seasons
Experience an island of contrasts at Four Seasons Resort Lanai and receive a Resort credit of up to USD 500 daily.