Our Michelin-starred, Cantonese restaurant brings the grandeur of Shanghai's swinging 1920s to modern Seoul, using premium ingredients, unique presentations and Chef de Cuisine Koo Kwok Fai's authentic recipes to delight your senses. In line with the latest government regulations, Yu Yuan remains open and serving a la carte menus for lunch and dinner. The restaurant's closing hours of 9:00 pm and a maximum of 4 persons per table under the government regulations still apply. This will remain in effect until January 31, 2021. Please help to comply with this mandatory ruling by vacating the restaurant no later than 9:00 pm. Our apologies for any inconvenience that this regulation may have caused, but the safety and well-being of our guests and staff is our top priority. We appreciate your compliance.
HOURS
Lunch

11:30 am – 2:30 pm

Dinner

5:30 pm – 9:30 pm

Weekend Brunch

11:30 am – 2:30 pm
Menu
Signature Dishes
Traditional Beijing duck served with condiments

With glass noodles and garlic sauce
The Team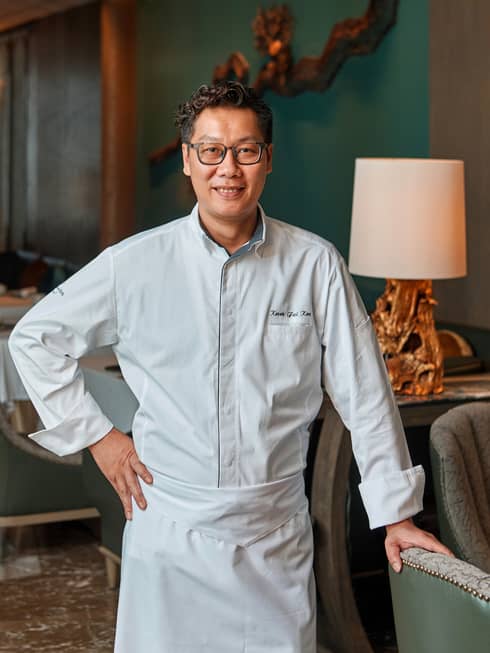 Koo Kwok Fai
Chef de Cuisine, Yu Yuan
A native Cantonese, Chef Koo is a seasoned chef with 27 years of experience working in various parts of Asia, including Hong Kong, China and Singapore and most recently as as executive chef at the two-Michelin-star restaurant Imperial Treasure in Shanghai. He is an expert in the principles of Cantonese cuisine and cookery, creating exquisite dishes that highlight the freshness of each ingredient while demonstrating a spectrum of rich Cantonese flavours that stimulate the taste buds.
"I am Chinese, and to me, eating means family and friends sharing – it's a way of life."