Exotic, glamorous and steeped in the worldly romance of its namesake bon vivant, the legendary Charles H. Baker, this intimate bar discreetly hidden away on our lower level is where cocktail connoisseurs go to find the perfect drink.
Awards
Named the Best Bar in Korea
Ranked #49 on The World's 50 Best Bars 2020 list
Ranked #13 on The Asia's 50 Best Bars 2021 list
HOURS
Sunday – Wednesday

6:00 pm – 1:00 am

Thursday, Friday & Saturday

6:00 pm – 2:30 am
Signature Drinks
Our Masterdish: Le Comedian

Rye whiskey, dark rum, Pedro Ximenez sherry and hints of cacao

Bianco Tequila, grapefruit, lavender cordial, bergamot and tonic

Manhattan — rye whisky, Italian rosso, vermouth, angostura bitters and brandied marasca cherry; Red Hook — rye whisky, bitter Italian vermouth and maraschino cherry; and Tipperary — Irish whisky, Italian rosso vermouth, green chartreuse and aromatic bitters
Behind every good drink is an unforgettable story.

Keith Motsi

Head Bartender
Meet the Team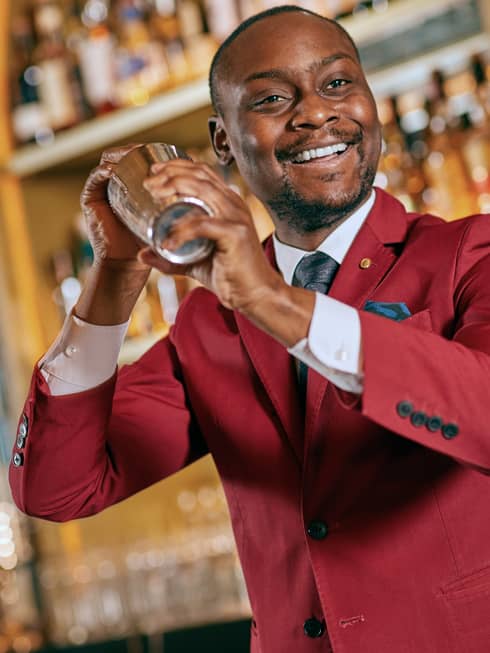 Keith Motsi
Head Bartender
Born in Harare, Zimbabwe, and raised in the United Kingdom, Keith has traveled far and wide as a bartender gaining a wealth of international experience and bartending around the world. He built his career working in different parts of England before moving to Asia to open and lead the team at EQUIS, a Four Seasons Beijing bar. Now in Seoul, Keith has his sights on positioning Charles H. as not just a great cocktail bar in Korea but in the world.
"Running a bar gives me a window into being part of the human experience."
Events
Friends of Charles H.

Join us as we collaborate with our friends for an exclusive culinary journey for the epicurious. Visit Charles H. to explore the #knifeforkandspoon and #jiggerbeakerglass series every month with a new menu. Seats are limited and prices may vary.

Book now