Exotic, glamorous and steeped in the worldly romance of its namesake bon vivant, the legendary Charles H. Baker, this intimate bar discreetly hidden away on our lower level is where cocktail connoisseurs go to find the perfect drink.
HOURS
Sunday – Wednesday

6:00 pm – 1:00 am

Thursday – Saturday

6:00 pm – 2:30 am
Signature Drink
Bourbon whiskey, Oloroso, aloe vera, black vinegar and raisin tree bitters

Navy strength gin, plum wine, jasmine and oak bitters

Manhattan — rye whisky, Italian rosso, vermouth, angostura bitters and brandied marasca cherry; Red Hook — rye whisky, bitter Italian vermouth and maraschino cherry; and Tipperary — Irish whisky, Italian rosso vermouth, green chartreuse and aromatic bitters
Behind every good drink is an unforgettable story.

Lorenzo Antinori

Head Bartender, Charles H.
The Team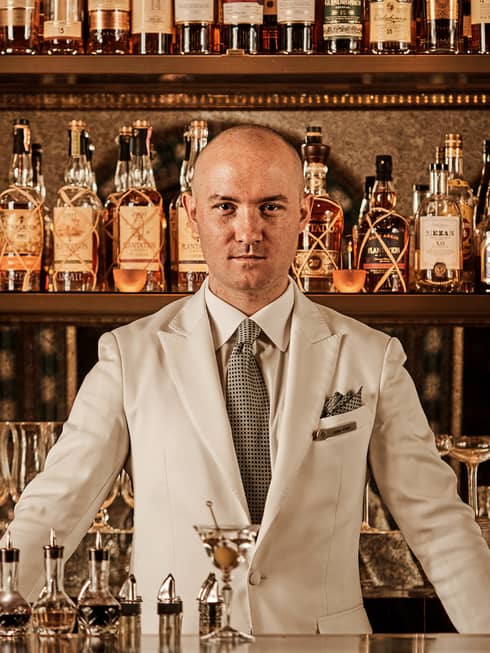 Lorenzo Antinori
Head Bartender, Charles H.
Originally from Rome, Lorenzo Antinori has worked in award-winning hotel bars all over Italy, England, Japan, Australia, the United States and now Seoul, where he is excited to be on the cutting edge of a new Golden Age of Cocktails in Korea. From selecting the spirits and glassware to training the talent behind the bar, Antinori's goal is to make Charles H. not just a great cocktail bar, but a model to follow that pushes the Korean bar scene higher.
"I was always the guy trying to gather people together. The bar scene was where I belonged."