All Food and Drink
International buffet

The Market Kitchen

Reminiscent of a bustling European market hall, this show-stopping buffet is an international bazaar of foods, flavours and cuisines, all prepared à la minute at interactive, live cooking stations.

Sun-drenched marble walls, gleaming metal accents and cognac leather banquettes perfectly match the contemporary renditions of classic southern Italian dishes you'll find here, each prepared with passion and showmanship in our open kitchen.

Japanese fusion

Akira Back

Join celebrity chef Akira Back at a unique and creative dining experience with modern Japanese fare and a Korean essence that will stimulate and excite your senses.

Cantonese, regional specialties including Beijing duck

Yu Yuan

Our renowned Cantonese restaurant brings the grandeur of Shanghai's swinging 1920s to modern Seoul, showcasing the flavours of the region with local, seasonal ingredients; distinctive culinary presentations and authentic recipes to delight your senses.

Lounge meals and snacks, limited Korean cuisine

Maru

Make yourself at home at Maru – Korean for "living room" – and enjoy a refined offering of Korean favorites and international dishes.

Fine food and spirits

Charles H.

Exotic, glamorous and steeped in the worldly romance of its namesake bon vivant, the legendary Charles H. Baker, this intimate bar discreetly hidden away on our lower level is where cocktail connoisseurs go to find the perfect drink.

Coffee, tea and pastries

Confections by Four Seasons

Take your pick of assorted pastries, cakes or sweet bites and sip on specialty teas and coffees in our laid-back café or take them to go.

Bar bites and cocktails

OUL

OUL pays homage to the ever-changing identity of after-hours Seoul. This late-night contemporary bar is an artful exploration of the city's traditional history, the turn of the century, and of today and beyond, where Korean specialties and seasonal drinks are served alongside bar bites crafted by world-class chefs.

In-Room Dining

Whether you want to share a romantic dinner in the privacy of your room or suite, need to host an impromptu meeting or are just looking for a quiet evening in, our extensive, in-room menu offers just what you're looking for, day or night.
Great food, great company – there's no better combination. From signature cuisine, to destination cocktails, light up your stay in Seoul with our curated collection of awe-inspiring gourmet adventures.
Featured Culinary Experience
OUL celebrates the dynamic and evolving identity of nighttime Seoul, inviting you to immerse yourself in the vibrant evening ambience as you savour our traditional cocktails and indulge in a trio of our signature tapas-style anju (snacks) that is perfect for sharing.

Learn More
Events
In-suite Private Dining

A culinary experience that expands horizons, all from the luxury of its sumptuous top signature suites. Participate in a telephone consultation with our culinary team to discuss for your next meal. This exclusive experience is available in the Sejong Two-Bedroom Suite and Presidential Three-Bedroom Suite. From KRW 350,000 per person (maximum of four diners). Available beginning 24 hours after booking.

Contact us

OUL x local artisans

Meet Korea's local artisans in diverse fields at OUL. Discover the new world of Korean culture, offering tastes and features of creative collaborations by mixologists and chefs.

Contact us

Charles H. companion series

Join us as we collaborate with our friends for an exclusive mixology journey for the epicurious. Visit Charles H. to explore the #CharlesHCompanionSeries series every month with a new menu. Seats are limited and prices may vary.

Contact us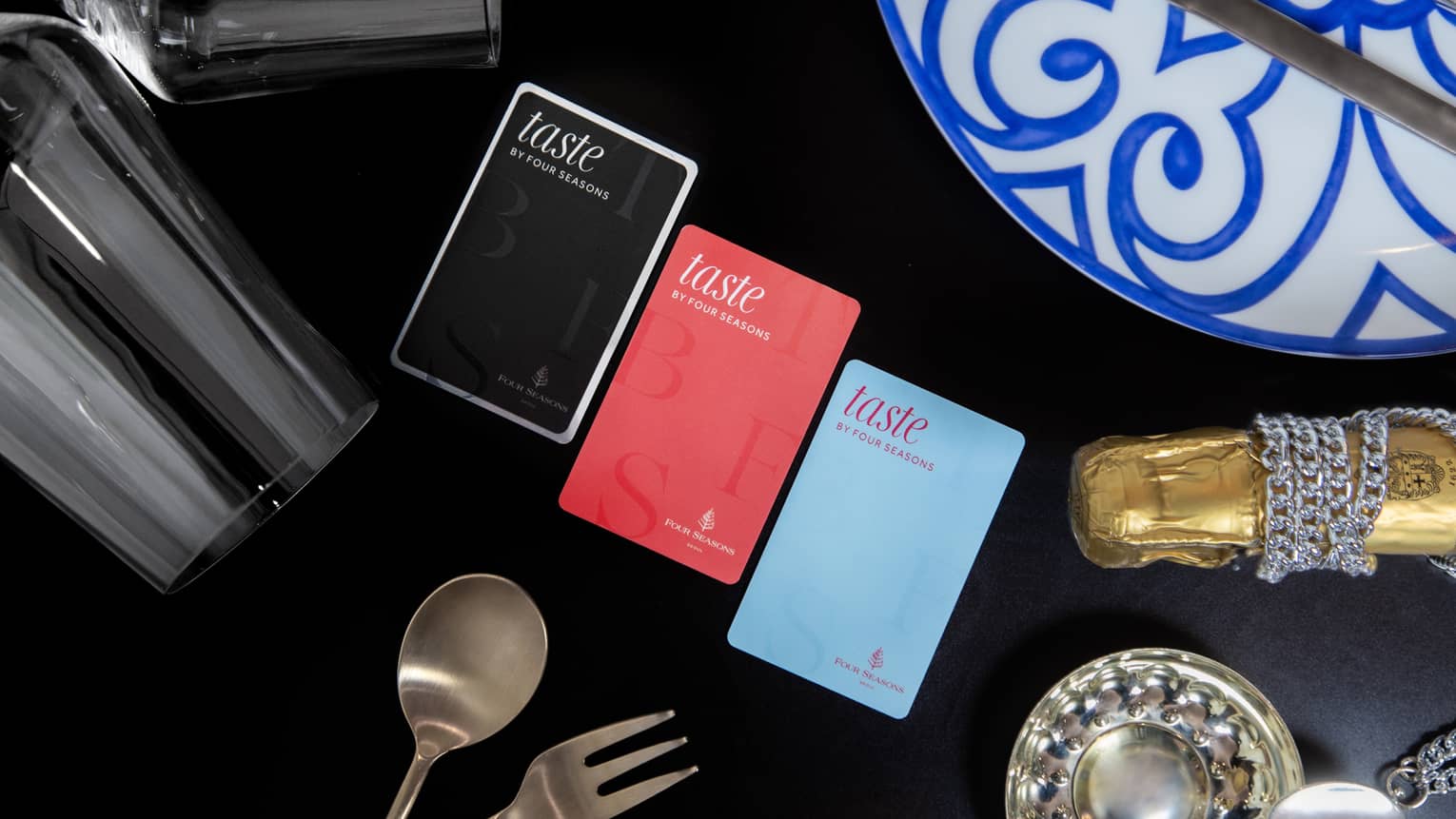 A new kind of loyalty
Indulge in unmatched dining and lifestyle benefits by becoming a member of Taste by Four Seasons, our first food-and-beverage loyalty program that gives you greater access to extraordinary culinary experiences at our Hotel.
Meet the team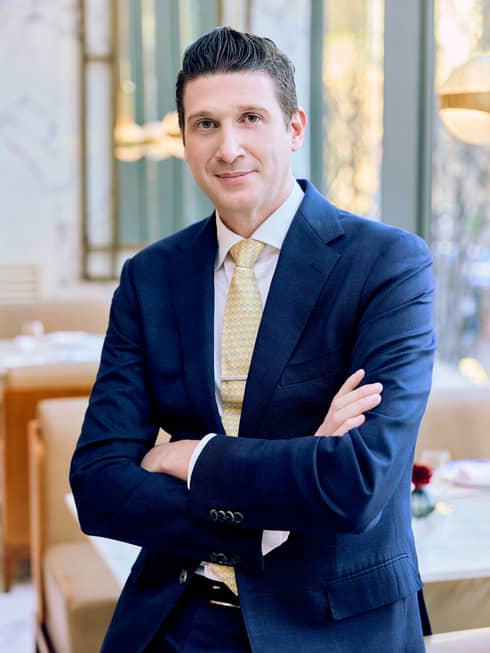 Marco Riva
Director of Food and Beverage
From a childhood frequenting the restaurants of Italy's Lake Como to a career that evolved from the kitchens of New York, Shanghai, Bangkok and Jakarta into food and beverage operations in Japan and Korea, Marco Riva has long been immersed in fine food and wine. Inspired by his father's local produce business and Mamma Riva's "five-star" feasts, Chef Riva set off across the globe to further his skills. Almost three decades later, his insider's eye and commitment to craftsmanship saw him climb the culinary ladder at Four Seasons Hotel Tokyo at Otemachi from Executive Chef to Director of Food and Beverage – a role he embraces with his passion for erstwhile glamour at Four Seasons Hotel Seoul.
"To achieve greatness, you need a solid base. Long-lasting success is built on consistency and doing simple things well."
Jerome Deconinck
Executive Chef
Drawing on a career spanning seven countries across leading kitchens of Europe, Asia and the Middle East, Chef Jerome Deconinck is inspired by Korea's exciting regional and seasonal cuisine. A native of Haute-Savoie – an area in the French Alps renowned for its fine food – his powerful mindset around the planetary importance of using seasonal products and local ingredients stems from childhood. Alongside a reverence for ingredients, his success lies in his intuitive focus on the customer experience; he is especially attuned to providing the best experience to each and every diner, and prizes meeting individual tastes and preferences over crafting a signature dish.
"I believe that the goal of cooking lies in paying equal attention to every moment of the experience, from the selection of ingredients to the details of service."
Jimmy Boulay
Executive Pastry Chef
A master pâtissier and chocolatier, Executive Pastry Chef Jimmy Boulay's curiosity for decadent desserts began in childhood at an exhibition of geometric artworks crafted from sugar. Transfixed by the delicate dance of cooking, art and science on display, he commenced his studies in pastry, chocolate and confectionery. Impressing even as a young graduate, his first role at world-famous luxury gastronomy company, Fauchon, was enough to entice him to learn more – and soon he was fully immersed in the vast scope of dessert artistry under some of the world's most acclaimed culinary maestros.
"Central to my approach is the integration of a wide range of textures and flavors into each creation. When someone recognizes the creation of new textures, flavors and forms in each and every bite of my dessert, it perfectly makes my day."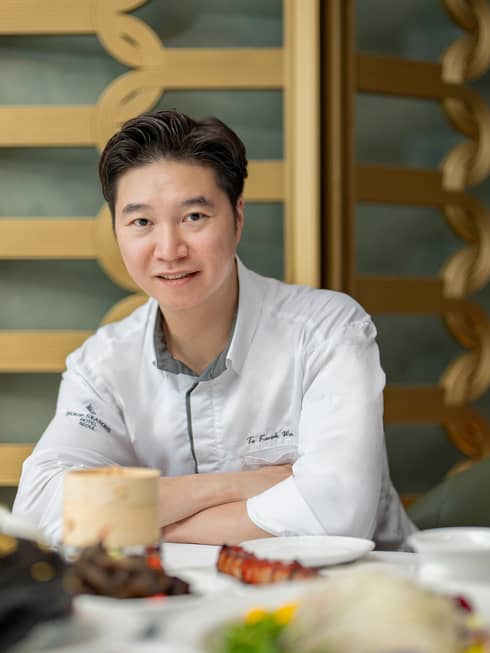 Kwok Wai To
Yu Yuan Head Chef
Born and raised in Hong Kong, Head Chef Kwok Wai To grew up surrounded by the rich flavours and heritage of Cantonese cuisine – a legacy that inspired him to launch his culinary journey at age 15 and become a renowned artisan of Cantonese cuisine. With a global career spanning luxury resorts and Michelin-starred establishments, he preserves and shares the beauty of authentic Cantonese recipes. Fueled by an unyielding passion for gastronomy, Chef To consistently elevates his craft, bringing joy to patrons of Yu Yuan.
"My dishes are a culinary narrative that reflect not only my personal journey but also the rich tapestry of flavours that I've encountered along the way."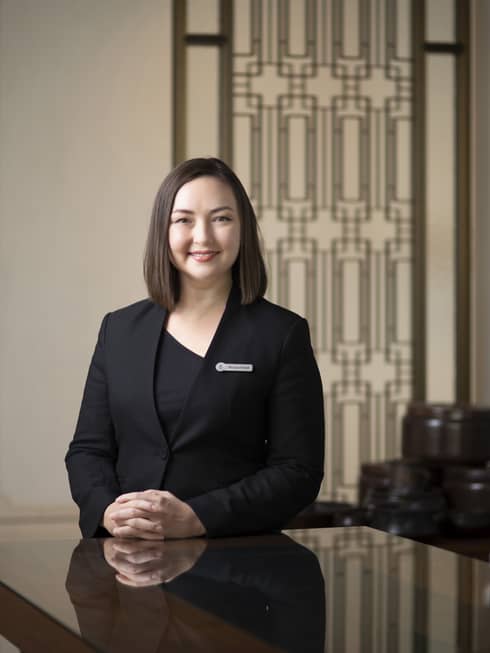 Alyssa Heidt
Beverage Creative Director
Alyssa Heidt's enthusiasm for hospitality began in Chicago when she worked at cocktail bar The Violet Hour. Recognizing the parallelism between her own spirit of exploration and the creative discoveries afforded by the world of mixology, she travelled the globe to hone her skills. From Taiwan to Norway, she delivered her unique vision to bars including Michelin-starred Alinea, Next, The Aviary and The Office. Nominated twice for Norway's Top Bartender and Best New Opening in Norway for Marlow by The Bartender's Choice Awards, her award-winning talent finds its expression through tantalizing twists and fascinating flavour combinations at Four Seasons Hotel Seoul.
"I love drawing on the experiences of my global travels to conjure up creative beverages that tell their own unique story."