With its vibrant, chic and contemporary atmosphere, Le George offers the perfect spot to discover the modern Mediterranean-style cuisine crafted by Michelin-distinguished Chef Simone Zanoni – a convivial experience that promotes local sourcing and a sustainable vision of tomorrow's gastronomy.
HOURS
Lunch

12:30 pm – 2:30 pm

Dinner

7:00 pm – 10:00 pm
The Team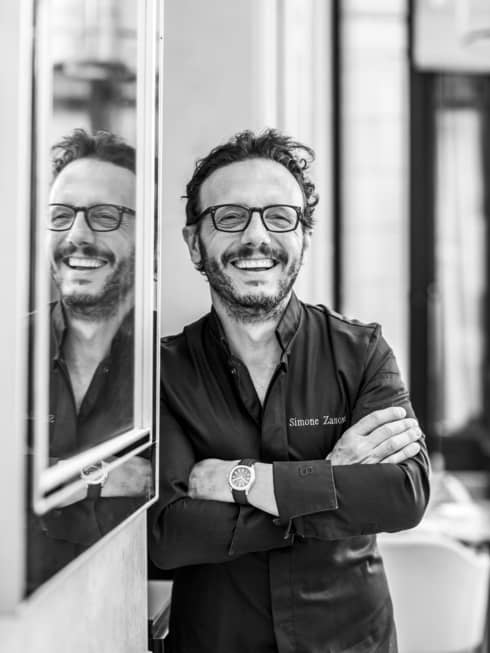 Simone Zanoni
Chef
After years at Gordon Ramsay restaurants, Simone Zanoni became Chef of Le George in September 2016. His distinctive style means a fresh perspective on classic Mediterranean dishes and creating a distinct sense of place on each plate – one that awakens the diner to the world of exquisite, healthy cuisine that lies between the French Riviera and northern Italy.
"A dish becomes memorable when you have put your heart into it and created a journey of flavours."
Michael Bartocetti
Executive Pastry Chef
Talented and creative, Michael Bartocetti is above all a committed and responsible pastry chef. He carefully chooses his suppliers, favouring small farms that promote sustainable and responsible agriculture. He experiments with innovative flavours and techniques, resulting in perfectly prepared creations.
"Raw ingredients provide me with inspiration. I use top quality produce, bringing out ingredients' natural tastes and aromas to obtain delicate and harmonious flavours."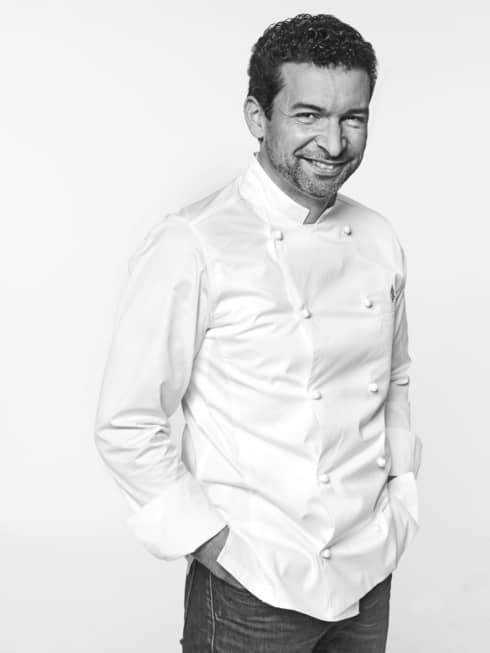 Guillaume Cabrol
Head Baker
A truly talented chef, Guillaume Cabrol is a humble perfectionist charged with sensitivity and commitment to crafting outstanding bespoke creations. Today, he puts his talents at the service of the entire palace and daily oversees the bread and pastry offer of the hotel breakfast at Le Cinq***, Le George*, L'Orangerie* and La Galerie while also managing the Room Service operation.
"Attentive to the right taste, I pay particular attention to the ingredients, working closely with small producers and farms with a sustainable approach."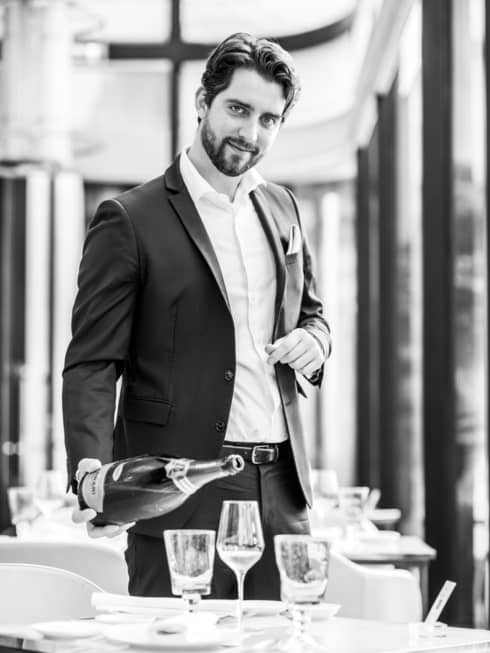 Francesco Cosci
Head Sommelier
Born Italian but French at heart, Francesco is the Head Sommelier of the restaurant Le George since 2021. In the chic and trendy atmosphere of this restaurant that continues to shake up the Parisian dining scene, he continues to develop the extensive wine list of 12,000 wines with personal favourites and unfamiliar transalpine labels.
"I will share my love of wine with guests, tempting them with sought-after vintages and unfamiliar labels, while introducing them to lesser-known indigenous grape varieties and locally produced wines."