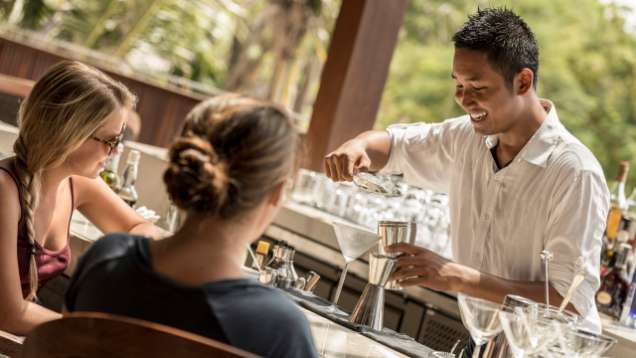 Experience the flavours of Lanai during interactive classes and decadent dining events at Four Seasons Resort Lanai.
DINING UNDER THE STARS

On request, from Sunset onward

Nature becomes your private dining room during this multi-course dinner featuring locally caught fish and other indigenous ingredients. Over a menu and wine pairings customized for your party, enjoy a family reunion, a gathering of friends or an evening of pure romance. Contact a Lanai Ambassador for more information.

PICNIC UNDER THE STARS

ON REQUEST

Search for constellations with a bevy of amenities by your side. Explore the twinkling stars in the heavens above with high-performance binoculars ideal for astronomical viewing, desserts from Chef, a half-bottle of bubbly Prosecco and a comfy Four Seasons blanket.

24 hour advance notice required. Contact a Lanai Ambassador for more information.
TEPPANYAKI AT NOBU LANAI

On request

Teppanyaki at NOBU LANAI is an unforgettable 15-course private dining experience consisting of fresh, local ingredients simply, yet elegantly prepared. The menu highlights the natural, clean flavors of high quality vegetables, fish and meat, many items locally sourced from farms on Lanai and from neighbor islands across Hawaii. The teppan table is completely yours for the meal, accommodating parties up to eight, allowing for a unique opportunity to converse and observe Chef Hung Nguyen up close. Seatings at 6:00 pm and 8:00 pm and reservations are recommended. Contact NOBU LANAI for reservations.
TASTE OF LANAI

On request, 6:00 am – 7:00 pm

Experience the flavours of the island — from sea to sky — during a full day of private culinary experiences.

Nobu Lanai Private Cooking Class

At Nobu Lanai enjoy a special interactive culinary adventure. Become inspired while learning the innovative Japanese cuisine techniques of world-renowned chef Nobu Matsuhisa. Join the Nobu Lanai team in a private dining area for a bespoke cooking class from couples to groups of up to 10 friends and family. To start, Chef demonstrates how to properly prepare and make sushi rice, poach shrimp for nigiri and make tuna tataki.

Follow along as the Executive Sushi Chef prepares a selection of Nobu's signature sushi dishes, then it's time to taste. Afterwards, you'll take a turn making Nobu signature hand rolls with the Sushi Team. Layer nori (seaweed), rice and salmon for a simple classic roll or choose from locally sourced vegetables like avocado, scallions, daikon, cucumber and more for more complex flavor profiles. Let your imagination and Chef guide you while crafting a selection of nigiri. Finally enjoy a private four-course lunch overlooking Hulopo'e Bay with tastes of Nobu Sakes & Nobu Wines.

Reservations recommended, 48 hours in advance.
POKE CLASSES

Poke – a Hawaiian version of Japanese sashimi – is a local staple, showcasing freshly caught raw fish with various additional flavours. Join the chefs at ONE FORTY to learn more about this dish as they demonstrate the art of fileting a whole fish, showcase the types of fish caught locally and describe the flavours and textures of the meat. Following the preparation, enjoy a variety of poke samples and wine pairings.