Our newly renovated, island-inspired specialty suites and villas are our highest category of rooms, each uniquely designed to fit their location within the Resort. Among the most expansive luxury resort accommodation in Hawaii, each of our villas boast second stories and unobstructed ocean views – the perfect location for your next island getaway.
In-Suite Experiences
Let us take care of each and every detail of your stay. Our dedicated suite concierge team is the first and only of its kind within the Four Seasons catalogue. Included in your specialty suite or villa booking, our team will personally guide you through each step of your Hualalai experience from booking through departure, ensuring your visit to our Resort is nothing short of flawless.

When you book a villa or specialty suite, we take care of the rest. Allow us to arrange round-trip airport transfers in a Resort SUV, as well as unpacking and packing services with pressing included. Enjoy a daily credit for food and beverage service or on property experiences and private activities just for you.

In-Suite Culinary Experiences

Let our illustrious culinary team bring the restaurant to the sprawling lanai of your villa. Our team will create an unforgettable event, including entertainment, delicious cuisine, décor, florals and more. Whether you prefer an intimate dining experience or choose to invite the whole family, luxury villas are the perfect space to host and create memories that last a lifetime.

In-Suite Wellness Experiences

For guests of our Specialty Suites – including our three ultra-luxurious stand-alone villas – you are invited to indulge in a vast menu of exclusive in-suite wellness offerings spanning personal fitness, spa and wellness modalities. Each suite offers a complimentary Peloton bike and fitness equipment. Enhance your physical fitness experience further with private yoga or personal training sessions.
Villas and Specialty Suites
Only at Hualalai
Our Only at Hualalai Experiences are curated for the travellers who yearn to make unforgettable connections to those representatives of our Hawaii Island culture, and experience something incredibly unique and irreplaceable.
Kimi Werner Ocean Experience

Join Kimi Werner, champion freediver, spear-fisher and ocean conservationist, to explore the depths of our underwater world through the unique skill of freediving. Guests will spend two half-days with Werner, connecting with and learning from this illustrious waterwoman.

Neil Kamimura Blacksmith Experience

Create your own custom chef's knife under the mentorship of third generation Hawaii Island blacksmith Neil Kamimura. Kamimura will lead you through forging a one-of-a-kind piece that will then be used in a kinfe skills and cooking class with Executive Chef Richard Polhemus.

`Iliahi (Sandalwood) Farm and Spa

Explore the diverse natural offerings of Hawaii Island and tour Háloa Áina's native Hawaiian 'Iliahi forest on the slopes of Mauna Loa with our 'Iliahi (Sandalwood) Experience. Dine under the canopy of native Hawaiian trees, then return to the Resort for a transcending spa treatment using the emollient sandalwood oil.

Dave Scott Triathlon Experience

Six-time IRONMAN Champion and Triathlon Hall-of-Fame Inductee Dave Scott brings his expertise to our guests by creating custom fitness and wellness programming. Book single or multi-day private training sessions with Dave Scott during your stay in our top accommodations. Dave will take you through sessions on strength and mobility training, health and aging programming, race mentality, training regimes, or create a custom program just for you.
Meet the Team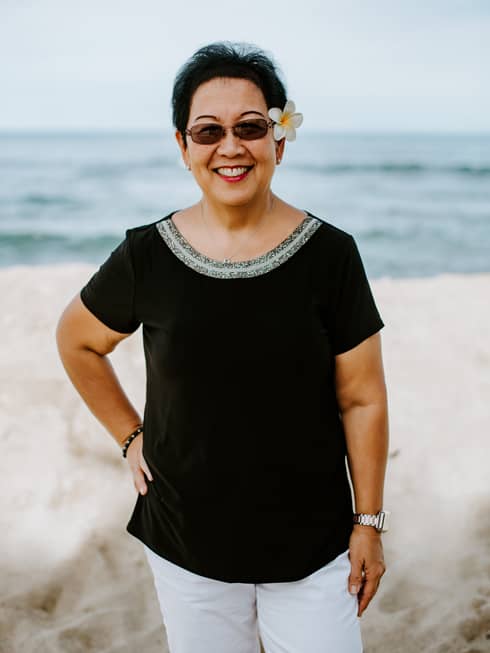 Director of Guest Relations
Cindy Asada
Cindy Asada, Director of Guest Relations, was born and raised on Hawaii Island. Eight years ago her journey brought her to Hualalai, and she has since become a beacon of ho'okipa (hospitality) for the Resort. Her 47 years in the hospitality industry is testament to the genuine joy her career has brought her, and the love she has for her guests.
"The most rewarding part of my position is creating lasting memories with our guests. It's my great honour to welcome them home to Hualalai."
Suite Experience Manager
Michele "Hulu" Kanda-Estabilio
Hulu Kanda-Estabilio was born and raised on Hawaii Island, and is an original member of Hualalai's Suite Experience Team, established in 2014. A 12-year Four Seasons Resort Hualalai veteran, Hulu takes pride in the creative ways she and her team have been able to curate unimaginable experiences for top suite guests.
"I feel grateful that every day I am able to share my love for Hawaii Island with our guests. Introducing them to the genuine spirit of Aloha we are raised with in Hawaii is incredibly fulfilling."