All Food and Drink
Meet The Team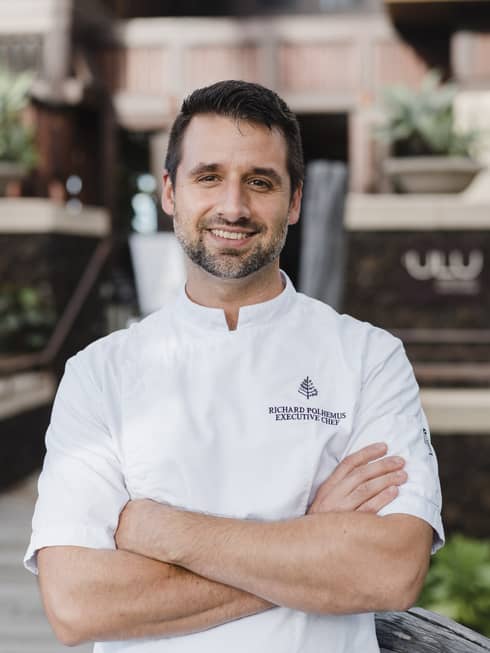 Richard Polhemus
Executive Chef
Chef Richard Polhemus joined the Hualalai culinary team in 2020, quickly adapting to the role of advancing the Resort's extensive hyper-local culinary philosophy. The close relationship of the Resort with the many farmers on Hawaii Island, as well as the flourishing Hualalai garden program, allows Chef Polhemus to tap into his passion for incorporating local, seasonal ingredients into his cuisine.
"My entire career has been grounded in a farm-to-table approach, I've always let nature and seasonality guide the creation of my menus."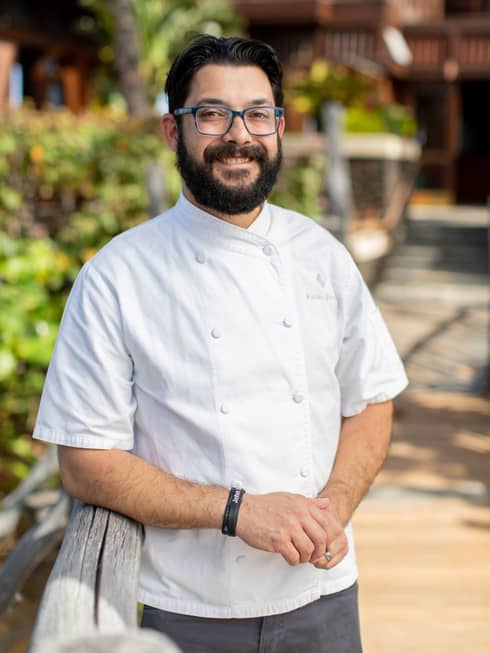 Kalani Garcia
Executive Pastry Chef
Born and raised in Maui, Chef Kalani Garcia started his career at the Hali'imaile General Store before joining Four Seasons 16 years ago. Chef Garcia has experimented with both sweet and savory local ingredients in his positions at Four Seasons, developing the signature desserts and breads our guests can't stop talking about.
"One of my favourite ingredients to work with is Ulu (breadfruit), a staple of Hawaiian diet. I love challenging myself to create breads and desserts using Ulu flour, which is something our guests have rarely experienced."
Join us for our inaugural monthly guest chef series featuring award-winning chefs from all across the country. Throughout the weekend, participate in an intimate cooking class or experience a special dinner menu created by a visiting chef at Ulu Ocean Grill + Sushi Lounge. We welcome you to enjoy these fresh interpretations of Hawaii's natural bounty from both land and sea.

Learn More

Let our Culinary and Special Events team create a romantic dinner for two, or a celebratory dinner for up to 12 guests under the stars. (requires a minimum of 72 hours advance confirmation).

Hualalai Seafood Experience

Sip champagne and taste freshly harvested oysters as a Resort Marine Naturalist takes you on a behind-the-scenes tour of our unique oyster farming process. The tour then leads to the Resort's Herb Garden, where a chef shares the inter-workings of Four Seasons Resort Hualalai's hyper-local food and beverage philosophy and invites guests to catch a Pacific White Shrimp from the shrimp pens. The experience concludes at 'Ulu Ocean Grill, where you can enjoy a five-course custom meal featuring the Resort's oysters, shrimp, as well as other local produce and seafood. Available seasonally.

A Private Cooking Class and Garden Tour

Discover the Resort's own diverse Herb Garden with a Resort Chef. Walk along the many herbs, spices, fruit and vegetable plants that are meticulously cultivated by our landscaping team. Our chef will describe the many uses of each plant in local cuisine, while assisting you to choose the freshest ingredients to use in your own private cooking class which follows the tour.