All Food and Drink
Meet the Team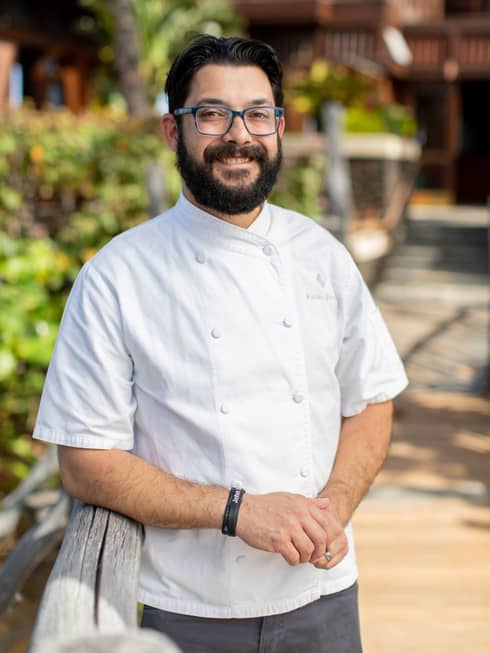 Kalani Garcia
Executive Sous Chef
Born and raised in Maui, Chef Kalani Garcia started his career at the Hali'imaile General Store before joining Four Seasons 16 years ago. Chef Garcia has experimented with both sweet and savory local ingredients in his positions at Four Seasons, developing the signature desserts and breads our guests can't stop talking about.
"One of my favourite ingredients to work with is Ulu (breadfruit), a staple of Hawaiian diet. I love challenging myself to create breads and desserts using Ulu flour, which is something our guests have rarely experienced."
Events
Sundays, 5:30 pm — 8:00 pm

Risotto Night

Enjoy Chef de Cuisine Justin Purpura's handcrafted special selection of risotto finished with a flambe of pernod and served traditionally from a parmesan wheel. Each risotto will feature your choice of locally farmed seasonal vegetables, dungeness crab or grilled lobster tail.

Details

Saturdays at 'Ulu Ocean Grill + Sushi Lounge, 6:00 pm

Mauka to Makai Dinner

Mix and mingle with Chef de Cuisine Takashi Harada and Executive Sous Chef Kalani Garcia, while sipping on cocktails and tasting the freshest sushi available. Then, join 'Ulu General Manager Paul Jennette as he pours wine and the chefs guide you through a spectacular seven-course dinner and wine pairings.

Details

Thursdays, 5:30 pm – 8:30 pm

Churrasco Night at The Hualalai Grille

Dive into Chef James Ebreo's Latin American inspired cuisine with Churrasco. Savour top cuts of Wagyu and other meats served with chimichurri and criolla sauces, complemented by a traditional beans and rice dish. Complete the evening by sipping world-class Paul Hobbs wines from Argentina.

Details
Let our Culinary and Special Events team create a romantic dinner for two, or a celebratory dinner for up to 12 guests under the stars. (requires a minimum of 72 hours advance confirmation).

Hualalai Seafood Experience

Sip champagne and taste freshly harvested oysters as a Resort Marine Naturalist leads you behind-the-scenes of our unique oyster farming process. The tour then leads to the Resort's Herb Garden, where a Resort chef shares the inter-workings of Four Seasons Resort Hualalai's hyper-local food and beverage philosophy and invites guests to catch a Pacific White Shrimp from the shrimp pens. The experience concludes at 'Ulu Ocean Grill where guests enjoy a 5-course custom meal featuring the Resort's oysters, shrimp, as well as other local produce and seafood.

Hawaii Island Coffee Farm Tour & Tasting

Learn artisanal farming methods on a private tour of a boutique Kona coffee farm before an expert-led coffee tasting and petit fours prepared by our Executive Pastry Chef.