"R.S.A. – Regional, Seasonal and Artisanal" – cuisine is served alongside the surf and under the stars at our award-winning restaurant, where 75 percent of the ingredients comes from local farms and Hawaiian waters. The culinary philosophy is hyper-local, incorporating fresh, seasonal ingredients from the Island of Hawaii for both breakfast and dinner service. The elevated cuisine is prepared oven roasted, flame grilled and wok fired, fusing the flavours of Hawaii with techniques found throughout the Pacific Rim.
HOURS
À LA CARTE BREAKFAST

Every day 6:30 am – 11:00 am

Dinner

Every day 5:30 pm – 9:00 pm
Signature Dishes
Ogo, Maui onions, white shoyu and sesame oil

Served according to your preference

Black Pepper Prime NY Streak

Kiawe Smoked Potatoes, Fennel Creamed Kekala Swiss Chard, Edamame
Events
Friday Night Market at 'Ulu

Enjoy a selection of interpretations of Asian-Pacific Night-Market cuisine by Executive Chef Richard Polhemus. Chef Polhemus uses the hyper-local ingredients the island of Hawaii abundantly provides to share his inspired menu in the oceanfront elegance of 'Ulu Ocean Grill.
Meet The Team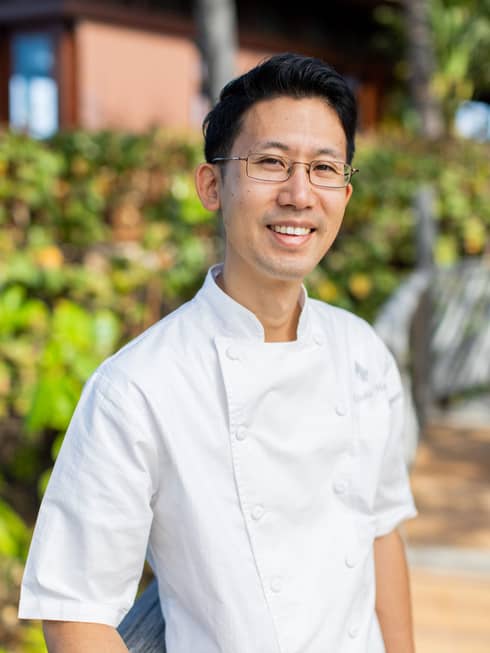 Takashi Harada
`Ulu Ocean Grill + Sushi Lounge Chef De Cuisine
Takashi Harada was born in Vancouver, but his passion for cooking has taken him around the world with Four Seasons from Canada to Japan, Lanai and Hualalai. His expertise as a chef to develop innovative menus has brought many guests back for more of his delicious cuisine.
"The diversity of the ingredients here in Hawaii is incredibly inspiring. From the acidity and sweetness of liliko`i (passion fruit) to the texture of our Hualalai Shrimp, I love experimenting with new flavours. My love language is cooking for others and `Ulu gives me the creative opportunity to do so through a wide variety of cultural cuisines."