At Four Seasons Resort Hualalai , on the North Kona coast of Hawaii Island, you can create a family vacation with as much (or as little) activity as you want. And because the property is spread out across a gorgeous stretch of coastline, there's room for everybody to find his or her own slice of heaven, be it poolside, at the beach or on the oceanfront golf course.
With 11 different climate zones and one of the world's most active volcanoes, Hawaii is fascinating to explore. Hawaii Island, or the Big Island, is just that—big—so prioritize which excursions that are best for your family.
Why go
The oceanfront setting. There's nothing like the otherworldly look of Hawaii Island, with its captivating lava-strewn coastline.
The exotic landscape. Kona has all the enticing cultural and visual elements of a remote beach holiday with all the modern conveniences.
The cultural richness. Experience the warmth of the aloha spirit—plus the stunning and diverse topography—with a variety of local activities.
What the kids will love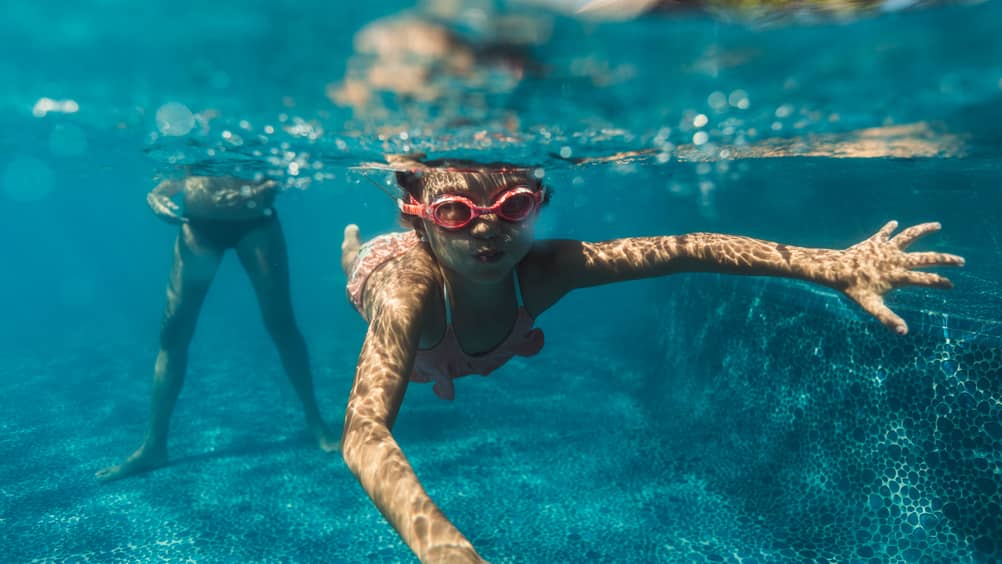 Beachside swimming pools. With seven different pools to choose from at the Resort, kids can play games and splash around in a variety of locations. Little ones will especially love the Keiki Pool , a beach-like play zone for toddlers.
The chance to snorkel with thousands of tropical fish and rays in King's Pond .
A Kids' Night Out movie projected on a big screen under the stars.
Exploring the on-property tide pools brimming with marine life.
Spending hours in Sea Shell Pool with other children at the Resort.
Sea turtles napping on the nearby beach.
What you will love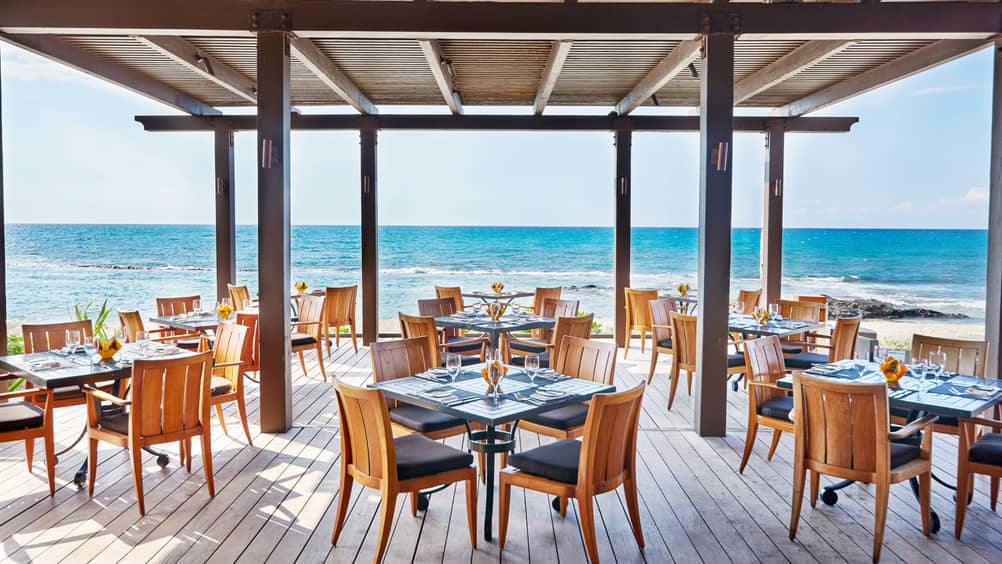 The sunset. Watching the sun go down in front of Beach Tree restaurant is the ultimate family-friendly cocktail hour scene. Kids have space to safely explore and play while parents happily sip libations.
Guilt-free downtime for parents. The Kids For All Seasons programme at the Resort does what few kids' clubs do—successfully entertains a variety of ages with diverse activities and offerings.
Exotic gardens. A sea of colour and tropical beauty envelops guests at every turn.
Scenic trails. There is a historic path that winds through lava fields by the ocean, which makes for a one-of-a-kind stroll or jog.
The food. Enjoy pupus , fresh sushi or dessert by the oceanfront firepits at 'ULU Ocean Grill , one of the island's best dining destinations.
Relaxation time. Follow a fitness class with a rejuvenating treatment at the Resort's Hualalai Spa .
Dine in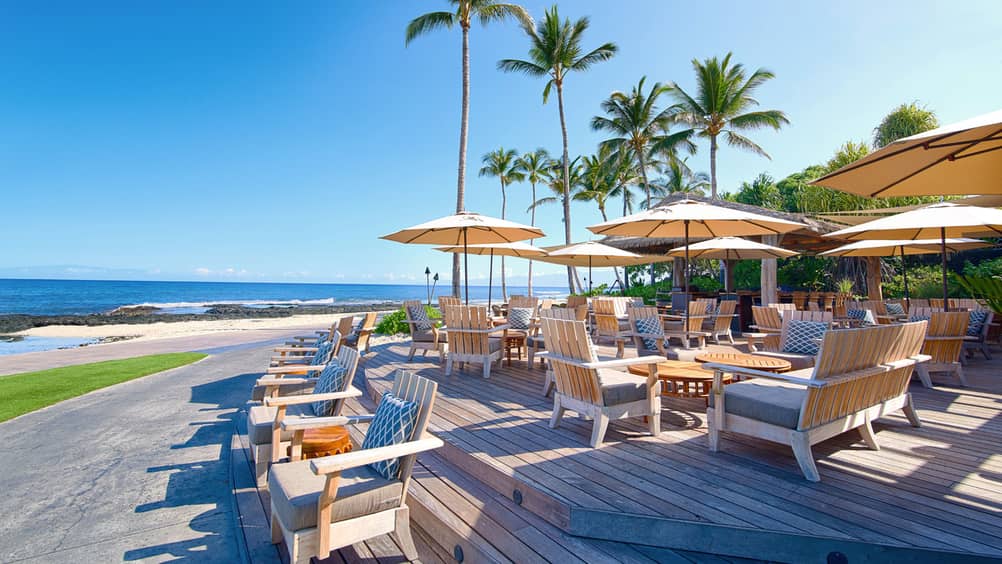 Beach Tree is filled with families enjoying the open-air setting and nightly live music. In addition to Mediterranean-inspired fare, Beach Tree also serves island specialties, pizza and burgers. Kids will love the grilled mahimahi fingers with steamed veggies and the organic turkey burger with avocado. Parents, try the mahi taco with mango relish.
Perfect for date night, 'ULU Ocean Grill + Sushi Lounge offers a modern, hip vibe. Right on the ocean, it features sustainable, farm- and ocean-to-table ingredients from local farmers and fishermen on the island. The fresh Hawaiian 'Ahi Poke, prepared tableside, is a must.
Dine out
Bamboo Restaurant, a local favourite in the lush town of Hawi in North Kohala, serves classic Hawaiian and Asian fare in a fun and funky atmosphere. Save room for shaved ice and fresh fudge upstairs at the Kohala Coffee Mill.
5 family activities to try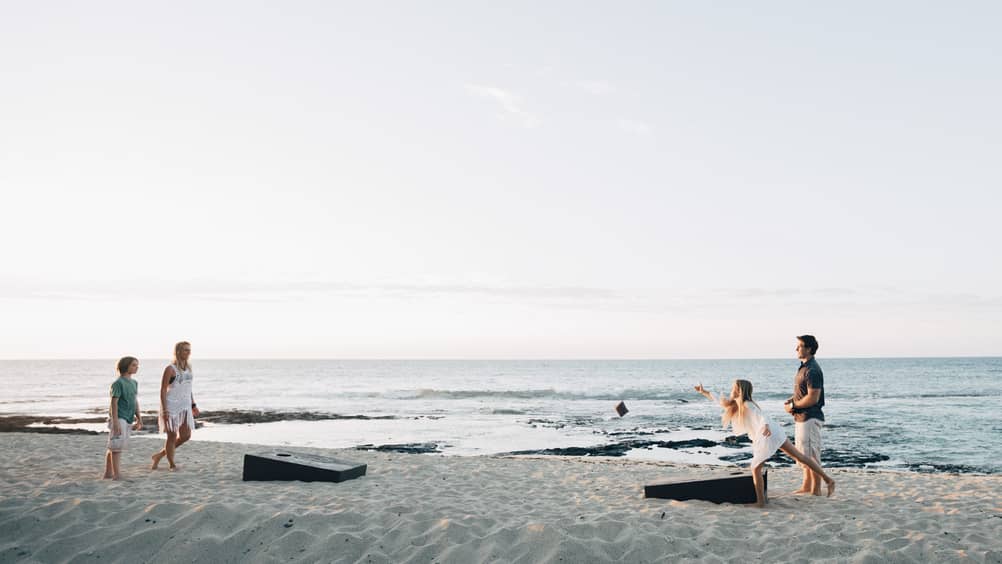 1. Visit Hawaii Volcanoes National Park. Hike around Kīlauea, which has been steadily erupting since 1983. Better yet, try an adventure from the air. Paradise Helicopters will take you and the kids on excellent two-hour tours for otherwise inaccessible views of Hawaii's diverse topography. If luck is on your side, you may see Kilauea spewing lava into the ocean.
2. Take a beach day. Spend time together playing in the waves and bodysurfing at the breathtakingly beautiful Hapuna Beach State Park, with its enormous stretch of soft white sand and turquoise water.
3. Go sightseeing. Learn about the seven historic and spiritual Kalahuipua'a Fish Ponds at Mauna Lani.
4. Explore the village. Stop in the charming town of Hawi, Hawaii's northernmost town, for a stroll. Peruse the galleries, have lunch and treat kids to a giant shaved ice treat.
5. Go hiking. Take a short but steep hike to a breathtaking black sand beach set against rugged cliffs at the mouth of the remote Pololu Valley. The trek is perfect for older kids.
Four Seasons Resort Hualalai