HOURS
Main spa

10:00 am – 7:00 pm

Spa villas

10:00 am – 7:00 pm
Favourites
Combine authentic Balinese traditions, physical therapies and energy healing to restore balance and harmony to your body's key energy centres.

Details

Embrace Bali's holistic wellness philosophy with active adventures including river rafting, rice field cycling tours and trekking, and our Day in the Life of a Balinese Rice Farmer experience – which ends with our signature Riverstone Bathing Ritual.

Details
Spa Services
Wellness Services
offer valid for:

Jan 19 2021 – Mar 31 2023

minimum stay:

3 nights
included
Daily breakfast for two
Two morning hatha yoga sessions per person (60 minutes each)
Two morning yin yoga sessions per person (60 minutes each)
One Muladhara Chakra Ceremony at Sacred River Spa per person (120 minutes)
Two Sacred Nap experiences per person (60 minutes each)
Two evening candlelight mala meditation sessions per person (60 minutes each)
One kirtan/chanting meditation session per person
One walking meditation session per person (60 minutes)
One Life Talk session per person (60 minutes)
Two Balinese water blessings per person (60 minutes each)
Silence rituals (optional)
more details
Meet the Team
Faraaz Tanveer
Spa and Wellness Manager​
Faraaz Tanveer has been immersed in the world of spa and wellness for more than ten years, from both an observer and practitioner's perspective. A keen yogi and Vipassana meditator since his teenage years, he became a qualified Reiki master and Hatha, Yin and traditional Thai yoga massage practitioner. He has also been a wellness journalist, corporate wellness coach and retreat facilitator. While managing operations may mean less time on the mat, Faraaz remains deeply committed to his daily practice.
"My aim is to engage the five senses to bring body, breath and mind into a state of relaxation."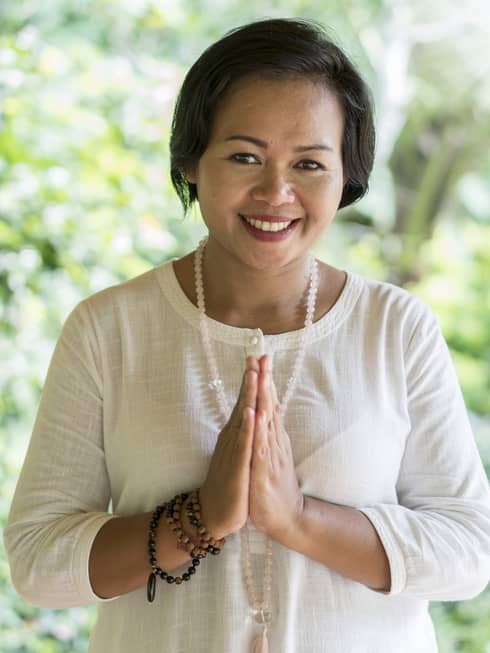 Ibu Heny Ferawati
Resident Wellness Mentor
Ibu Fera believes her experiences as a nun were the most deeply transformative in her life, enabling her to attain her own happiness through guiding and helping others. She works with guests to create individual wellness programs, sharing techniques to approach mindful living. Through the practice of meditation and "life talks," she passionately points out different perspectives to enable guests to overcome the ups and downs of their own daily lives.
"The more we understand the nature of our own mind, the more we develop in wisdom, and the more we discover the source of happiness."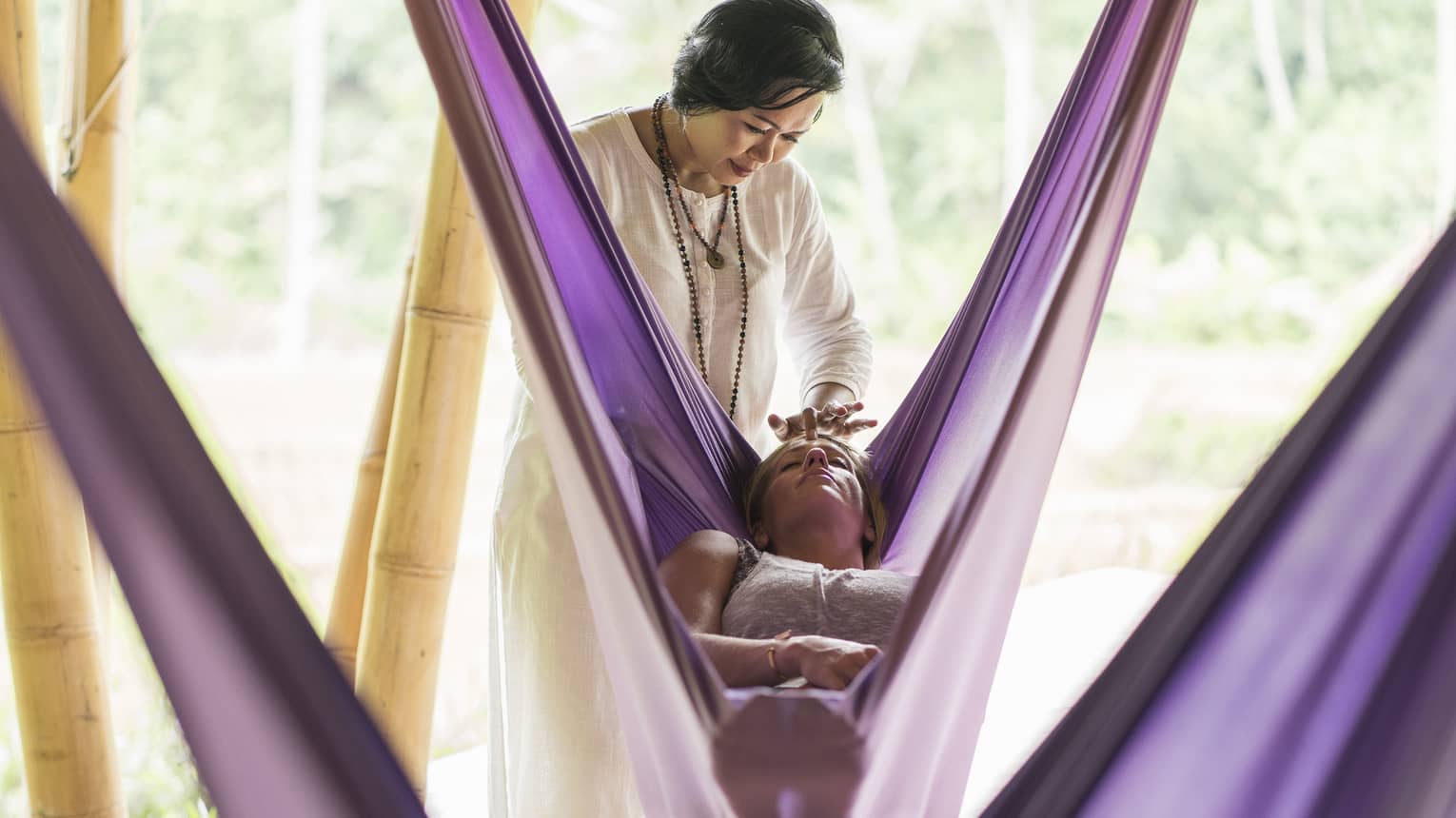 Take Home "The Sacred Nap" Experience
Our guests continuously comment on Ibu Fera's soothing voice, saying they wish they could take it home with them. We decided to make that possible by creating an album featuring the sounds of crystal singing bowls, chants and mantras by Fera. The "Sacred Nap" album is now available at our Spa.
Relaxation Experiences
Once we surrender ourselves to living in the present moment, we discover Mother Earth's infinite power of healing, serenity and peacefulness.

Heni Ferawati

Resident Wellness Mentor
Take an afternoon "air nap" suspended from the ceiling of the bamboo Dharma Shanti Bale in an aerial silk hammock, cocooned in the tranquility of the Sayan Valley.

Details

Bathe in moonlight and harness the uplifting force of the universe. Balance the masculine energy of the sun with lunar vibe under the starry skies.

Details

Defy gravity with this "flying" practice using hammocks to increase flexibility and relieve stress.

Details