Welcome to the Sacred River Spa at Four Seasons Resort Bali at Sayan. Immersed in lush jungle greenery in the Ayung River Valley, the Sacred River Spa is a serene and nurturing environment with a deep focus. Spiritual practices and rituals balance and restore the subtle inner energies, uniting body, mind and spirit. Offering a glimpse of what is possible when we consciously align ourselves with the Earth, they evoke a sense of awareness, wellness and being.
HOURS
Spa treatments

9:00 am – 9:00 pm

Spa villas

9:00 am – 9:00 pm

Fitness Centre

6:00 am – 9:00 pm

Sauna, Steam and Jacuzzi

6:00 am – 9:00 pm
Favourites
Combine authentic Balinese traditions, physical therapies and energy healing to restore balance and harmony to your body's key energy centres.

Details

Embrace Bali's holistic wellness philosophy with active adventures including river rafting, rice field cycling tours and trekking, and our Day in the Life of a Balinese Rice Farmer experience – which ends with our signature Riverstone Bathing Ritual.

Details

Your exclusive skin "cocktail" is the secret ingredient for the CODAGE cellular workout: a combination of massage and gua sha techniques using rose quartz crystals to stimulate facial muscles, lifting, toning and boosting circulation and lymphatic drainage.

Details
Spa Services
Wellness Services
@trevorgerland

@thehotelhunters
Valid for Selected Dates Between

Dec 11 2023 – Mar 31 2025




Offers are subject to availability at time of booking. Blackout dates and other restrictions may apply.

minimum stay:

3 nights
included
Daily breakfast for two guests
Two 60-minute morning Hatha Yoga sessions for two guests per stay
One 120-minute Sahasrara treatment for two guests per stay
One 120-minute Muladhara Chakra Ceremony at Sacred River Spa for two guests per stay
Two 60-minute Sacred Nap sessions for two guests per stay
Two 60-minute Life Talk Series sessions for two guests per stay
One 60-minute Afternoon Yoga session for two guests per stay
One 60-minute Flower Bath experience for two guests per stay
Two 60-minute Evening Candlelight Mala Meditation sessions for two guests per stay
more details
Meet the Team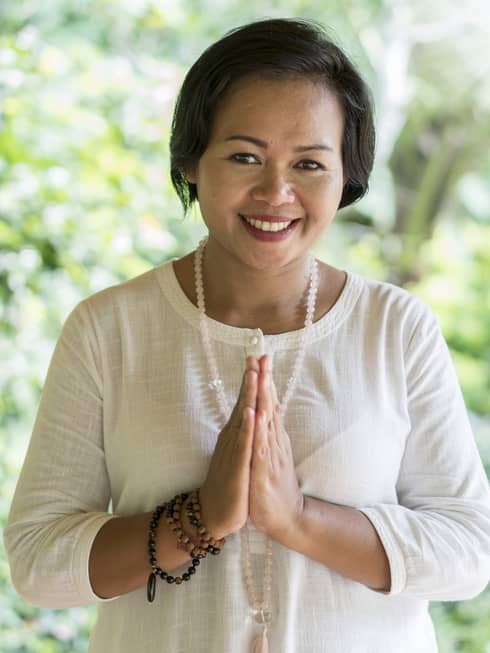 Ibu Heny Ferawati
Resident Wellness Mentor
Ibu Fera believes her experiences as a nun were the most deeply transformative in her life, enabling her to attain her own happiness through guiding and helping others. She works with guests to create individual wellness programs, sharing techniques to approach mindful living. Through the practice of meditation and "life talks," she passionately points out different perspectives to enable guests to overcome the ups and downs of their own daily lives.
"The more we understand the nature of our own mind, the more we develop in wisdom, and the more we discover the source of happiness."
Relaxation Experiences
Once we surrender ourselves to living in the present moment, we discover Mother Earth's infinite power of healing, serenity and peacefulness.

Ibu Fera

Resident Wellness Mentor
Take an afternoon "air nap" suspended from the ceiling of the bamboo Dharma Shanti Bale in an aerial silk hammock, cocooned in the tranquility of the Sayan Valley.

Details

Connect with your own healing energies and inner strength as resident wellness mentor Ibu Fera uses Reiki, crystal singing bowls and mantra chanting to guide your life force.

Details

Defy gravity with this "flying" practice using hammocks to increase flexibility and relieve stress.

Details