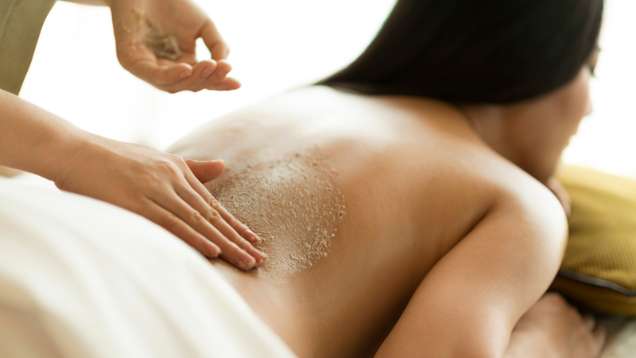 Physically exfoliate the body and metaphorically polish the spirit – our full-body scrubs leave skin feeling fresh, smooth and glowing with radiance. Each treatment is combined with a relaxing 30-minute back massage.
Red Ginger
The Balinese use red ginger to alleviate muscle stiffness and the effects of cold or flu. Mixed with organic red rice, this gentle body polish and finishing lotion can also be applied to sensitive or sun-damaged skin to remove dead layers and nurture new growth.

Rice and Spice
Balinese rice farmers have long applied herbs to warm the body during the rainy season. This scrub uses temu lawak roots crushed with cloves, turmeric, fenugreek and ginger to exfoliate and invigorate. It ends with a traditional gayung rice and spice wine shower, and back massage with aloe and ginger.

Energizing and Detoxifying
Using the ionizing properties of Himalayan Salt Crystals, this body scrub is the ideal treatment for cellulite, stress and exhaustion. On a physical level, it stimulates circulation and toxin elimination; on a subtle level, it cleanses and strengthens the bio-energy fields, uplifting mind, body and spirits.
Blissful
This heavenly body scrub nourishes both bodily and emotional wellbeing. Healing Himalayan salt crystals and pure essential oils of rose damascena otto, jasmine and sandalwood settle the nervous system and nourish neglected cells.
Note: Prices and treatments are subject to change without notice. Prices are subject to a 21% tax and service charge.