SPA
Balinese Healing Rituals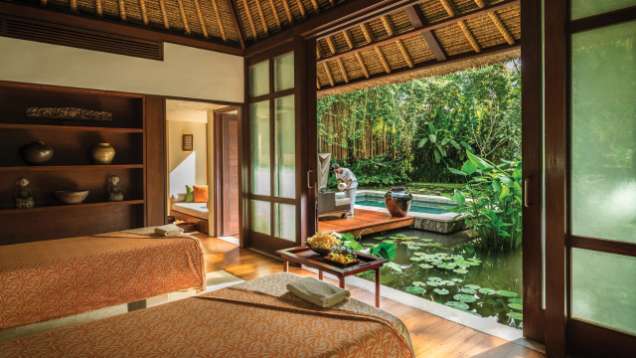 With strong parallels to African, Tibetan, Chinese and Ayurvedic healing, traditional Balinese medicine aims to re-establish balance and wholeness. Central to the practice is the concept of 'complete oneness', borne out of the belief that there is no separation between us and what is all around us – the seen (sekala) and unseen (niskala).
In Balinese philosophy, our Panca Maya Kosa (Five Layers of Being) keep us in constant contact – consciously and subconsciously – with the surrounding world. It is not only physical imbalances that cause ill health, but also a physical-spiritual disconnection to the wider environment of which we are intrinsically a part.
Targeting our 'feeling' layer of being, these six treatments represent authentic Balinese healing traditions that reconnect you to your whole, complete self.
Tantric Bliss
Performed by two therapists, this heavenly therapy brings the divine power of Shiva (masculine) and the creative energy of Shakti (feminine) together by awakening the kundalini – the intense, healing energy that lies dormant at the base of the spine. Tantric breathing exercises, a sensuous flowing massage and sacred mantras stimulate the kundalini, causing the male and female energies to ascend upwards and join in blissful union. A wonderful feeling of peace and contentment spreads throughout the body, calming the mind and allowing the spirit to soar to new heights.

Goddess Within
In Balinese philosophy, the static energy of the male gods needs the creative energy of their female consorts to come into being. Based on the understanding that every woman holds this power, this ancient Balinese ritual – customarily reserved for a bride before her wedding day – is intended to awaken the goddess within. It starts with a fragrant mesiram (gayung shower) and steam bath (using betel leaves and sweet-smelling kembang rampe) to cleanse body and spirit. A Goddess Massage then combines ancient healing techniques with limestone powder, kaffir lime and floral oil to tighten, repair and smooth skin. A purifying facial mask, nourishing coconut milk bath and traditional floral body scenting complete the divine experience.

Vigour and Vitality
Balinese men have long sustained their vigour and vitality by honouring their physical and spiritual connection to the earth goddess, Dewi Sri. They plant and harvest her fields, respect her whims, and use herbal medicines to strengthen and boost their energy. Based on the ancient rituals used to prepare a groom for marriage, this speciality men's treatment uses traditionally fortifying herbs, roots and spices to strengthen physical and mental energy. A cleansing steam bath, invigorating clove and cardamom scrub, deep-stretching massage and Pasek Bumi wrap combine to boost circulation and energise both body and mind.

Batu Kali Riverstone Bathing Ritual
The Balinese tradition of river bathing is both an age-old ritual and a communal soul sharing. After a long day in the fields, villagers would unite in the fast-flowing water to swap gossip and stories, laughter and song, while using river stones to scrub and massage away the stresses of the day. Inspired by these traditions, this revitalising ritual includes a nourishing herbal application for the hair and scalp, an invigorating river stone scrub to revive tired skin, and a soothing Balinese massage – with coconut oil and freshly grated ginger paste – to ease and warm the body. Great for both sexes.

Suci Dhara
Suci translates as awakening the body, heart and soul. This warming, revitalising ritual starts with a herbal infusion, brewed according to your body type. While natural ingredients soothe from the inside, external relaxation begins from the head down with a scalp massage using a blend of star anise, patchouli, fenugreek and coconut oil to improve circulation, release tension and nourish hair and scalp. A meditative and detoxifying warm herbal oil body massage is followed by a final steam and herbal infusion.

Urut Weteng
Embracing Indian, Chinese and Balinese influences, Urut Weteng concentrates on the abdominal area to free emotional and physical stagnation. Yoga and breathing exercises prepare the body, followed by the application of warm and cool packs to increase blood flow to the abdominal organs. Adaptogenic herbs suspended in castor oil are then applied, after which sweeping massage strokes, deep kneading, a stimulating clay mask, and healing sequences combine to boost energy, eliminate toxins and promote healthy organ and colon function.

Note: Prices and treatments are subject to change without notice. Prices are subject to a 21% tax and service charge.