Our elegant and dynamic brasserie combines the best of Dani García's Michelin-starred dishes with more casual Spanish and international cuisine.
Hours
Breakfast

Monday – Friday

7:00 am – 11:00 am

Saturday – Sunday

7:30 am – 11:30 am

Lunch

1:00 PM – 4:00 PM

Dinner

7:00 pm – 11:00 pm

Snacks

1:00 pm – 11:00 pm

Bar

1:00 pm – 1:00 am
Signature Dishes
Nitro tomato and green gazpacho

Dried Tomato, Green Bell Pepper, Baby Shrimp Tartare

Matured Simmental Loin, Foie Gras, Parmesan

Sea Bass Tartare, Baeri & Osetra Caviar

Edamame, Shrimp, Reduced Poultry Jus

Foie Gras Spread, Cherry Gravy, Port Parmesan Cheese

Kombujime Lobster in Green Pepper Sauce

Pak Choi, Baby Spinach, Sautéed Red Sorrel
Jewel of the Cádiz Coast
Bluefin tuna is one of the key specialties on Dani Brasserie's menu. Known as "ronqueo," the almadraba bluefin tuna quartering process is an age-old ritual that takes place each spring when this species migrates from the North Atlantic into the Mediterranean.
Signature Drinks
Brandy Fernando de Catilla, Moscatel Pasas César Florido, Barquillo Bisquit Cream, Coffee, Coconut, Raspberry, Tonka Bean

Grey Goose La Poire, Aperol, Cranberry, Cucumber, Passion Fruit, Yellow Chartreuse, Cava Coquet Reserva

Sipsmith Gin, Manzanilla Pasada La Pastora, Coconut Water, Lime & Ginger Cordial, Curry
The atmosphere at Dani is lively, easygoing and welcoming – much like Madrileños themselves.

Pierre Bauduin

RESTAURANT GENERAL MANAGER
Events
The Best of Dani Menu

Take a journey through the most emblematic dishes of celebrity chef Dani García's career. The Best of Dani Menu proposes seven unique dishes that encompass authenticity, creativity and innovation. EUR 105
The Team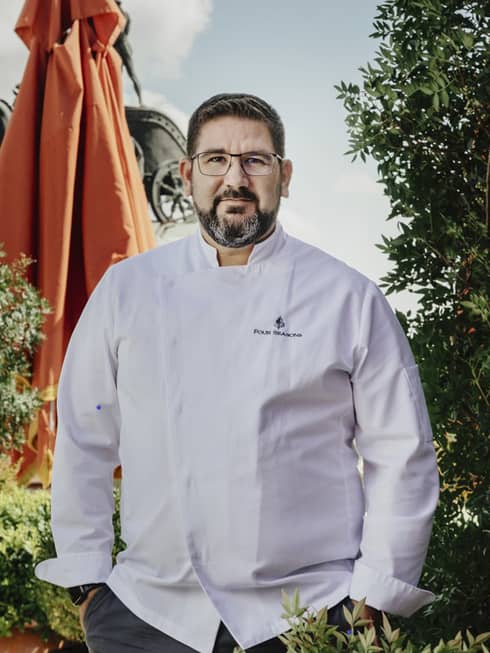 DANI GARCÍA
CONSULTING CHEF
Michelin-distinguished chef Dani García is making waves in Spain with the success of his highly successful ventures, including Leña, Lobito de Mar and Bibo. Loved by locals and an exciting discovery for visitors, his cuisine focuses on superb products, authentic flavours and a fun spirit. At Four Seasons Hotel Madrid, his namesake restaurant Dani provides a unique experience in an unrivalled rooftop location.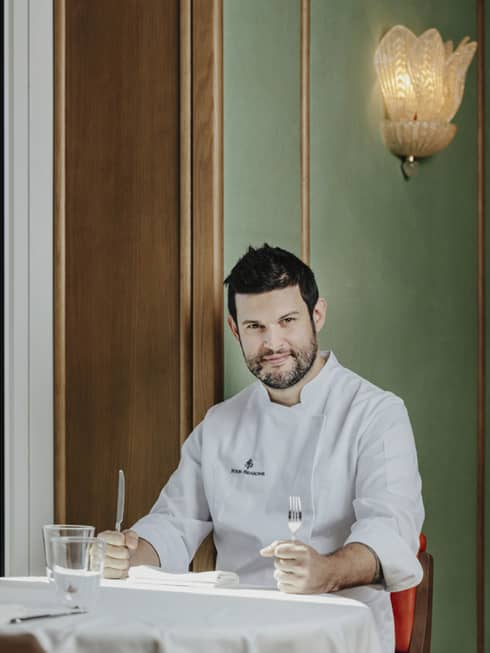 ISMAEL PAÚL
Head Chef
Madrid native Ismael Paúl Sánchez-Migallón is one of the chefs with the greatest projection on the current gastronomic scene. Throughout his career, he has evolved from the hand of emblematic chefs of Spanish haute cuisine such as Paco Roncero or Martín Berasategui, and ultimately gained the title of Head Chef at the Etxeco Madrid restaurant. Now he joins Dani García's team in his Dani Brasserie project for Four Seasons Hotel Madrid, which promises to become one of the benchmarks of the city's gastronomy.
Pierre Bauduin
General Manager
Pierre Bauduin, General Manager of Dani Brasserie, was born near Paris and comes from a family of hoteliers, inspiring him to start hotel management school in France at an early age. Pierre has been part of some of the best haute cuisine restaurants in cities such as Paris and Dubai, as well as worked at the iconic restaurant Le Louis XV by renowned chef Alain Ducasse in Monte Carlo. Pierre is passionate about the world of wine and cocktails, and he has a tireless desire to create unique and exclusive experiences at Dani Brasserie that continues positioning the restaurant as a reference in the city of Madrid.
In-Room Dining

Let us transform your Four Seasons guest room or suite into your own private dining room. Whether for breakfast in bed, a light lunch as you work or a midnight snack, choose from our 24-hour In-Room Dining menu and we'll deliver a delicious Madrid experience.

Details

El Patio

Our majestic lobby bar offers an excitingly unique blend of traditional Spanish fare, chic classics and exquisite pastries crafted with the finest local ingredients in what was once the operations courtyard of the Banco Español de Crédito.

Details

Isa Restaurant and Cocktail Bar

With its eclectic and vibrant atmosphere, Isa offers a unique and sophisticated blend of Asian and Mediterranean cuisine, as well as an award-winning modern cocktail bar led by Head Bartender Miguel Pérez.

Details