Discover the newest dining destination by Spanish celebrity chef Dani García. Casually elegant, this dynamic brasserie combines Michelin-starred specialties with traditional Andalusian cuisine. Enjoy it all with unparalleled rooftop views.
Hours
Breakfast

Monday – Friday

7:00 am – 11:00 am

Saturday – Sunday

7:30 am – 11:30 am

Lunch

1:00 PM – 4:00 PM

Dinner

7:00 pm – 11:00 pm

Snacks

1:00 pm – 11:00 pm

Bar

1:00 pm – 1:00 am
Signature Dishes
Nitro tomato and green gazpacho

Dried Tomato, Green Bell Pepper, Baby Shrimp Tartar

SMOKED SALMON "PREPARED TABLESIDE"

Dill, Capers, Pickle Remoulade

Palo Cortado Beurre Blanc

Matured Simmental Loin, Foie Gras, Parmesan

Free-range Chicken, Norwegian Salmon, Baeri Caviar, Hollandaise Sauce
Jewel of the Cádiz Coast
Bluefin tuna is one of the key specialties on Dani Brasserie's menu. Known as "ronqueo," the almadraba bluefin tuna quartering process is an age-old ritual that takes place each spring when this species migrates from the North Atlantic into the Mediterranean.
Signature Drinks
Maker's Mark Bourbon, Orange Blossom Honey, Peach and Walnut Bitters, Barrel Smoke

Pisco Capel, Pineapple, Lime, Egg White, Homemade Purple Corn Cordial, Coconut, Cinnamon, Essence of your choice

Vibrante Martini, Amor Tea Syrup, Ginger Beer

Alto Reposado Tequila, El Neto Amontillado, Fresh Green Tomato Juice, Umami Sauce, Tajín
The atmosphere at Dani is lively, easygoing and welcoming – much like Madrileños themselves.

Alejandro López

RESTAURANT GENERAL MANAGER
The Team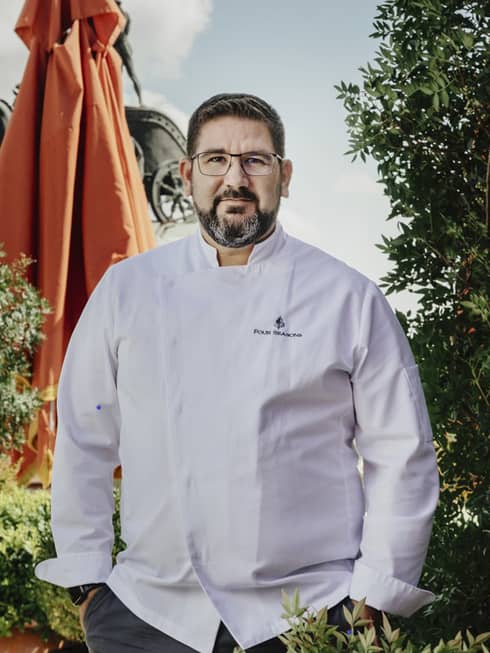 DANI GARCÍA
CONSULTING CHEF
Michelin-distinguished chef Dani García is making waves in Spain with the success of his highly successful ventures, including Dani García Restaurante, Lobito de Mar and Bibo. Loved by locals and visitors alike, his cuisine focuses on the freshest products, authentic flavours and a fun spirit. At Four Seasons Hotel Madrid, his namesake restaurant Dani provides his newest culinary platform, boasting an unrivalled rooftop location.
ALEJANDRO LÓPEZ
Assistant Director of Food & Beverage
With an extensive career at Four Seasons Hotels & Resorts in destinations such as Paris and London, Alejandro López returns to his hometown to participate in the opening of Four Seasons Hotel Madrid as Assistant Director of Food & Beverage. Alejandro has been in charge of bars and restaurants such as Galerie and L'Orangerie at Four Seasons Hotel George V, Paris, the latter with a Michelin star and considered one of the best restaurants of Parisian gastronomy. He is passionate about the world of wine and is characterized by an impeccable and elegant style. His professionalism and experience will lead him to make Dani a point of reference in Madrid.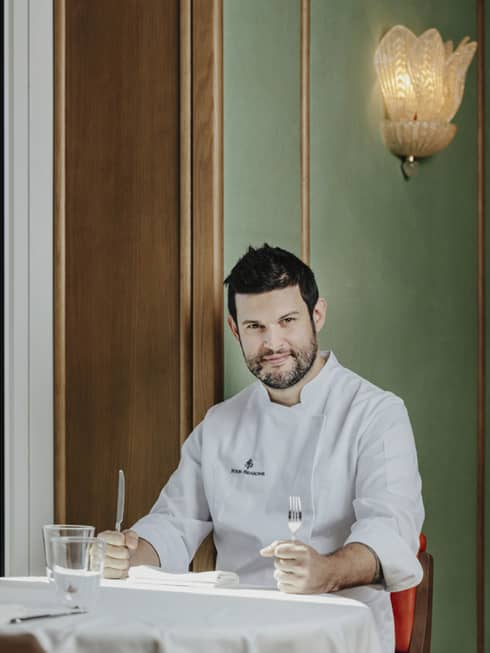 ISMAEL PAÚL
Head Chef
Madrid native Ismael Paúl Sánchez-Migallón is one of the chefs with the greatest projection on the current gastronomic scene. Throughout his career, he has evolved from the hand of emblematic chefs of Spanish haute cuisine such as Paco Roncero or Martín Berasategui, and ultimately gained the title of Head Chef at the Etxeco Madrid restaurant. Now he joins Dani García's team in his Dani Brasserie project for Four Seasons Hotel Madrid, which promises to become one of the benchmarks of the city's gastronomy.
In-Room Dining

Let us transform your Four Seasons guest room or suite into your own private dining room. Whether for breakfast in bed, a light lunch as you work or a midnight snack, choose from our 24-hour In-Room Dining menu and we'll deliver a delicious Madrid experience.

Details

Isa Restaurant and Cocktail Bar

With its eclectic and vibrant atmosphere, Isa offers a unique and sophisticated blend of Asian and Mediterranean cuisine, as well as an award-winning modern cocktail bar led by Head Bartender Miguel Pérez.

Details

El Patio

Our majestic lobby bar offers an excitingly unique blend of traditional Spanish fare and chic classics with the finest local ingredients.

Details