Indulge in an à la carte menu featuring international dishes, plant-based cuisine by Matthew Kenney and an extensive offering of handcrafted mocktails and the world's most prestigious coffee and teas. Return for afternoon tea where delicate finger sandwiches and fluffy scones meet a fanciful selection of pastries.
HOURS
Dining

7:00 am – 12:00 midnight
Signature Dishes
We are pleased to serve single estate 100% Specialty Arabica coffee – Yellow Bourbon from Brazil. Also available are a selection of unique experiences including Syphon Coffee and V60 Coffee.

The definitive experience, full of tradition, innovation, and a delicious celebration of the flavours of the season

SIGNATURE PLANT-BASED DISHES

Plant-based culinary art and ultimate nutrition merge with celebrity chef Matthew Kenney's celebrated wellness cuisine
Events
Every day from 12:00 PM onward

FOLIA PLANT-BASED MENU

Discover our plant-based menu highlighting truly ethical, wholesome and vegan dishes from the kitchen of celebrity chef Matthew Kenny.

Every Day, 12:00 noon – 9:00 pm

Afternoon Tea

A cup of quality tea along with gourmet bites is the perfect reason for a little break during a busy day.
The Team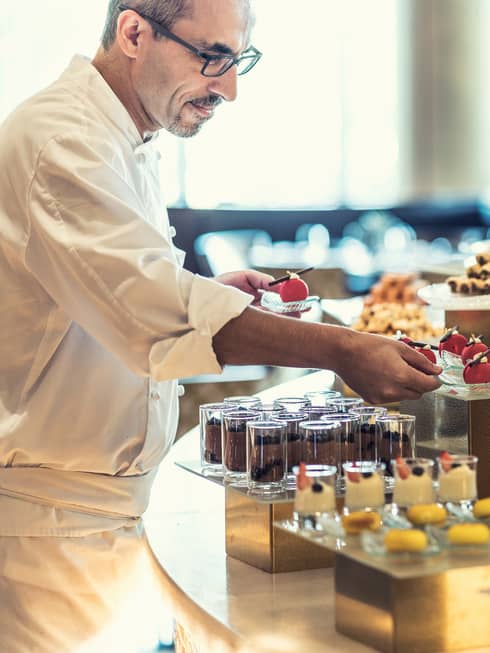 Imad Boukli
Executive Pastry Chef
A veteran to Four Seasons, pastry chef Imad Boukli oversees all pastry aspects of the Hotel, including Bay View Lounge, Bahrain Bay Kitchen, in-room dining, weddings, meetings and events. Other than creating breathtaking wedding cakes, his passion lies in spending time with his wife, daughter and two sons.
"As a kid, I used to fantasize how I'd mold chocolate into animal shapes. Now I actually get to create unique pieces of edible art for work. It's a dream come true."