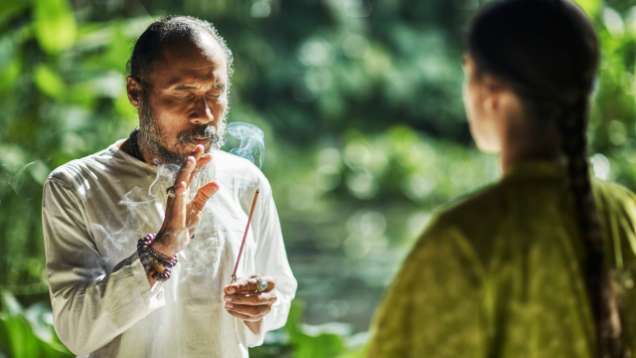 Many guests at Four Seasons Resort Bali at Sayan are interested in visiting a Balinese spiritual healer – whether inspired by their own spiritual seeking, or made curious by the book and movie Eat, Pray, Love.
These traditional healers are known locally as Balians and they play an important role in Bali's culture. They are regarded on a status similar to priests, and many are in fact ordained priests as well. They act as instruments of the divine in delivering spiritual messages and they can serve as a catalyst to enhance mental, emotional and physical well-being.
The following spiritual healers recommended by the Resort practise "healing" experiences by assessing one's current emotional, mental, physical and spiritual state. Depending on the healer's assessment and personal connection with you, an energy-healing session can have a spiritual focus and can impact many levels of well-being.
Djik Dewa: Balinese Energy Healer
Djik Dewa is a gifted healer specialising in Kundalini energy. He acts as a priest in his family shrine and is entirely devoted to helping others. Working with sensitivity, energy work and occasional touch, each individual session sees him scanning the body, facilitating the re-activation and balancing of each of the main seven chakras in succession. His humble and sincere presence in every session allows great healing.
Djik Dewa is available for private sessions at Four Seasons Sayan, at a fee of IDR 1,500,000++ per person.
Ida Panditha Mpu Budha Mahaseri Alit Parama Daksa: High Priestess
Ida Resi Alit performs traditional Balinese Melukat – a water purification ceremony – to help cleanse the body and mind of past karma and negativity. From humble beginnings, she was destined for greatness.
Born in a small farming village in 1986, the first 20 years of her life were ordinary, before external events plunged her into a deep depression. Concerned about her well-being, her uncle, a village priest, introduced her to meditation and yoga, disciplines that became a springboard for her spiritual awakening.
A girl with no previous spiritual training, she began to have out-of-body experiences and, following a near-death encounter during a ritual ceremony (she stopped breathing and had no pulse), she emerged with vast, previously unknown knowledge, including complete and complex Sanskrit mantras. Soon after, she was ordained as Bali's youngest High Priestess.
Ida Resi receives visitors at her home temple, which is a scenic 45- to 60-minute drive from Four Seasons Resort Bali at Sayan. A small donation is required of IDR 300,000 which is placed in the offering.
I Wayan Linggen is a healing therapist and founder of Divine Light International, a spiritual, social and humanitarian organisation that explores healing through yoga and meditation.
When he was 20 years old he was blessed with holy knowledge, 'Jnana Buda Shiva' and received his first dhiksha (initiation for a religious ceremony) from the supreme guru, Maha Guru Sri Jaya Nara from Ashram Lembah Bhayam Bali.
Since then he has remained a diligent student and teacher, exploring the depths of healing through yoga and meditation internationally. He is a gifted and humble healer.
Hasta Siddhi Healing Massage | 60 minutes | IDR 1,700,000
A holistic massage therapy integrating pranic healing energy with meridian techniques and soft to deep tissue massage. The session will harmonize and transform the body's energy processes, encourage the body/spirit connection and help to resolve physical issues.
Sarira Kriya Yoga | 60 minutes | IDR 1,700,000
Sarira Kriya Yoga is the essence of all yoga techniques, promoting physical and mental healing through building, balancing, and regeneration of every cell in the body. It strengthens the immune system, improves mental clarity and creativity, improves quality of sleep, and brings a deep inner peace of mind. In short – it makes you feel on top of the world!
Divine Light | 180 minutes | IDR 4,000,000
Spend three blissful hours with Linggen exploring the ancient sciences of healing through yoga and meditation. This session is a combination of Hasta Siddhi Healing Massage, Sarira Kriya Yoga and Divine Light Meditation.
Arranging a visit to a Balian:
Four Seasons can arrange a session with one of our recommended Balians and advise on the appropriate attire and offering. The resort can also arrange private transport including sarong and sash, and the prepared offering. Please contact the Spa or Concierge for transport pricing and reservations.
Be aware that your session may be conducted in front of other visitors at the Balian's home, and may involve a number of different rituals including water purification. Of course, Four Seasons cannot guarantee any results.