Fourth Night Free, Credit & Breakfast
A complimentary fourth night, daily breakfast and a USD 250 credit.
Destination
Directions & Maps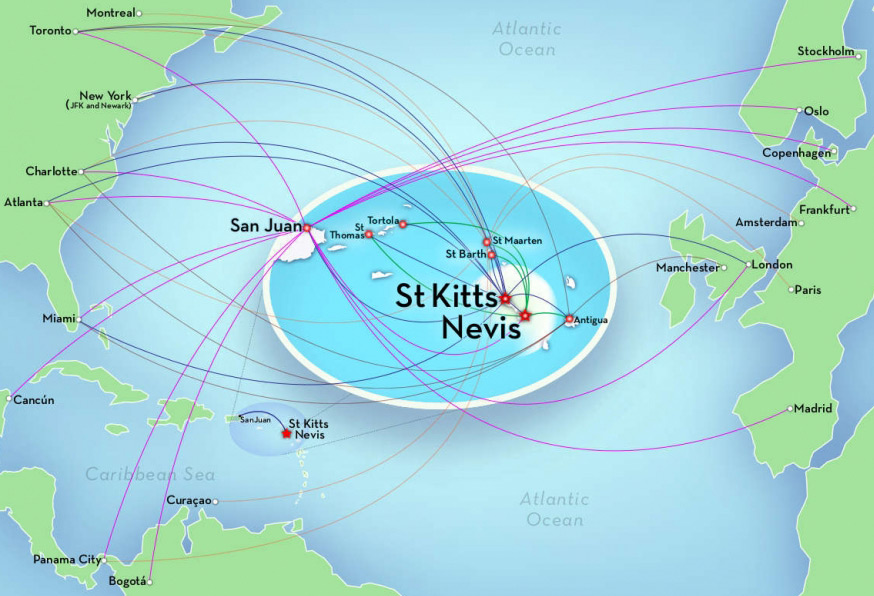 Experiencing the most complete tropical Caribbean destination is just a short flight away. With daily flight connections via San Juan or Miami and direct flights from many domestic, regional and international airports, Nevis is closer than you think.
Guests traveling to this two-island Federation can fly into St. Kitts, Robert L. Bradshaw International Airport (SKB) and take an 18-minute speedboat from the beautiful Christophe Harbour to the Resort's private pier. Guests flying directly into Nevis will arrive at the Vance W. Amory International Airport, where getting to the Resort is just a short 7-minute scenic taxi ride.
Quick Reference
View directions to the Hotel from:
Time and distance to city centre and shopping
Charlestown: 5 minutes / 3 kilometres / 2 miles

Taxi service
The Resort provides taxi service to any destination on Nevis and charges are billed to guests accordingly.

Flight Times from Domestic and International Hubs
San Juan – 60 minutes
Miami – 2 hours and 30 minutes
Charlotte – 3 hours and 50 minutes
Atlanta – 4 hours
New York/New Jersey – 4 hours
Toronto – 5 hours
London – 10 hours 30 minutes
Los Angeles – 11 hours and 19 minutes
Non-stop Flights to St. Kitts and Nevis
Departure City
Airline
Frequency

Miami

American Airlines

Daily (morning) and Wednesday – Sunday (afternoon) starting December 6

Saint Marteen

Winair

Friday – Sunday

San Juan

Tradewind Aviation

Seaborne

Thursday – Monday (December 15, 2017 – April 9, 2018)

Daily

Antigua

Winair

Tuesday and Thursday

Antigua

Caribbean Helicopter LLC

Friday – Sunday

Antigua
Tradewind
Friday and Sunday (starting December 15)

London

British Airlines

Wednesday and Saturday

Anguilla

Trans Anguilla Airways

Tuesday and Thursday

St. Eustatius

Trans Anguilla Airways

Friday and Sunday

St. Thomas, Tortola and Anguilla

Air Sunshine

Monday and Friday

Saint Maarten, San Juan and Virgin Gorda

Air Sunshine

Sunday and Thursday

Dominica

Air Sunshine

Monday, Wednesday and Friday

New York (JFK)

American Airlines

Saturday

New York (JFK)

Delta Airlines
Saturday (starting December 23, 2017)

Newark, NJ (EWR)

United Airlines

Saturday

Toronto

Air Canada

Saturday

Atlanta

Delta Airlines

Saturday, Wednesday (December 23, 2017 – January 6, 2018) and Tuesday (January 9, 2018 – March 27, 2018)

Charlotte

American Airlines

Saturday
Daily Connections from Major Domestic and International Airports
Daily domestic and international connection flights from San Juan to Nevis via Tradewind Aviation and Seaborne. Some connections include:
Tradewind – Airline Connections
St. Barthelemy (St. Barts) – 25 minutes
Philadelphia – 5 hours
Minneapolis – 8 hours and 30 minutes
Daily connection flights from Miami International Airport to St. Kitts L. Bradshaw International Airport via American Airlines. Some connections include:
Dallas – 7 hours
Chicago – 7 hours
Boston – 8 hours
Private jet Service and Preferred Private Jet Partners
Chartering a private jet to Nevis with one of our preferred, private-jet partners offers the ultimate flexibility, personalization, and convenience for couples, families and groups. Private jet flights provide in-flight enhancements such as customized menus, company branding, onboard entertainment or guest speakers, and allow guests to avoid additional fees, stops, ticketing and other restrictions. Private jets arrive and depart from St. Kitts International Airport (SKB), which features a new Private Terminal with fast-tracking service for groups, as well as Nevis International Airport (NEV).
For more information, please contact our Concierge Team at 869-469-1111.
LIMOUSINE SERVICE
Round-trip VIP transportation from the airport can be arranged by the Resort. Taxi service is also available. Transfer fees will be applied to guest's account. Please contact the Concierge for reservations and rates.
Arrival Experience
Robert Llewellyn Bradshaw International Airport, St. Kitts:
Arriving in St. Kitts, you can opt for Four Seasons Resort Nevis' transfer service from the airport to start your vacation as soon as you clear immigration and customs. As part of the service, a Four Seasons team member will greet you and everyone in your party at the luggage claim area. From there, you'll be introduced to a red cap representative to assist with collecting your luggage. Once outside, you'll be offered a chilled bottle of water as your bags are being checked off and tagged. When your party is ready, you will be taken on a breathtaking 15-minute scenic, countryside ride to Christophe Harbour. Upon arrival, enjoy a complimentary rum punch, fruit juice and a snack before boarding Four Seasons' guest speedboats to the Resort. You'll arrive at the Resort's on-property pier, where a staff member will greet you and escort you to your room or villa, where your luggage will also be delivered.
Round- trip transfer fees are USD 170 per adult and USD 85 per child.
Vance Amory International Airport, Nevis:
When arriving into Nevis airport, you will be greeted by a Four Seasons representative who will help to expedite your arrival process and assist with your luggage. You and your party will be placed into a waiting taxi along with your luggage. After a short seven-minute transfer, you'll arrive at the Resort and escorted to your room or villa.
Round-trip taxi transfer fees are USD 70 round trip.