ALL ACCOMMODATIONS
Ocean-Side Room
One king bed or two double beds, One sofabed, one rollaway or one crib

46 – 52 m2 (490 – 560 sq.ft.) / Cottages 2, 3, 7, 8 and 9 downstairs and 1, 4, 5, 6 and 10 upstairs or downstairs.

3 adults, or 2 adults and 2 children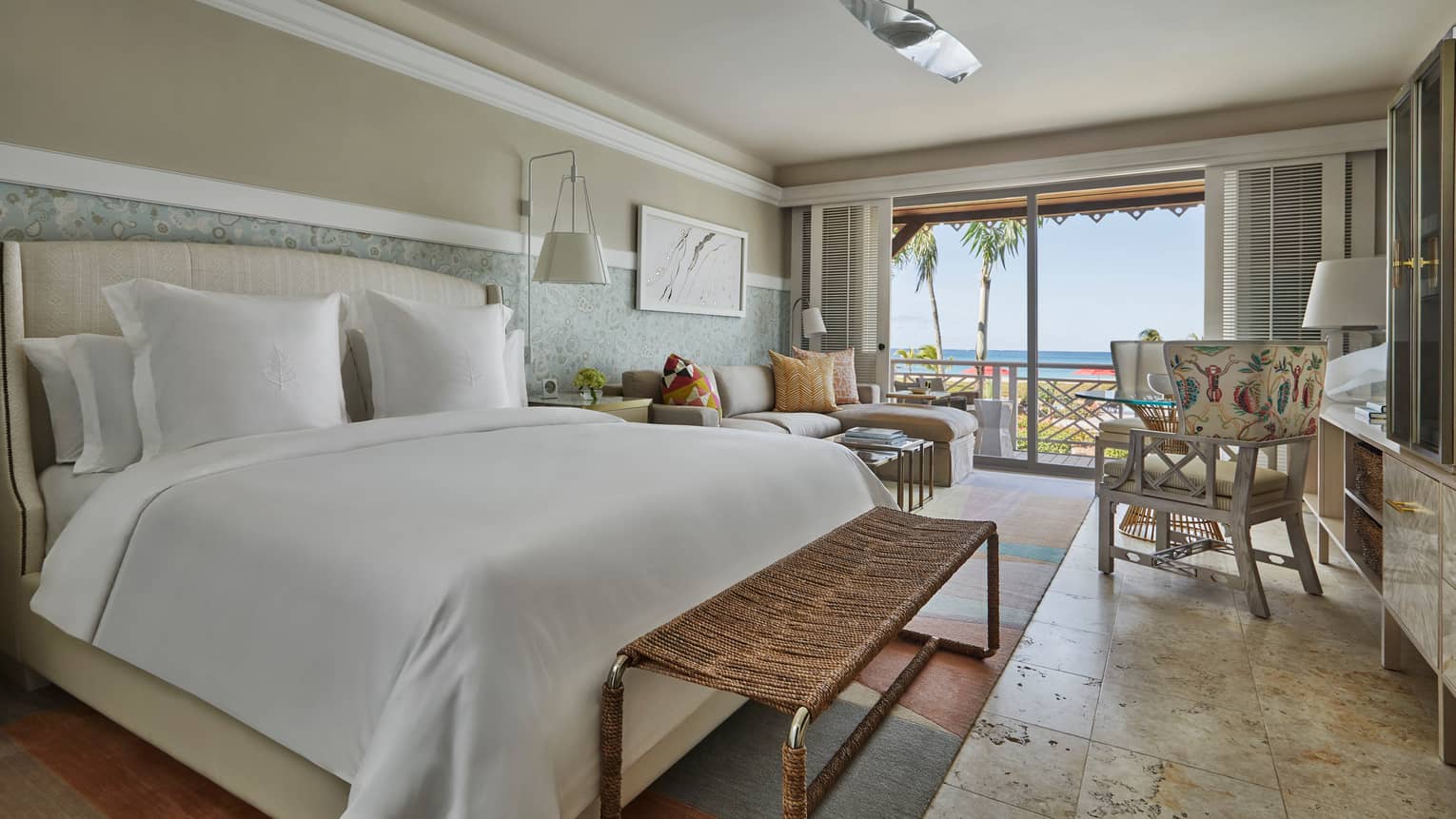 Ocean-View Room
One king bed or two double beds, One sofabed, one rollaway or one crib

46 – 52 m2 (490 – 560 sq.ft.) / Cottages 1, 2, 3, 4, 5, 6, 7, 8, 9 and 10 upstairs

3 adults, or 2 adults and 2 children
Nevis Peak View Room
One king bed or two double beds, One sofabed, one rollaway or one crib

45 – 52 m2 (490 – 560 sq.ft.) / Cottages 11 and 12, upstairs or downstairs

3 adults, or 2 adults and 2 children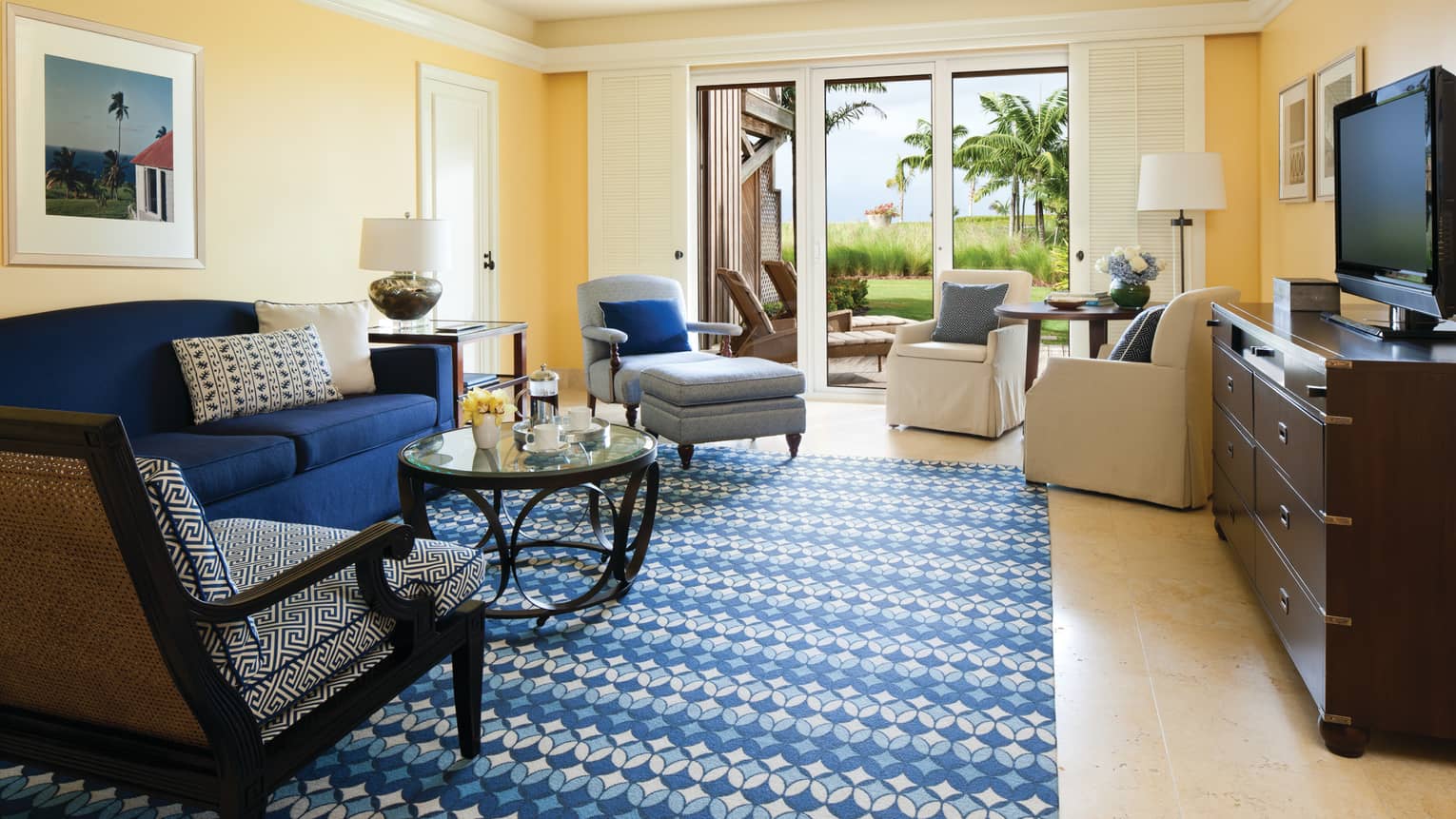 Ocean Suite
One king bed, One sofabed, one rollaway or one crib

82 m2 (880 sq.ft.) / Ground floor of cottages 4, 6, 7 and 10

3 adults, or 2 adults and 2 children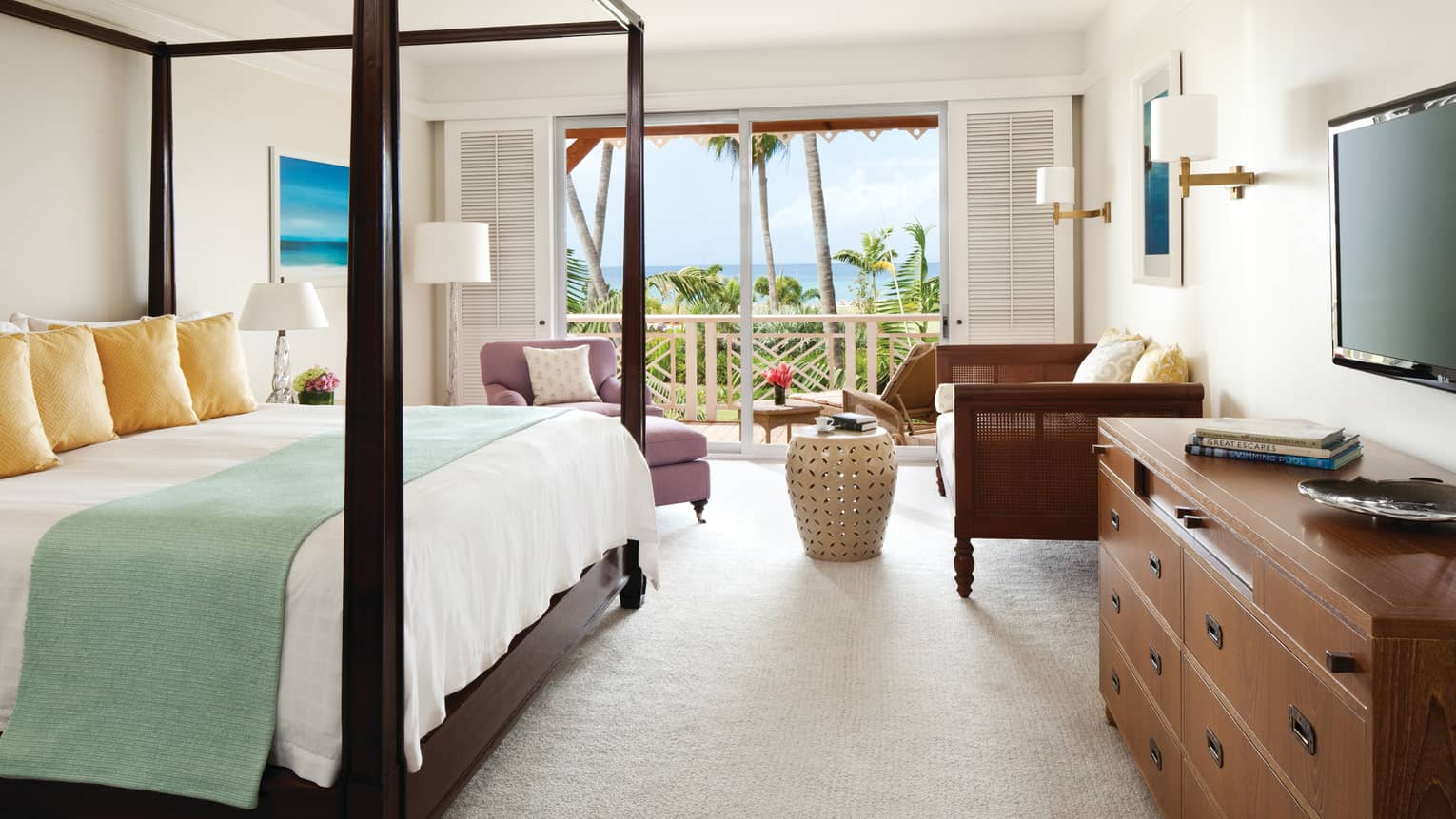 Luxury Suite
One king bed, One rollaway or one crib

164 m2 (1,761 sq.ft.) / Upper level of Cottages 2 and 8

3 adults, or 2 adults and 2 children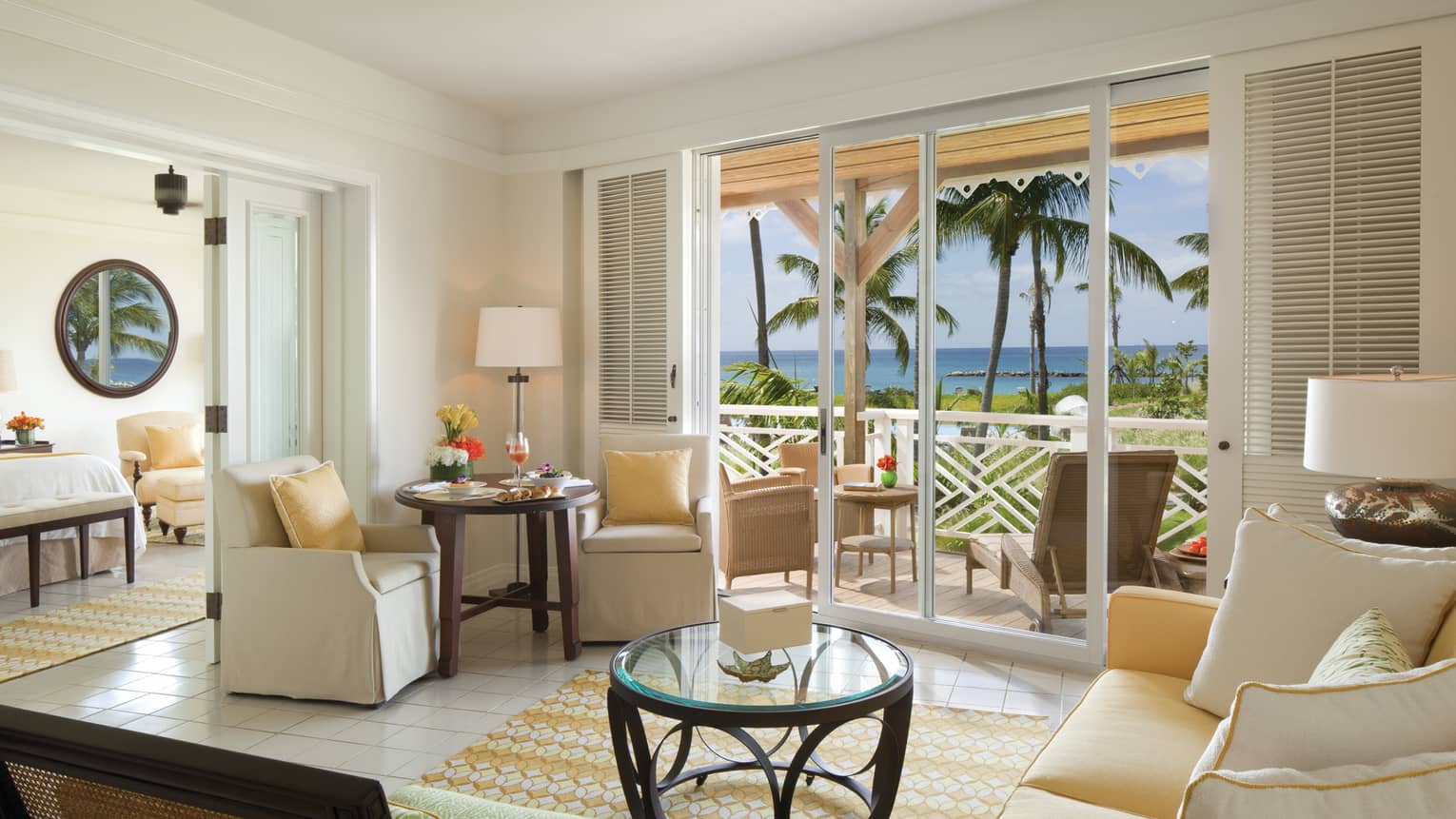 Plantation Suite
One king bed, One sofabed, one rollaway or one crib

66 m2 (710 sq.ft.) / Cottages 1, 2, 3, 5, 8 and 9

3 adults, or 2 adults and 2 children
By Design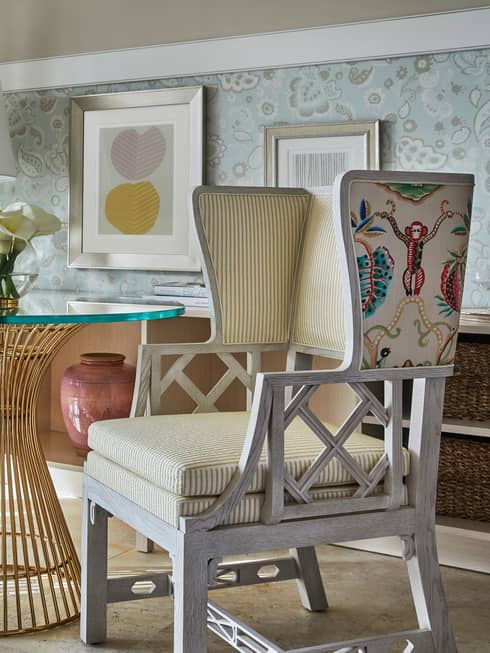 Caribbean Charm
Inspired by the unique beauty and history of Nevis, our guest room and suite design incorporates elements from the natural flora and fauna found on our shores, including subtle nods to the island's unofficial ambassadors, the adorable and mischievous Green Vervet monkeys.
The design is the realization of a new vision for the Resort, speaking to the modern Four Seasons traveller while painstakingly preserving the humble charm of this small island.

Todd-Avery Lenahan

Founder of TAL Design Studios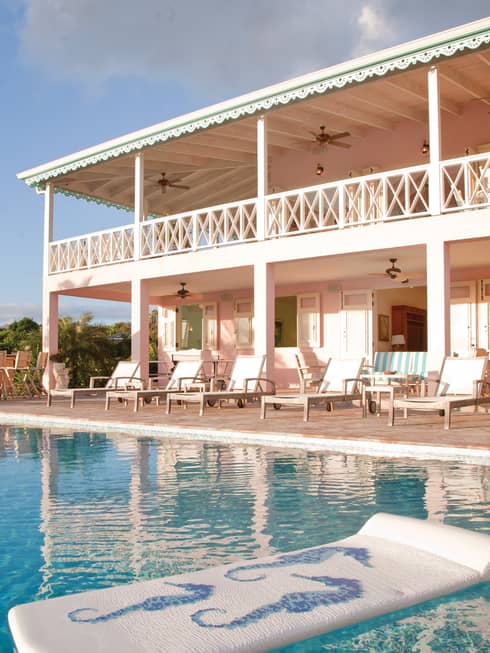 Stay a While
Settle in for an extended Caribbean vacation in one of our luxury residential villas, whose eclectic décor, varied vantage points, lush landscapes and private plunge pools will make you feel right at home.
Policies
Check-in Time: 3:00 PM Check-out Time: 12:00 PM

If you expect to arrive early in the day and would like immediate access to your room, we recommend booking the room for the prior night to guarantee immediate access. Similarly, for late departures, reserving an additional night will guarantee access to your guest room until you depart. If you choose not to reserve, we will be glad to store your bags and make our fitness facilities available for you to freshen up.

At Four Seasons, a guaranteed reservation assures you of a room even if you check in late (after 6:00 pm). If a room is not available, we will arrange your accommodation in another hotel at our expense, and provide transportation to and from Four Seasons as reasonable. All reservations made through the website must be guaranteed by a major credit card. Certain arrival dates and rates may require a deposit. Please check for full deposit requirements at time of booking.

Cancellation and deposit requirements may differ by arrival date, room type and offer booked. For full details, please check at time of booking.

American Express, Visa, MasterCard, Diners Club, Discover Card , JCB, China UnionPay

Four Seasons Resort Nevis charges no additional fee for children 17 years of age and younger occupying the same guest room as their parents or guardians (space permitting). Special rates may be available for two adults and two children 17 years of age and younger occupying two rooms, subject to availability. For reservations and information, please contact the Resort directly.