A theatrical kitchen that's high in energy yet creates a warm and familial environment. Curate presents a delicious, global voyage and brings to life recipes where overindulging is a must.
HOURS
Sunday Brunch

12:30 pm – 3:30 pm

Breakfast

6:00 am – 10:30 am

Lunch

Weekdays, 12:00 pm – 3:00 pm

Saturday, 12:30 pm – 3:30 pm

Dinner

6:00 pm – 10:00 pm
Meet the Team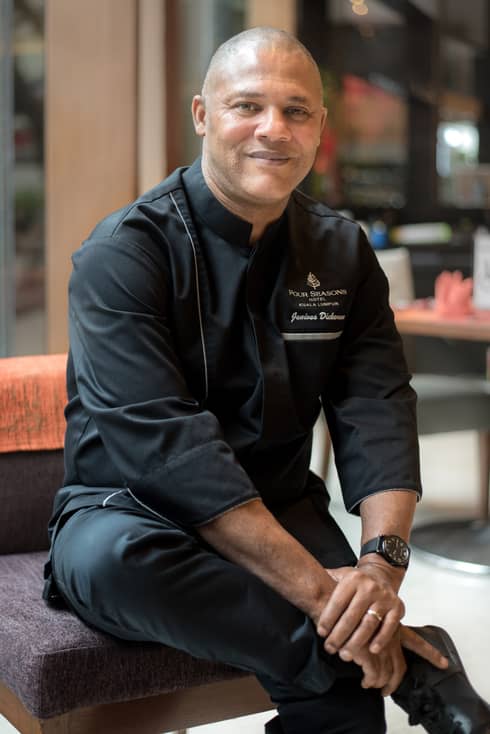 Junious Dickerson
Executive Chef
From a small Virginia town in the United States, Chef Junious Dickerson's dishes has been featured in glossy magazines and cookbooks; he's appeared on TV and radio in the US; served royalty and heads of state; chaired food festivals and judged cooking contests throughout his career. His culinary journey has taken him to various exclusive country clubs and hotels in America, Mauritius, Maldives and Thailand before arriving in Malaysia.
"My kitchen philosophy is "extraordinary, beyond expectations": food is life, food that catches the eye, touches the soul and transfers my true passion into taste."
Raman Durairajan
Indian Chef
With more than 30 years of experience under his belt, Chef Raman originated from Madhurai Tamil Nadu in South India and has held various positions in notable luxury hotels across Asia from Singapore, India to Australia. Chef Raman Durairajan finds inspiration in India's diverse regional cuisines to take diners on a journey across his homeland. Spiced to perfection, his signature chicken or lamb biryani is a dish not to be missed for first timers visiting Curate.
"I love to weave in traditional cooking methods with a touch of the heart."