All Food and Drink
Meet the Team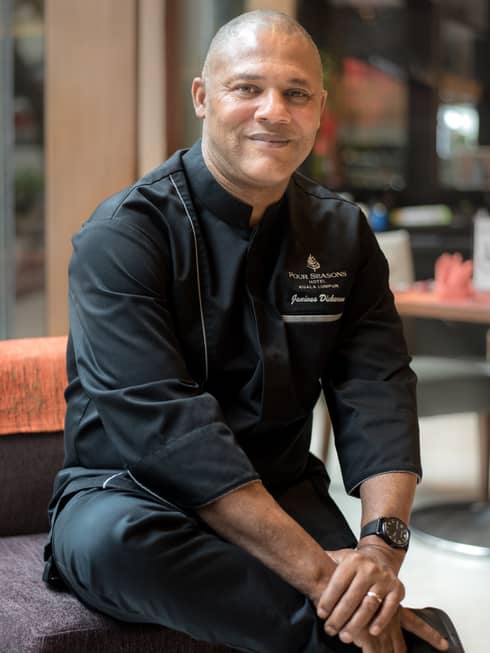 Junious Dickerson
Executive Chef
Chef Dickerson has spent the past 16 years innovating and leading culinary teams at luxury hotels and resorts throughout Southeast Asia. He may have started his adventure in Virginia, USA, but in the years since he has followed his life-long love for the culinary arts to the ends of the earth, including Four Seasons Resort Maldives at Kuda Huraa, where he prepared meals for celebrities and royalty alike.
"My true passion in life encompasses all things culinary – from cultivating sustainable practices to working with local farmers."
Events
AVAILABLE until SEPTEMBER 13, 2019

MAGICAL MOONCAKES from YUN HOUSE

Indulge in an enticing selection of handcrafted mooncakes as part of the celestial tradition this Mid-Autumn Festival. Choose from an array of homemade mooncakes with heavenly crusts and luxurious fillings.

ORDER

EVERY SUNDAY, 12:00 noon – 3:00 pm

SUNDAY BUBBLY BRUNCH at CURATE RESTAURANT

Enjoy a leisurely Sunday afternoon with an exhilarating affair that brings together incredible food, drinks and entertainment – an ideal way to enjoy the afternoon with family and friends.

reservations

September 17 – 22

Michelin-Star Week at Yun House

Chef Choi, Executive Chef of Zi Yat Heen at Four Seasons Hotel Macao, and Executive Chef Jimmy Wong of Yun House collaborate on a poetic gastronomic journey – a series of star-studded culinary experiences, from signature a la carte dishes to a mouth-watering seven-course menu.

Reservations
Magical Mooncakes by Yun House

Celebrate mid-autumn festivities the traditional way, by gifting handcrafted mooncakes to the special people in your life. The pastry chefs at Yun House have crafted a decadent selection of baked and snow skin gems perfectly packaged in a single or double-tiered golden box.

Order

Celebrations with panache

Celebrate any special occasion in one of our many venues – from intimate meals in a private dining room to cocktail soirées with those you love most.

Join KL's most in-the-know gourmands and book a table at midday on Sunday at Yun House, where you'll be dazzled by our theatrical dim sum brunch.

When the sun sets, head to our Pool Bar & Grill for an evening of delicious food and drinks beneath the glittering lights of the KL cityscape.