Impress your guests with innovative Four Seasons cuisine. Kuala Lumpur is home to a sweet and savoury array of flavours influenced by three distinct cultures: Malay, Chinese and Indian. We work closely with nearby farmers and suppliers to deliver the highest quality menus for every event, giving your guests a true taste of our region. Let us create a unique culinary experience just for you.
EVERYTHING YOU NEED
Sit down for a Cantonese feast in one of Yun House's six private dining rooms, each overlooking the greenery of KLCC Park, or orchestrate an intimate meal for eight in one of CurAte's two private rooms.

Invite your guests to savour traditional dishes such as nasi lemak and sang har noodles, or opt for a menu of Chef Jimmy Wong's popular Cantonese dim-sum creations. However your group's tastes lean, our chefs will create something truly special.

On-Site Restaurants & Bars

Your guests will have their pick of five unique options for dining and drinks, including our signature Yun House restaurant serving Cantonese delicacies by Chef Jimmy Wong as well as our sleek and stylish Bar Trigona.

Details

Parties Beneath the Stars

Our seventh-floor Pool Bar & Grill can be transformed into your own private event space for a stylish reception for up to 125 guests. Let them mingle next to views of the sun setting over the skyline and the Petronas Twin Towers twinkling nearby.

Details

Chef Jimmy Wong will let your group in on the secrets to his celebrated dim-sum dishes, while our award-winning Head Bartender Ashish Sharma can show them how to mix up bespoke cocktails using sustainable ingredients from local farmers.
The diverse culture of Malaysia gives our culinary team the option to be as playful as the client wishes or as traditional as requested. We have it all covered.

Vinod Narayan

Hotel Manager
Our Team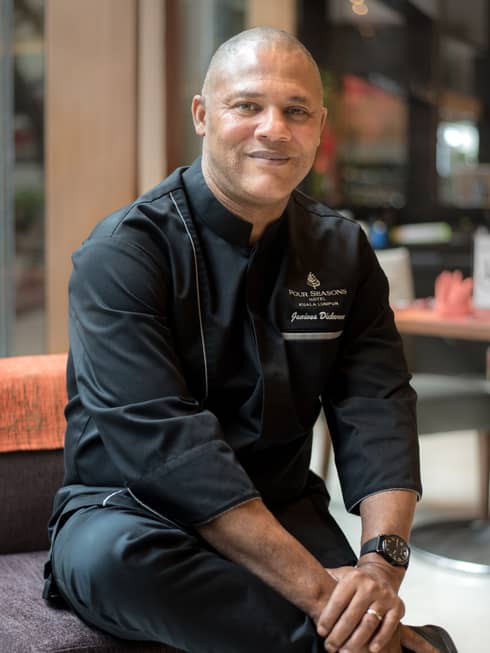 Junious Dickerson
Executive Chef
Junious brings his "food is life" philosophy to Four Seasons Hotel Kuala Lumpur, defining the Hotel's collection of six unique restaurants and lounges, as well as overseeing in-room dining, banquets and special events. Hard-working and determined, Junious attributes much of his ever-evolving cooking style to his life experiences, both the hardships and highs. Inspired by everything he has ever seen, read, watched, loved or lost, his one constant through nearly three decades of culinary experience has been to tell a story from the heart, through food.
"My kitchen philosophy is 'extraordinary, beyond expectations': food is life, food that catches the eye, touches the soul and transfers my true passion into taste."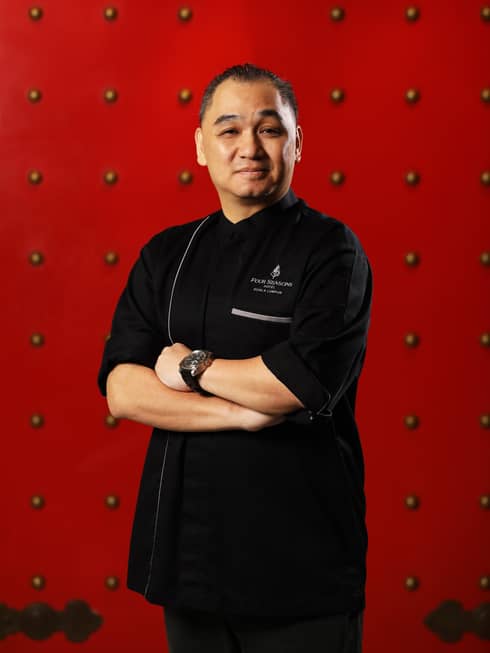 Jimmy Wong
Executive Chef, Yun House
For Jimmy Wong, food is the ultimate connector. It connects us to each other, to family, to our past, to our future and, above all, connects us to different cultures. Guided by the principle of connecting people through food, Jimmy has spent more than three decades uniting and dazzling travellers and epicureans alike with his authentic Cantonese cuisine. Renowned for his unwavering commitment to quality, he brings a wealth of culinary expertise and time-honoured traditions to Yun House.
"I'm passionate about all things culinary, specifically as it relates to honouring my Chinese culture."
Ashish Sharma
Head Bartender
For Ashish, his work is all about shaking things up – literally, as he likes to put it. As the award-winning head bartender and beverage manager at Four Seasons Hotel Kuala Lumpur, shaking, and stirring, things up has been his specialty ever since discovering a passion for artisanal spirits and classic cocktails while at Four Seasons Hotel Mumbai in 2007. It was there that he began his pursuit of the perfect cocktail, and he hasn't looked back since.
"Every cocktail has a story, and I look forward to sharing these rich stories and creating new ones here at Four Seasons."