Pastries
at the Grand-Hôtel du Cap-Ferrat
Discover curated pastries from our award-winning pastry chef on the French Riviera.
Meet Our Pastry Chef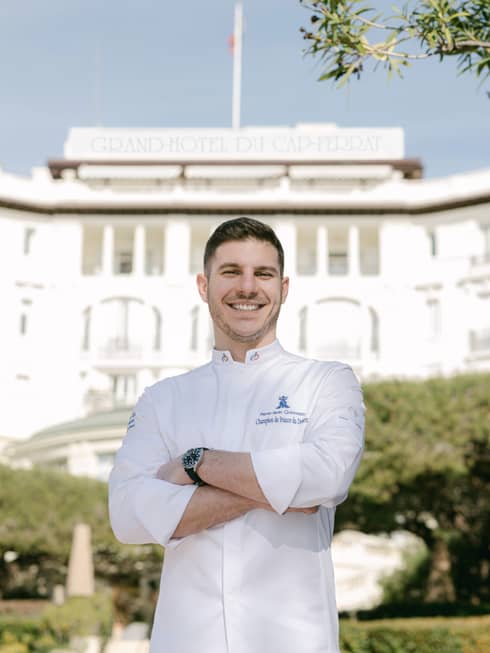 Pierre-Jean Quinonero
Alongside Michelin-distinguished Chef Yoric Tièche, Executive Pastry Chef Pierre-Jean Quinonero creates the pastries and desserts for our Hotel's three restaurants – Michelin-starred Le Cap, chic French Riviera bistro La Véranda and Club Dauphin – as well as creates sweet delights for the many events that are held in our Hotel's verdant gardens, including grand wedding receptions.
His Creations
Le Cap

Chef Quinonero draws his inspiration from the beauty of the French Riviera. His desserts perfectly pair with the modern twists on Provençal and Mediterranean cuisine of our Hotel's signature dining experience, Michelin-starred Le Cap.

La Véranda

For the chic bistro La Véranda surrounded by our lush gardens, Chef Quinonero revisits traditional French pastries.

Club Dauphin

With the sparkling waters of the infinity pool and sea as a backdrop, our open-air restaurant invites all-day poolside relaxation, accompanied by fresh, seasonal and modern pastries made with local products.

Takeaway is available for EUR 19 per individual dessert serving. For information and reservations, contact clubdauphin.capferrat@fourseasons.com or +33(0)4 93 76 50 92.
Takeaway Offer
Celebrate every special occasion with Chef Quinonero's signature cakes to share.*

• Chocolate cake: Hazelnut crisp, vanilla cream, cocoa biscuit, chocolate mousse and cocoa shortbread

• Manguier: Almond biscuit, mango and lime confit, vanilla ganache, exotic glaze and Breton shortbread

• Strawberry cake: Almond biscuit, strawberry confit, vanilla ganache, fresh strawberries and Breton shortbread

• Framboisier: Almond biscuit, raspberry confit, vanilla ganache, fresh raspberries and Breton shortbread

• Lemon and basil tart: Lemon cream, lemon confit, basil gel, sweet vanilla pastry, almond cream and meringue
*Subject to availability. EUR 24 per person; four people minimum. Orders must be placed at least 48 hours in advance. Pickup is from 11:00 am to 12:00 noon. To place an order, email restaurant.capferrat@fourseasons.com or call us.
Pastry Class
Discover more about French pastries with Chef Quinonero. Step by step, you'll be guided through the process of developing a dessert, learn the subtle yet distinct difference between flavours and associations, and finish with a tasting.*
I like to put modern spins to my creations, maximizing visuals and minimizing sugar.

PIERRE-JEAN QUINONERO

Executive Pastry Chef