Guest Rooms (3)
Offering views out across the Mediterranean or over native pine groves and gardens, these elegant Guest Rooms echo the timeless chic of the French Riviera, with the option of a private terrace for lingering evenings.
Suites (6)
Ideal for leisure, business or extended stays, our luxurious Suites offer space, comfort and a private place to unwind after a day on the French Riviera, as you gaze out over inspiring views of the Mediterranean.
Villas (3)
With room for 13 people, the magnificent Villa Rose Pierre is nestled in a one-acre private garden, with a professional fitted kitchen and wine cellar and exclusive access to its very own private freshwater pool, tennis court and petanque field.
Featured Amenities
Complimentary premium Wi-Fi
The decoration is simple and refined, and the design is classic French – reminiscent of the Riviera of the 1940s and 1950s.

Pierre-Yves Rochon

Interior Designer
Interior Design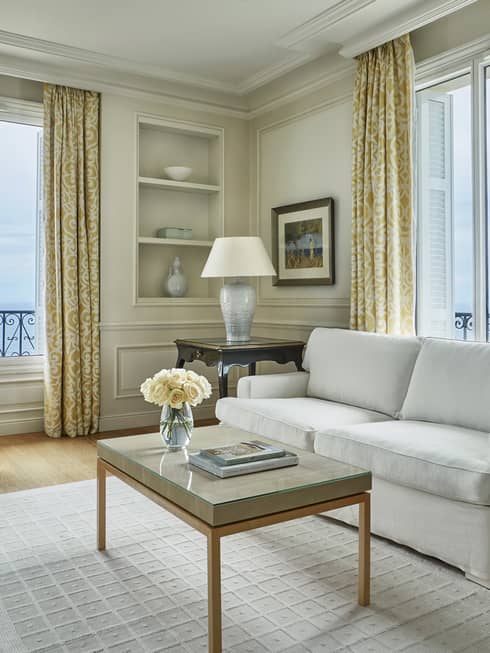 Modern Elegance
Gleaming, white marble and a palette of white and beige textures allow bright-blue, Riviera views to take center stage in light and airy rooms designed by Pierre-Yves Rochon.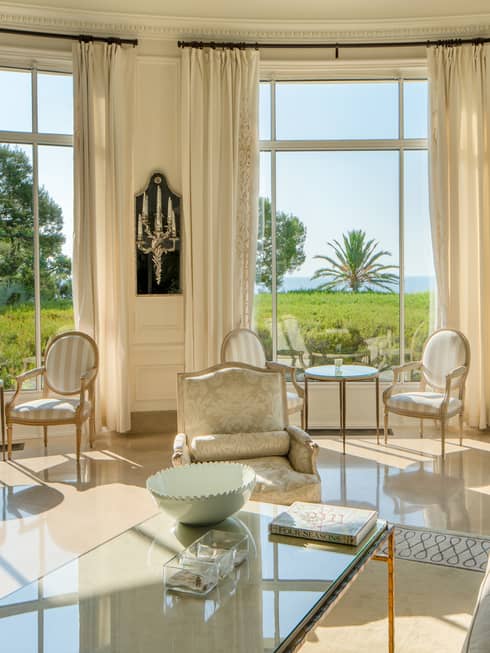 100 Years of Grand Design
The original Rotunda, with its magnificent bay windows and views of the sea over the top of Aleppo pines, was designed and built by Gustave Eiffel in 1909. Paris-based Pierre-Yves Rochon led the Hotel's interior design, with a new wing designed by architect Luc Svetchine. Acclaimed landscape designer Jean Mus has added his touch to the Grand-Hôtel's gardens.