Celebrated as one of the world's most beautiful swimming pools, the Club Dauphin pool has been a signature symbol of the Hotel since 1939. Perched above the rocky Mediterranean coastline near Nice and Monaco, our Hotel's infinity pool is heated and filled with seawater, overlooking the sparkling sea.
Low Season

September 30 – November 14

10:00 am – 5:00 pm

Please note that from November 15, 2019, to April 5, 2020, our Club Dauphin will be closed for maintenance. During this time, and subject to availability, we will welcome Hotel guests and Club Dauphin members either at our Spa indoor pool or at the heated sea-view swimming pool of our exclusive Villa Rose-Pierre.

Reopening April 5, 2020

Middle Season

May 14 – June 23

September 3 – September 29

10:00 am – 6:00 pm

High Season

June 24 – September 2

10:00 am – 7:00 pm
Seaside Amenities
Our heated, saltwater pool, a glittering jewel perched on the edge of the sea, is a highlight of the French Riviera.

For the ultimate Côte d'Azur resort experience, treat yourself to a private seaside cabana.
The Team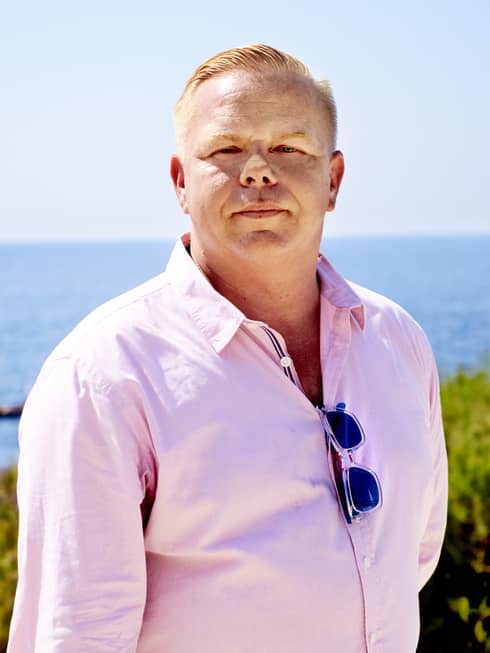 Johann Burgos
Director, Club Dauphin
From gleaming cities to hidden gems, there is no end to inviting spots for spending time along the French Riviera. Yet, for a real taste of luxury, few measure up to Club Dauphin, the sun-splashed restaurant overlooking the Mediterranean Sea from the pool. Keeping people coming back is Johann, who got the idea for Club Spritz when observing guests ordering the iconic Italian cocktail Aperol Spritz. "The secret of a spritz is the bitters," he says, so the first spritz cocktail began with a birch barrel submerged in the Mediterranean for 24 hours, desalination with fresh water, filling it with home-made bitters, then shaking and turning it daily for two weeks. Finally, the elixir was discarded and the barrel was refilled with new bitters and aged for a full year at Club Dauphin. The vintage 2018 has just been unveiled, and the 2019 vintage is now under preparation.
"It's all about creating lasting memories and relationships. These days, we're serving the grandchildren of guests who first came here generations ago."
Club Dauphin Pool
Swimming in History

Ride the glass funicular down to the Club Dauphin pool and you're arriving at a Côte d'Azur landmark. The 33-metre pool, bordered by a wooden deck and surrounded by lounge chairs and parasols, perches on the edge of the sparkling, blue sea. Constructed in 1939, the pool has been a glamorous destination ever since, drawing world-famous actors, artists, writers and politicians to its infinity edge and sunbathed views.

Private Cabanas

For the ultimate Côte d'Azur resort experience, treat yourself to a private, seaside cabana, accommodating two to four people. Our shady cabanas are equipped with telephones, letting you place your food and beverage orders directly with our restaurant. Cabanas may be booked for the day or for the season, enhancing your Saint-Jean-Cap-Ferrat hotel stay.