Our Extraordinary Experiences
Sea Turtle Conservation Program
For more than 10 years, Four Seasons Resort Nevis has partnered with the Sea Turtle Conservancy and the Nevis Turtle Group to engage visitors and residents to help protect endangered sea turtles. The sea turtle conservation program helps researchers study the migration patterns of endangered sea turtles that nest on St. Kitts and Nevis beaches. Four Seasons Resort Nevis sponsors two GPS satellite transmitters annually to help the Sea Turtle Conservancy track the migration patterns of sea turtles that return to Nevis to lay their eggs.

From July 13-16, 2018, guests have the opportunity to join Four Seasons and the Sea Turtle Conservancy team members to help look for nesting Sea Turtles along the shores of Nevis. Once a sea turtle is found and finishes nesting, the volunteer group will bring the turtle back to the Resort, where it will be fitted with a satellite transmitter and released into the sea the following morning. From July through October, guests can also volunteer to assist the Nevis Turtle Group to identify and mark sea turtle nests for safekeeping and obtaining scientific data that assist conservationists throughout the world to track the mysterious migratory paths of turtles.
To date, 21 hawksbill turtles have been released since the start of the program in 2006. The most recent Hawksbills, Tilly (also known as Feisty) and Mojito, were released in July 2017. Following the culmination of each annual Sea Turtle Weekend at Four Seasons Resort Nevis, guests can follow the progress of the sea turtles as they travel around the region from Nevis.
Sea Turtle Conservation Schedule
Saturday, July 14: Sea Turtle Orientation and Reception
Saturday, July 14: Nesting Sea Turtle Search on beaches
Sunday, July 15: Sea Turtle Release on Pinney's Beach
Sunday, July 15: Nesting Sea Turtle Search on beaches
Monday, July 16: Sea Turtle Release on Pinney's Beach
Monday, July 16: Sea Turtle Camp for Kids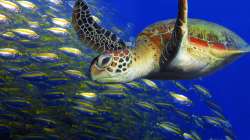 2017 Sea Turtle Experience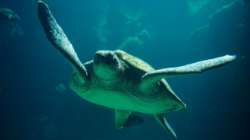 Tracking Sea Turtles