At this modern oceanside restaurant, experience a vibrant display of the culture and laidback nature of the island. Mango's new bar offers unobstructed views overlooking St. Kitts, where you can enjoy a refreshing cocktail crafted by our Master Mixologist, Kendie Williams.
Hours
Lunch (Every Day)

11:00 am - 3:00 pm

Dinner

5:30 pm – 9:00 pm
Each dish has a story and an influence from all around the Caribbean. When you combine them, it's magical.

Rodelle Rawlins

Sous Chef
Meet The Team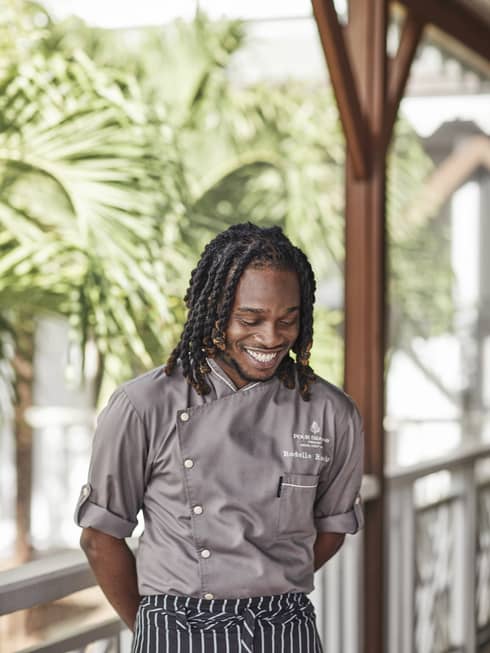 Rodelle Rawlins
Sous Chef
Rodelle Rawlins defines his style of cooking as "authentic Caribbean Creole," something that comes naturally for him. His grandmother would often share her recipes with the young, up-and-coming chef, which led him to fall in love with cooking at an early age. He began his professional career as a Kitchen Manager and Executive Chef for a small restaurant in Trinidad, eventually working his way up to becoming a hotel and restaurant chef throughout the Caribbean. Today, Chef Rodelle's recipes are featured on all eight restaurant and bar menus at our Resort, including his award-winning signature rub.
"My signature style takes advantage of the wide array of spices available here on the Island."