There's no shortage of unique spots to enjoy a cocktail when you're staying with Four Seasons: a Prohibition-style speakeasy, elegant rooftop retreats, a one-of-a-kind beverage trailer for sipping al fresco. But what makes these bars, lounges and terraces so special are the Four Seasons people – mixologists who are passionate about their craft and dedicated to sharing a taste of place through their innovative creations, concocting libations that highlight local ingredients and history. The result of their efforts: a full menu of Masterdish cocktails worth travelling for.

FOUR SEASONS HOTEL ONE DALTON STREET, BOSTON
ASSISTANT DIRECTOR OF FOOD & BEVERAGE JULIA CASALE, TRIFECTA
THE MASTERDISH: BACKDOOR PROGRESSION
Boston might not be the first city to come to mind when thinking of American jazz – most associate it with New Orleans, Chicago or New York – but Beantown has long had a strong scene. Over the years, some of the biggest names in jazz have played its stages, from Duke Ellington, Harry Carney and Johnny Hodges to Jamie Cullum, Harry Connick Jr. and Wynton Marsalis. From your first sip of the Backdoor Progression, you'll be transported to a dark, moody jazz club. Mezcal, amaro and falernum are smoked under a cloche using cherry wood chips, and then combined tableside in a chilled double rocks glass with ice. Don't be surprised if you feel your toes tapping to a jazz beat after just one sip.

A Celestially Inspired Drink
FOUR SEASONS HOTEL DUBAI INTERNATIONAL FINANCIAL CENTRE
BARTENDER BRIGIN JOSE, LUNA DUBAI
THE MASTERDISH: AQUARIUS
In the zodiac, Aquarius represents the water bearer, the mystical healer who bestows water – or life – upon the land. Those born under this sign, astrologers say, are free-spirited and creative. So it makes sense that the Aquarius cocktail ­– part of the Zodiac Menu at Luna Dubai, itself a nod to the spectacular views visible from the rooftop terrace – would be an inventive combination of aloe vera juice, fresh honey, gin and lemon. The drink's milky blue hue is a reflection of the colours of the swirling cosmos – the universe served up in a fun, delicious cocktail. You'll feel the planets align as you savour every sip.

A Cocktail Made With Love
FOUR SEASONS HOTEL MACAO COTAI STRIP
DIRECTOR OF RESTAURANTS GUSTAVO GONCALVES, XIAO TING
THE MASTERDISH: ULTRAVIOLET
The colour purple is associated with light-hearted romance, unconditional love and compassion, while origami cranes symbolize happiness and hope. Director of Restaurants Gustavo Goncalves turned to the two to spread his message of love and compassion through cocktails: The sweet, deep-purple Ultraviolet is made of butterfly pea tea–infused gin, lemon juice, elderflower liqueur, vanilla and egg whites, served in a cocktail glass and garnished with a purple paper crane.

A Tribute to Local Flavours
BEVERLY WILSHIRE, A FOUR SEASONS HOTEL
LEAD BARTENDER DENNIS SHEEHE, THEBLVD LOUNGE
THE MASTERDISH: FORBIDDEN FRUIT
Apple pears have been grown in California since the gold rush days, when Chinese miners planted them in the foothills of the Sierra Nevada. Their round shape and white flesh give them the texture and appearance of an apple, while the refreshing, juicy flavour is all pear. Take a big, juicy bite with THEBlvd Lounge's Forbidden Fruit, inspired by the region's bountiful fresh produce and the Garden of Eden and featuring vodka, elderflower liqueur, pear juice, apple juice and lime. The fruit focus doesn't end with the taste: The cocktail is served in a crystal glass shaped like an apple, with a sugared rim.

FOUR SEASONS RESORT BALI AT JIMBARAN BAY
HEAD BARTENDER SUFIAN MAHMOUD, SUNDARA
THE MASTERDISH: MADE'S MARGARITA
With views of white-sand beaches and emerald waters, Sundara certainly has earned its name ­­– in Sanskrit, it means "beautiful." To protect this beauty, Head Bartender Sufian Mahmoud and his team have embraced a "minimal waste, maximum flavour" approach to their craft, focusing on fresh local ingredients and sustainability. Telu, the Resort's new herb and cocktail garden, provides many of the aromatics Mahmoud uses in his libations – and is the setting for his popular zero-waste bar workshops for guests. Fresh from the garden is his Made's Margarita. Featuring the classic tequila and lime, the cocktail also uses every part of a locally grown Kintamani orange – Mahmoud makes his own tangerine liqueur from some of the peel, and marmalade from the rest of the fruit – plus andaliman pepper and lime. Add a rim of smoked salt and a dusting of edible flower and rosella dust for garnish, and you've got a cocktail that's good for your taste buds and for the planet.

A Healthy, Colourful Latte
FOUR SEASONS TENTED CAMP GOLDEN TRIANGLE
RESTAURANT SUPERVISOR KATHARIN KUNTIEN, NONG YAO
THE MASTERDISH: ICED BLUE LATTE
Butterfly pea flower tea has been brewed for centuries in Thailand and Vietnam for its refreshing taste and antioxidants – it's believed the tea can help boost brain power, fight inflammation and improve skin and hair health. Another beautiful benefit? The tea's stunning pastel blue color, which ranges from a light grey to dark violet depending on what it's mixed with. At Nong Yao, Restaurant Supervisor Katharin Kuntien's Iced Blue Latte is an eye-catching pastel blue thanks to the addition of milk and vanilla syrup – a caffeine-free work of art that's almost too pretty to sip. Coffee lovers, rejoice: A shot of espresso can be added for a little extra energy.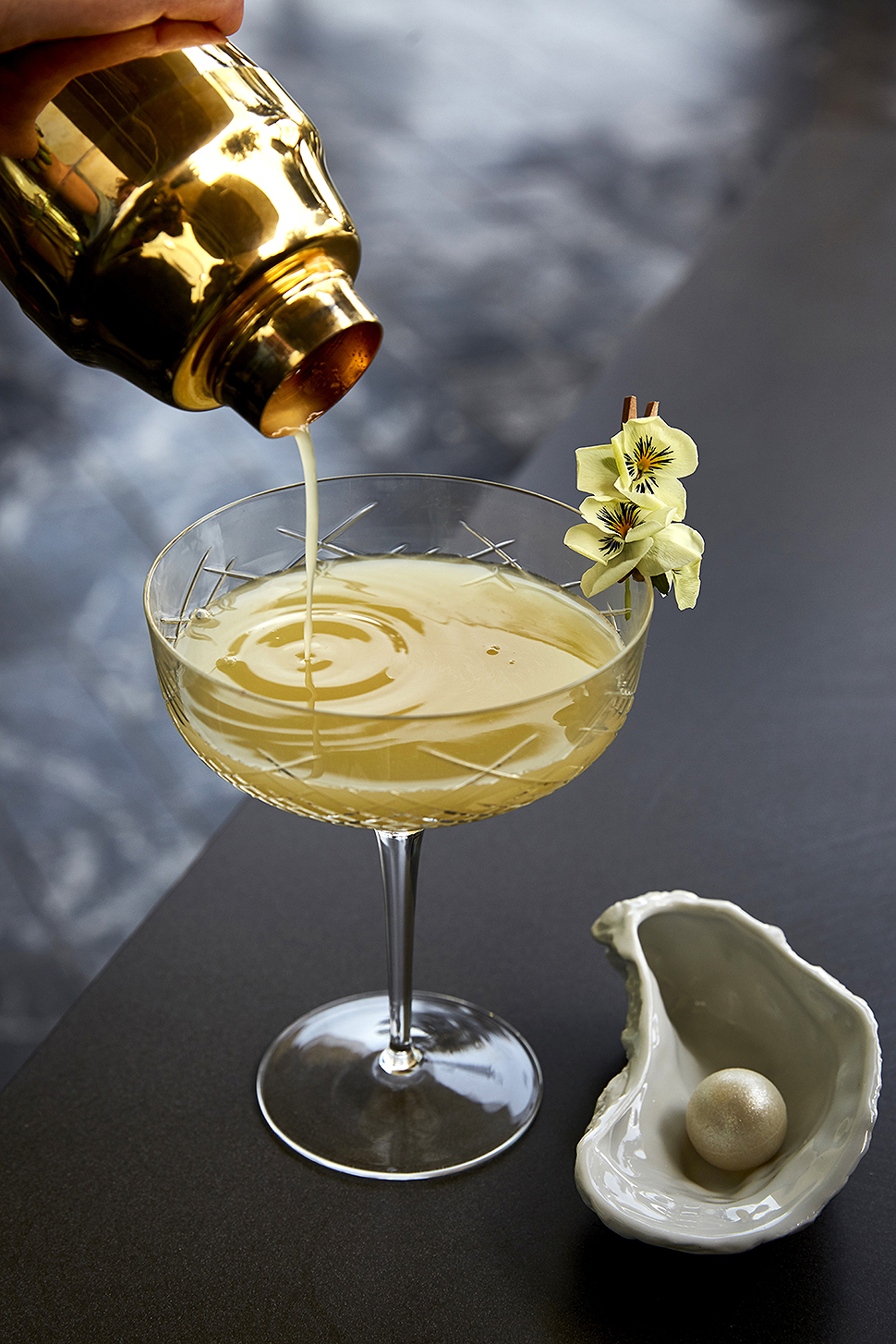 A Creative Tipple in Budapest
FOUR SEASONS HOTEL GRESHAM PALACE BUDAPEST
HEAD BARTENDER ÁDÁM RÉDLI, MÚZSA
THE MASTERDISH: MAKVIRAG COCKTAIL
The word múzsa means muse in Hungarian, and it's clear that the new lobby bar at Four Seasons Hotel Gresham Palace Budapest took its inspiration from the surrounding city – known for its artistic flair, Old World charm and awe-inspiring mystique. That imaginative spirit is on display at Múzsa: In addition to its expansive bar, the lounge also includes a private meeting room and a tasting room –  Múzsa is home to the largest publicly available vintage tokaji aszú collections, selected by Head Sommelier Gabor Becker – as well as an intimate concierge library and Treasure, where a bottle of Royal Tokaji Eszencia, the most expensive wine in the world, is on display and available for sale. Our favourite inspired cocktail on the menu? The Makvirag Cocktail: rum, coconut water and pineapple, plus navy gin, fresh lime and sugar syrup – all expected in a typical tiki-style drink. The creative twist? Poppy seed, a traditional Hungarian ingredient; beetroot powder, to give the cocktail its striking pink colour; and Sichuan pepper, for a little bite.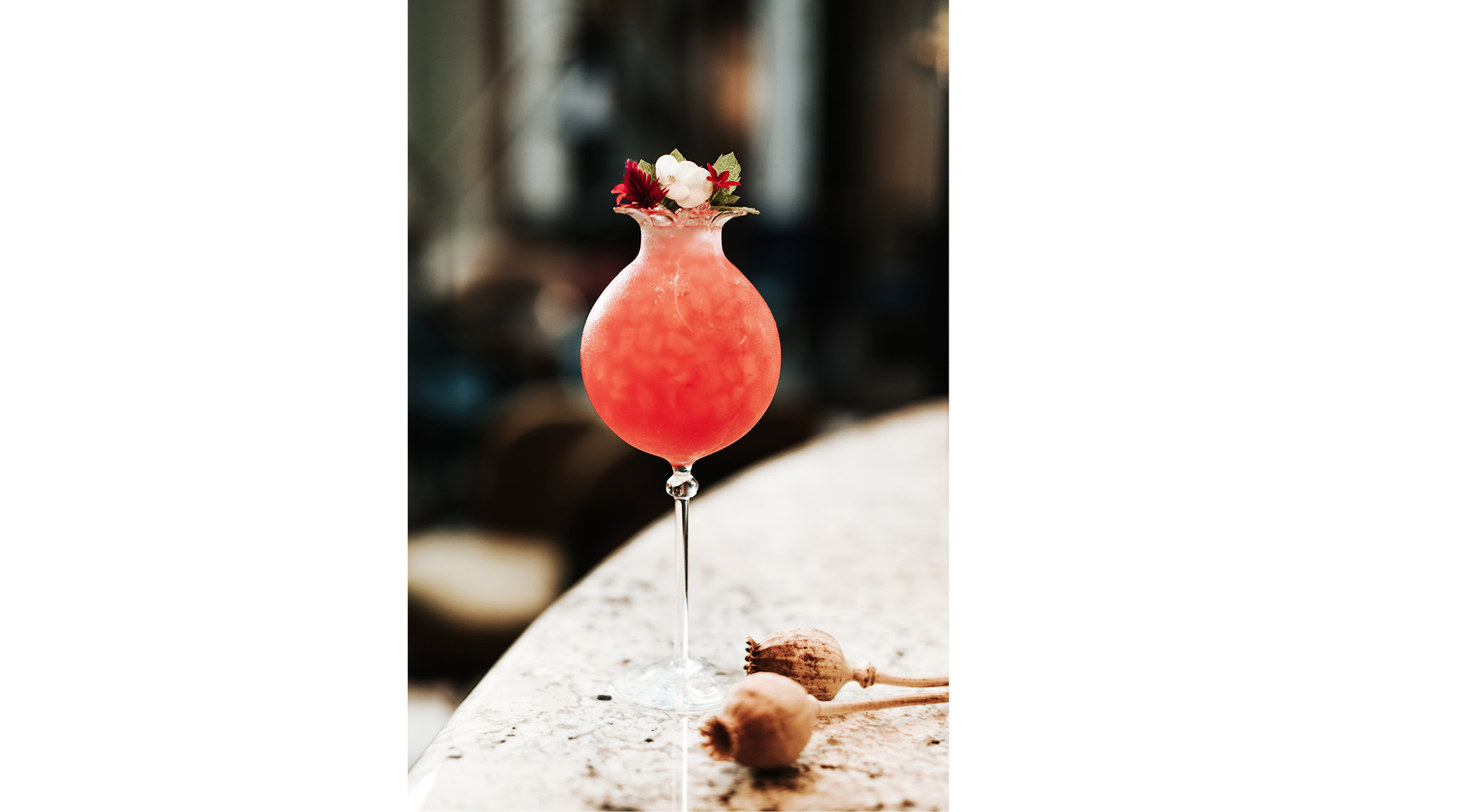 YOUR JOURNEY BEGINS HERE
Driven by taste: Where will you find your next Masterdish?