With its craft cocktail creations, an exciting blend of Asian and Hungarian cuisines, and elegant yet playful atmosphere, MÚZSA will transport you to Budapest's timeless Golden Age.
Hours
Sunday – Tuesday

11:00 am – 8:00 pm

Wednesday – Saturday

11:00 am – 1:00 am
Signature Cocktails
Our heavenly yellow star with its golden beams shines as a symbol of the eternal and imperishable. Put on your finest saffron robes because you have a date with the divine.

In nature, this striking shade of blue rarely appears. You might catch it in the flutter of a butterfly's wings or in the iridescent shimmer of a peacock's magnificent fan. In the hands of artists, this exceptional pigment has inspired masterpieces.

A most rare and beautiful flower blooms only in the pure ivory light of the full moon. Her scent is intoxicating, and to encounter her is a surreal experience.
Signature Dishes
Mushroom Salad, Truffle Teriyaki
Events
Friday – Sunday

Herend Afternoon Tea

From 3:00 pm to 6:00 pm, spend the afternoon with us, sampling Hungarian cakes and savoury delights served in the famous Herend Porcelain Manufactory's hand-painted sets The Royal Garden, which are found at Buckingham Palace and here at Four Seasons Gresham Palace Budapest. Accompanied by live music. 24-hour advance reservations required.

Contact

Tuesday – Saturday

Live Musings

"The Golden Age lives here now in the eternal presence of the muse." MÚZSA invites you for a cabaret-style experience of live musical performances. Join us for inspired artisan cocktails and Asian-Hungarian delicacies, accompanied by live music on the elevated stage every Tuesday and Wednesday from 8:00 pm to 11:00 pm and every Thursday, Friday and Saturday from 9:00 pm to 12:00 midnight. Reservations required.

Book Your Table
The Team
Ádám Rédli
Head Bartender
With experiences from London's top-tier bars such as Café Royal, The Mayfair and Langham Hotel's Artesian, Ádám Rédli is a real globetrotter. Passionate about mixology, he chose the capital of bartending, London, to learn. According to him, the most important qualities are precision, consistency and uniqueness.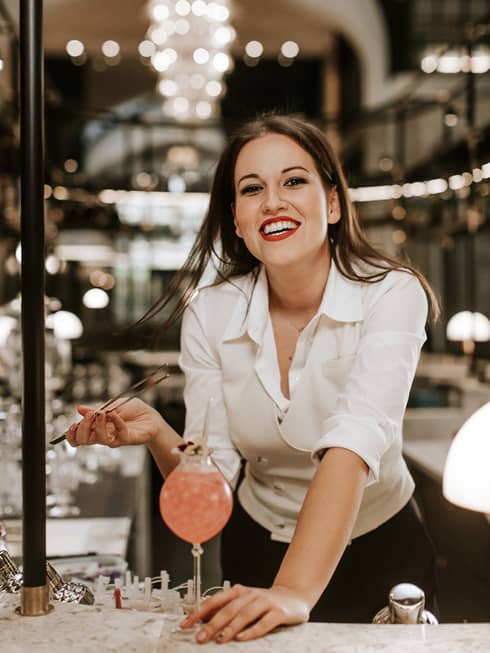 Anett Schurina
Bartender
Anett Schurina, our very own muse behind the bar with her vivacious personality and cheerful spirit, radiates through the bar. Her expert artful creations served with a smile are loved by many. Creativity and arts are important parts of Anett's life and provide inspiration for her craft.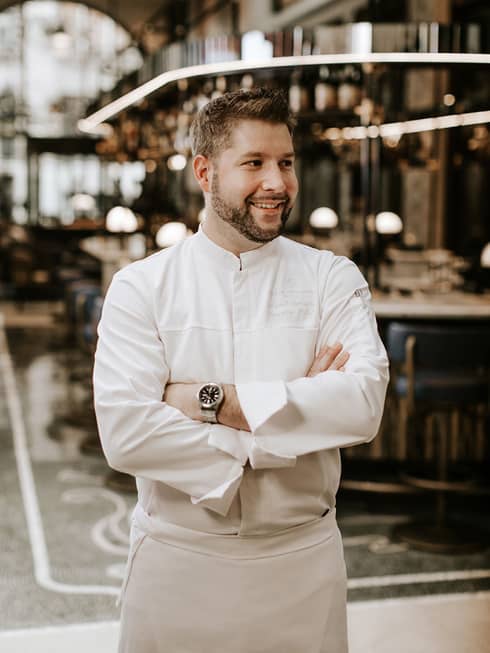 Árpád Győrffy
Executive Chef
Chef Árpád Győrffy is a bit of a thrill-seeker, who originally wanted to be a pilot but then fell in love with the professional kitchen atmosphere. He is reinventing modern Asian cuisine with Hungarian elements in an elevated style. Our award-winning chef was one of the six finalists in one of the world's most prestigious cooking competitions, the National Bocuse d'Or Hungary.
KOLLÁZS – Brasserie & Bar

Vibrant and inspiring, our contemporary brasserie is a collage of many European culinary influences converging in a Budapest landmark against the timeless backdrop of the Danube.

Details

Cakes to Go

Order from our selection of sumptuous cakes – crafted with the most tempting flavours – to make every celebration special.

Details

In-Room Dining

Ideal for time zone–hopping travellers, impromptu meetings or for a quiet, private meal, our extensive menu lets you dine in style in the comfort of your private space.

Details