Skilful curatorship – "curadoria" in Portuguese – lies at the heart of CURA, where Michelin-starred chef and head culinary curator Pedro Pena Bastos selects his ingredients as meticulously as an artist chooses his paints, drawing from Lisbon's rich regional palette of seasonal ingredients to create artisanal dishes of great depth, taste and meaning.
Hours
Dinner

Tuesday – Saturday

7:00 pm – 10:30 pm
Signature Dishes
Hazelnut, bergamot, roasted seaweed butter, Ossetra caviar

Beetroot, lime, reindeer moss

Peppers, tea, lettuce heart, pollen, sunflower, cured pork, melon, shiso

Carob & black garlic, egg & honey, raspberry & lavender

Brassicas, parsley, saffron
Meet the Team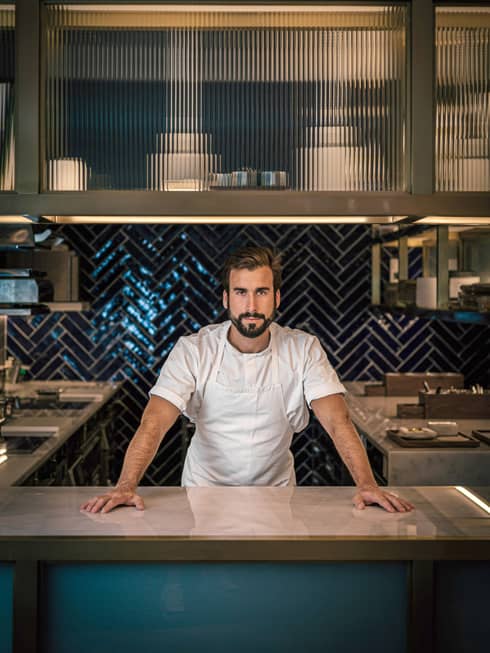 Pedro Pena Bastos
Restaurant Chef
In his open kitchen, the Chef is intent upon bringing "more joy and soul" to CURA's offerings than are typical of fine-dining fare. He works with small local suppliers to source ingredients of superb flavour and condition, and he plucks others such as crunchy reindeer moss, marbled meat from Alentejo Iberian pigs, and "the best chickpeas we can find" directly from the wild. His menu highlights a dozen or so dishes at a time, changing with the seasons, and he tries to work with just two or three ingredients "and one really sharp knife" at a time, the better to ensure that guests taste the food as it is meant to taste.
"We carefully consider everything to keep the spotlight on the food. That's our inspiration – the highlight of everything we do."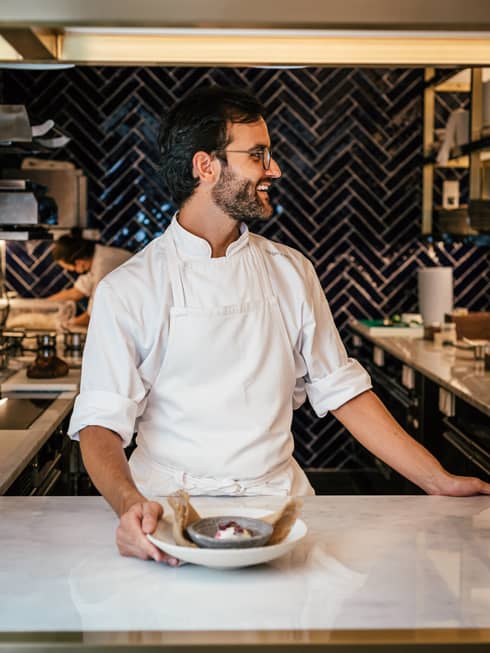 Diogo Lopes
Restaurant Pastry Chef
Pastry Chef at CURA Restaurant Lopes traces his interest in the pastry arts to his childhood in Portugal. A "chubby kid" with a big appetite, he watched his mother and grandmother in the kitchen and began making simple dishes of his own. "I thought, 'I like to eat so much, maybe I should cook.' A lot of kids would say things like that, but I meant it." His dream came true, and today his Carob & black garlic, egg & honey, raspberry & lavender dessert is the perfect finale to CURA's Meia Cura menu.
"We really value the one-on-one moments we get with guests. People like having a connection with the kitchen, and it's always good to remind us who we're working for."
Gabriela Marques
Sommelier
Gabriela's career has taken her to leading venues such as Restaurant Feitoria and Lab by Sergi Arola – experiences that have enabled her to absorb vast knowledge from some of the Lisbon's leading wine gurus. At Varanda, she sees each recommendation as a collaboration between herself, Executive Chef Pascal Meynard and the guest, analyzing everything from meal selection to state of mind to provide the perfect pairing.
"For many gourmands, discovering how a proper wine pairing can enhance and improve the flavour of their food is like introducing them to a whole new world."