Art Meets Culture
Journey across the Iberian Peninsula, through scenic mountains and medieval hilltop villages, between two buzzing European capitals a day trip apart – each with artistic heritage, vibrant culture and easy access to UNESCO World Heritage sites.
On Your Way
The treasures of UNESCO World Heritage Site Évora, one of Portugal's most beautiful cities, include Neolithic monuments, an ancient Roman temple, a 12th-century cathedral and more. Luis Miguel, Head Concierge at Four Seasons Ritz Lisbon, recommends Reguengos de Monsaraz, a tiny walled 14th-century town that looks like it's straight out of a medieval fairy tale.

1 hour 30 minutes from Lisbon / 5 hours from Madrid

A Spanish city on the Portuguese border, the hill city Badajoz is home to the Alcazaba Fortress, among other evidence of Moorish influence, and to melt-in-your-mouth Jamón Ibérico. Enjoy a stroll around the historic quarter and some tapas. One of our favourite restaurants for Ibérico ham, among many other meat and seafood dishes, is the quaint and lively Galaxia.

2 hours 20 minutes from Lisbon / 4 hours from Madrid

Home to dozens of Roman ruins, UNESCO World Heritage Site Mérida has been home to Christian, Moorish and Portuguese culture. The combination of these different influences has made it a popular stop for travellers.

Raul Bermejo, Head Concierge at Four Seasons Hotel Madrid, suggests visiting the Roman theatre, the Amphitheatre or the Temple of Diana to experience one of the leading archaeological sites in Spain.

2 hours 50 minutes from Lisbon / 3 hours 20 minutes from Madrid

Toledo is one of Spain's most historically fascinating cities. A UNESCO World Heritage Site, the city's historic quarter contains some of the country's oldest religious buildings, all within walking distance. Set on a hill and surrounded on three sides by the Tagus River, Toledo offers endless views.

After exploring the historic quarter, set your sights on the city from the other side of the river from one of the many viewpoints (such as Mirador del Valle) or restaurants (we recommend Restaurante La Ermita). Every corner of Toledo seems to exude an endless charm, and it's no surprise that this city is a favourite spot among international travellers and locals alike.

5 hours 30 minutes from Lisbon / 1 hour 30 minutes from Madrid
Underdogs Gallery Street Art Tour

Take an exhilarating tour of Lisbon in partnership with Underdogs Gallery, which works with a diversified roster of Portuguese and international artists connected with the urban-inspired contemporary art universe. Cruise through winding cobblestone streets, around leafy squares and alongside the river to discover the city's most spectacular works of art.

Join a class at Viúva Lamego, a factory that's been handcrafting azulejos (tin-glazed ceramic tiles) since 1849. Learn the process, including clay preparation, glazing, painting, and recreating 17th- and 18th-century patterns. To complement your experience, visit Madre de Deus Convent, where the blue-and-white tiles that line its exterior tell detailed stories, making it the centrepiece of Museu Nacional do Azulejo, a museum dedicated to preserving Portugal's tile art through the centuries.

"On Her Majesty's Secret Service" opens with the famous walk-by reflection of Peter Hunt in the Universal Exports sign, and after a brief scene with M, Q and Moneypenny, the action moves to James Bond leaving a coastal area (Cascais) in his new sports car. In this town, drive along the Coastal Guincho road complete with views of the Atlantic and stop for a seafood lunch at Mar do Inferno.

It takes less than an hour from Lisbon to travel back to the age of imperial Portugal and Europe's original epicentre of Romantic architecture. Don't miss the storybook Palácio National de Pena, on a hilltop with breathtaking views of the Serra de Sintra and the Atlantic.

Modern and Contemporary Art Immersion

Admire one of the country's largest privately owned collections of mid-20th-century Portuguese art at our Hotel – notably the three famed centaur tapestries by José Sobral de Almada Negreiros in our lobby. For even more adventure and inspiration, visit the Calouste Gulbenkian Foundation to discover the painter's other famous works and take a private tour of Vhils Studio before ending at his exhibition at the Museum of Art, Architecture and Technology (MAAT).

Surf and Seafood on the Guincho coast

Drive along the Coastal Guincho road – a surfer's and windsurfer's paradise, complete with magnificent Atlantic views. Stop at restaurant Monte Mar for Bulhão Pato clams, a local delicacy, then visit Cape Roca, "where the land ends and the sea begins," according to Portuguese poet Luís de Camões. This marks Europe's most westerly point. Head to the lighthouse for the best views.
Lisbon is a vibrant city of pastel-coloured buildings, terracotta rooftops, cobbled streets and endless blue-and-white azulejos that transform ordinary streets into works of art – an art lover's paradise.

Guilherme Costa

General Manager, Four Seasons Hotel Ritz Lisbon
More About Lisbon From Our Team
Local Gems That Can't Be Missed

Insiders from Four Seasons Hotel Ritz Lisbon share their favourite spots to eat, drink and play around the Hotel.

Read More

It's not the things you take with you that define your journey; it's the experiences you have and the memories you bring home. Explore our Communications Director's six sensory "souvenirs."

Read More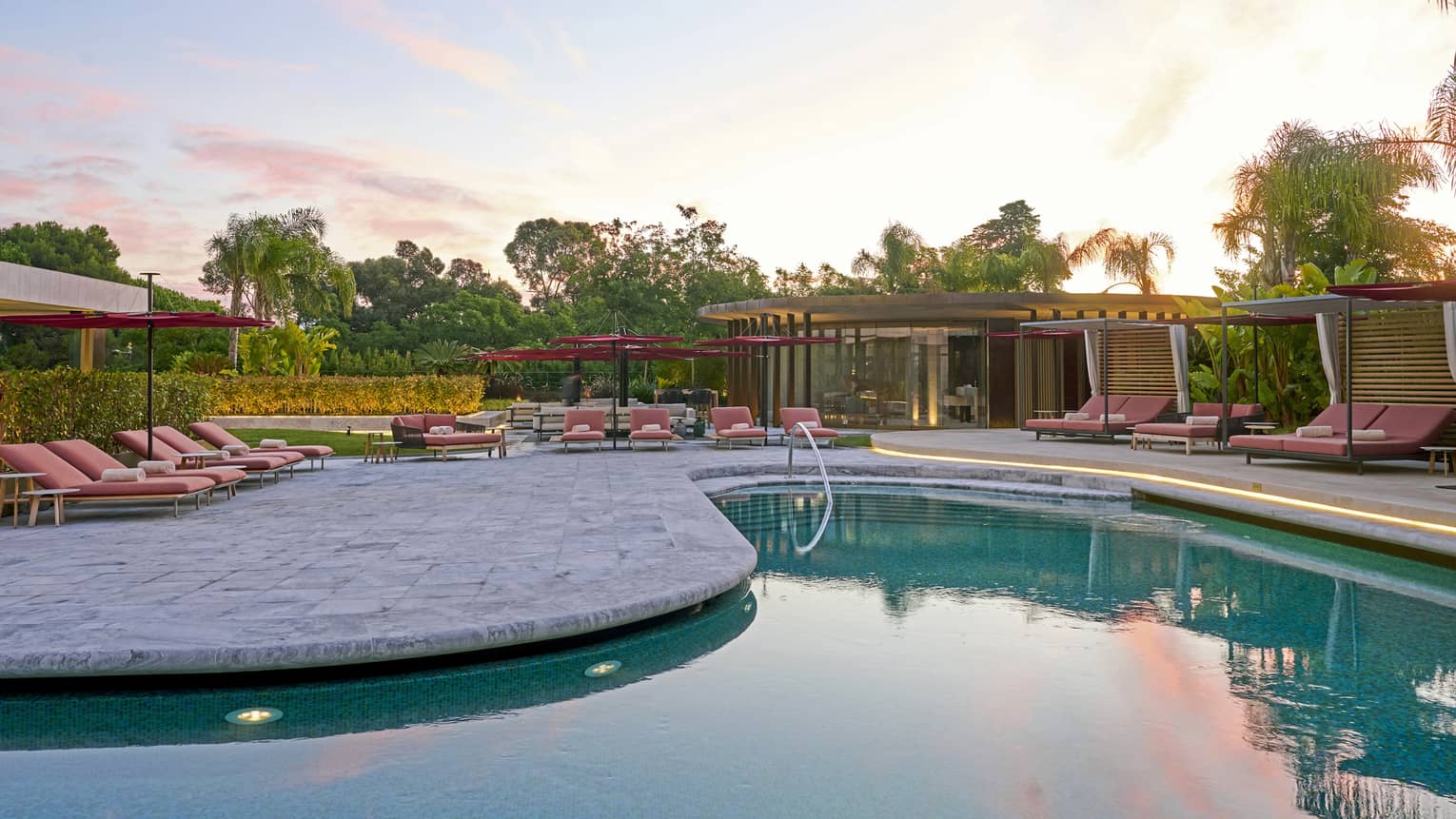 Four Seasons Hotel Ritz Lisbon
Inside our iconic Hotel, art deco sensibilities mingle with an updated Louis XVI style, and a collection of important modern Portuguese art fills our halls. Outside, views of the city's rolling hills and brightly tiled exteriors spread out before you.
Valid for Selected Dates Between

Sep 25 2023 – Dec 31 2023




Offers are subject to availability at time of booking. Blackout dates and other restrictions may apply.

minimum stay:

3 nights

maximum stay:

12 nights
more details
The country's iconic dance is not "just for tourists" – Madrileños have a genuine love for this Andalusian dance form, inscribed on UNESCO's Intangible Cultural Heritage Lists in 2010. There are plenty of small tablaos we can recommend for enjoying a flamenco performance alongside locals. We can even plan a private lesson.

From the Hotel, it's an easy walk to three of the world's best art museums: the Prado, with its masterworks by Velázquez; the Thyssen-Bornemisza, with spectacular pieces by the impressionists; and the Museo Nacional Centro de Arte Reina Sofía, home to Picasso's "Guernica." Let us arrange a private tour with an expert art consultant as your guide.

Nature and History in El Escorial

Take a picnic basket filled by the Four Seasons culinary team and drive 50 minutes northeast to El Escorial, home to historic attractions, including the 16th-century Escorial Monastery, a UNESCO World Heritage Site. Enjoy nature at Bosque de la Herrería, where you can hike up to the Silla de Felipe II (the Chair of Phillip II, a rock that marks the summit of Machota Alta) for serene views. Farther down in the park, have your picnic under the chestnut trees.

Explore Our Art Collection

Take a private tour of our art collection here at Four Seasons Hotel Madrid. Curated by Paloma Fernández-Iriondo, the collection showcases more than 1,500 pieces by emerging Spanish artists – each presenting you with an opportunity for visual exploration and powerful connections, and encompassing a wide range of styles, forms and mediums.

Details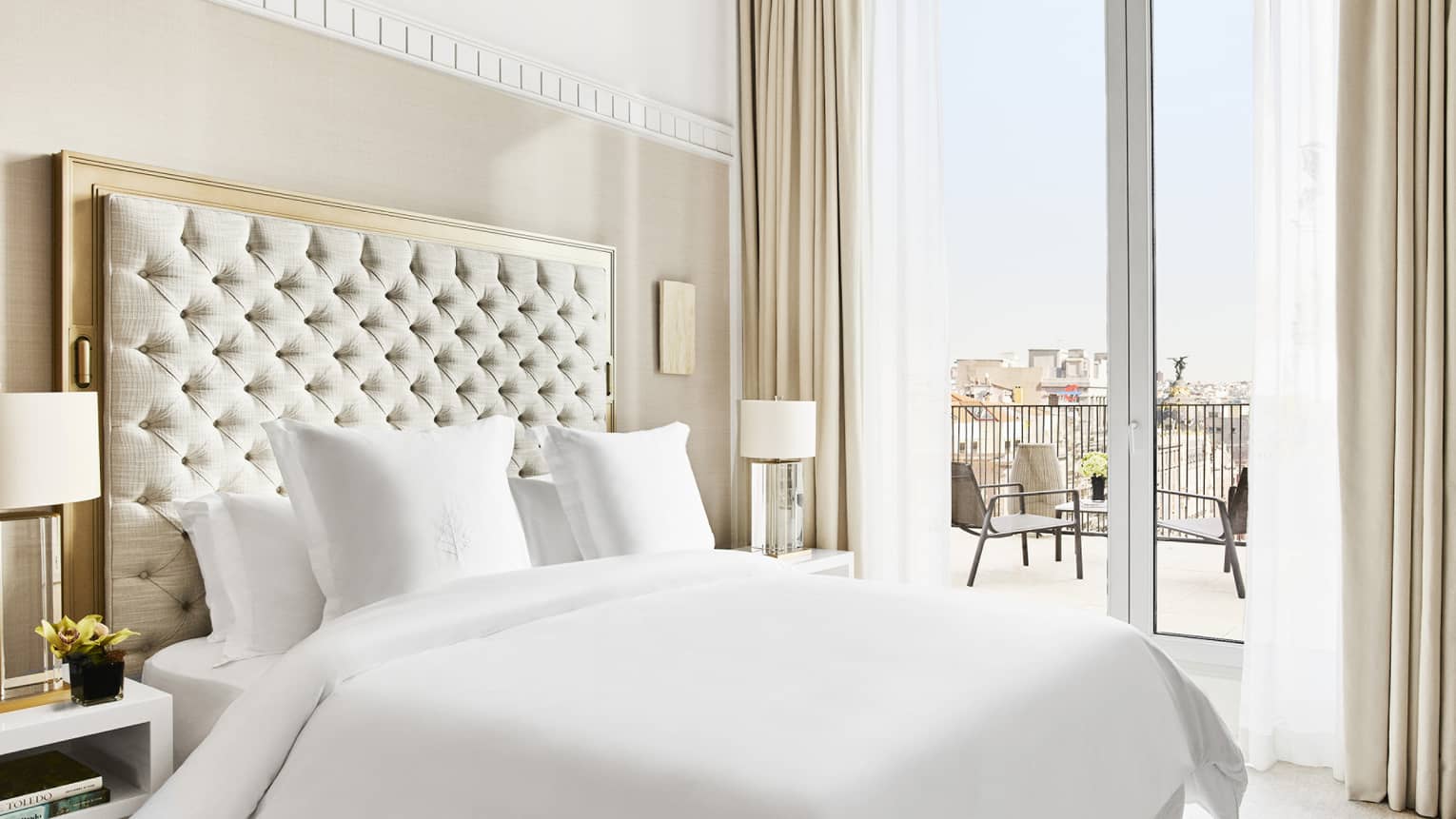 Four Seasons Hotel Madrid
Part of the Centro Canalejas Madrid – a collection of seven historical buildings beautifully combined into one – Four Seasons Hotel Madrid offers some of the city's best views. With around 4,000 restored artefacts and a sunny rooftop restaurant and lounge, it's an excellent base for road trippers exploring what makes Madrid such a vibrant European capital.
Valid for Selected Dates Between

Sep 25 2023 – Dec 28 2023

Jan 1 2024 – Dec 31 2024




Offers are subject to availability at time of booking. Blackout dates and other restrictions may apply.

minimum stay:

2 nights
more details
Discover Alentejo, Portugal's Tuscany
They say in Alentejo, even time takes its time. Stroll through endless wheat fields and gently rolling plains of Portugal's largest (yet least populated) region. Dominated by vineyards, olive groves and the world's largest cork oak forest, Alentejo prides itself on sustainable agriculture and the richness of its land and heritage. It is also fast emerging as one of Europe's most exciting wine destinations, while still favouring the region's indigenous grape varieties. Drive along following the Wine Route signs; pick up some local bottles from the friendly vintners; and stop in the charming towns of Portalegre, Nisa, Marvão, Castelo de Vide or Alter do Chão in the northeast for a bite to eat.

2 hours from Lisbon / 5 hours 30 minutes from Madrid
Inspiration From Fellow Travellers
@lumadeline

@luciensmith
Ready to take the scenic route?
Reserve your stay at Four Seasons and start planning your road trip today.