East and West, History and Modernity
Around every corner, a different story is revealed. Imagine yourself witnessing each unfold as a guest at the Sultan's palaces, while strolling to Pera or exploring The Blue Mosque, touring the shores of the Bosphorus or enjoying Anatolian flavours – all the while embraced by warm Turkish hospitality – on your journey to Istanbul.
On Your Way
Brimming with art galleries, restaurants and cafés, family-run shops and traditional Turkish bakeries, Karaköy is an up-and-coming harbourside neighbourhood just outside the city. Explore the iconic Ottoman-era buildings whose textures have been preserved for more than 500 years.

9 minutes from Istanbul

Istiklal Street is one of the most famous and brightly coloured avenues in Istanbul's Pera district. Walk along the main street to discover narrow side streets along the way, or venture by tram for a sneak peek at unfrequented historic buildings. And you might spot a well-known musician or performer on the way to a sold-out show elsewhere in the city.

14 minutes from Istanbul
Once You've Arrived
Stroll Along the Shoreline

A popular route on foot or by boat in Istanbul is between Ortakoy and Bebek, about 4 kilometres (2.5 miles) apart along the "Bosphorus Riviera." Or you can just stroll along Bebek's waterfront, dipping into shops and cafés. Ortakoy boasts museums, grand architecture and Ortakoy Square, with its mosque and the Bosphorus Bridge – a notable spot for selfies.

Cruise Along the Bosphorus

Board a private yacht and take to the Bosphorus, which separates Asia and Europe, to marvel at the historic monuments and modern architecture that line its shores. Ships and ferries glide back and forth across the waters, fishing boats frequent the docks with the daily catch, and dolphins have been known to swim alongside vessels.

Watch the Sun Set From Galata Tower

Once the highest point in the city, the 14th-century Galata Tower is where Ottoman scientist Hezârfen Ahmet Çelebi, in the 1600s, is said to have taken off on artificial wings to fly across the Bosphorus. Today, you'll be greeted by 360-degree views from 62 metres (205 feet) above ground. Stand at the spot where Çelebi began his legendary flight, and soak in the colours as the sun sets.

Take a Tour Through History in Sultanahmet

Start your journey back in time at Hagia Sophia, the Byzantine era's largest cathedral, to discover hidden mosaics. Go back 1,000 years to The Blue Mosque and encounter 50 shades of blue at the iconic Ottoman structure. Dive into the largest freshwater source in Istanbul, the Basilica Cistern, and feel the ambience created by its imposing columns. End your visit with a tour of Topkapı Palace, the 15th-century center of Ottoman imperial government.
Take off from Istanbul, a multilayered city on the crossroads of cultures. You'll be bewildered by the diversity – and yet your day trip has just started.

Sevla Şener

Senior Director of Sales
Experience Coastal Comfort in Urla and Ephesus
Discover two history-rich towns by the Aegean. Stroll along the cobblestone streets of Urla, check out the market and local crafts, and be sure to sample its well-known wines. Visit Ephesus (today's Selcuk), a UNESCO World Heritage Site, to see some of the world's finest Greco-Roman ruins and places that stand out in early Christian history.

5 hours 46 minutes from Istanbul
More About Istanbul
See the City Through the Eyes of 5 Power Players

How do you make your experience in Istanbul truly unforgettable? You can start by uncovering some of the city's secrets, understanding its culinary scene and viewing its iconic sites from unique vantage points. In our interviews with five public figures – each an expert in a different genre, from Ottoman art to trending foods and fashion – you'll see how their tips can serve as an extraordinary base for your next journey.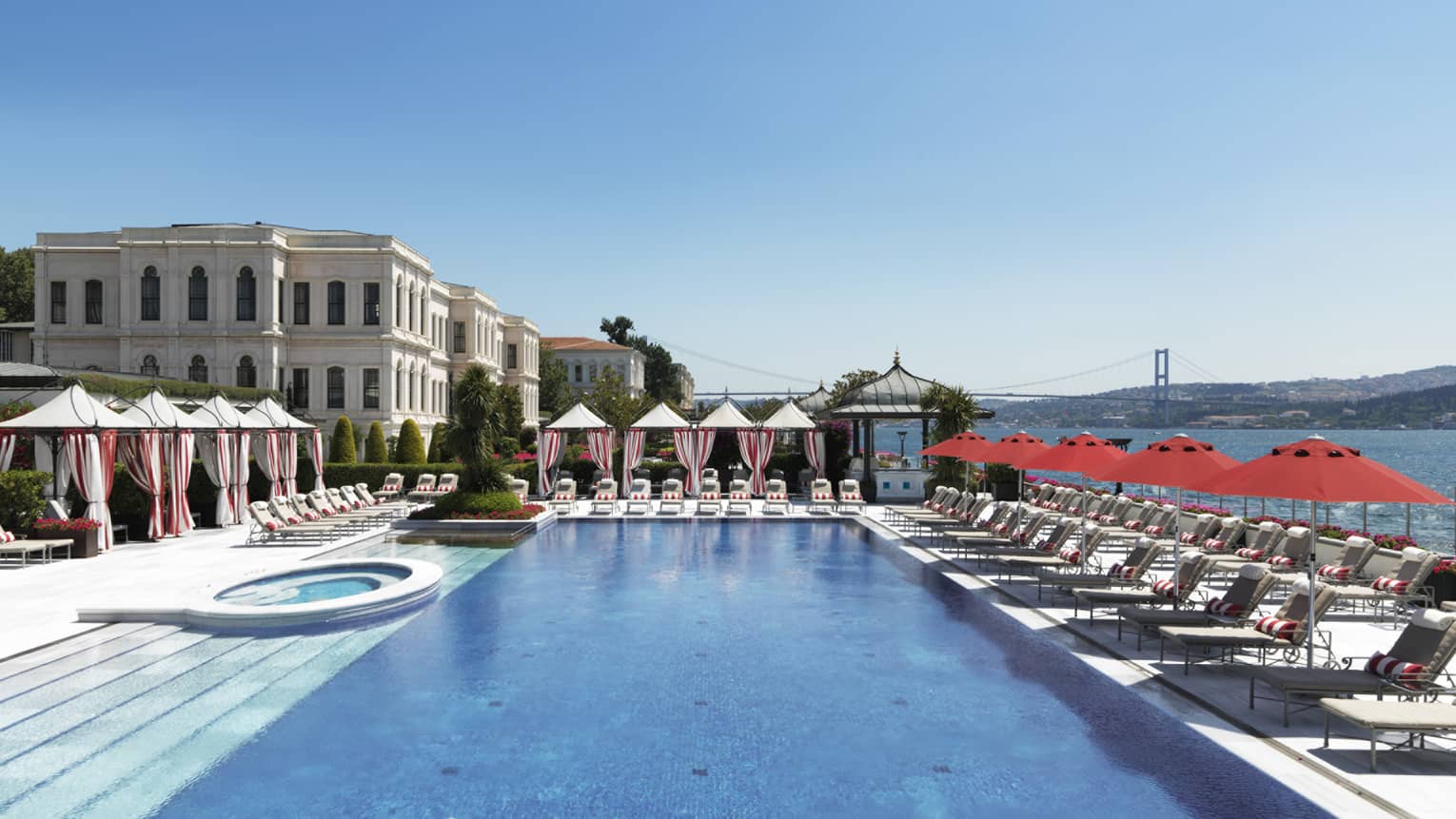 Four Seasons Hotel Istanbul at the Bosphorus
Proudly standing on the shore of the scenic Bosphorus – the storied strait that links Europe and Asia – our lovingly restored 19th-century Ottoman palace brings together Istanbul's ancient architecture, warm Turkish hospitality and contemporary accommodations.
Valid for Selected Dates Between

Oct 1 2023 – Dec 31 2024




Offers are subject to availability at time of booking. Blackout dates and other restrictions may apply.
included
Daily buffet breakfast in Aqua restaurant or American breakfast through In-Room Dining for up to two guests
more details
Ready to take the scenic route?
Reserve your stay at Four Seasons and start planning your road trip today.