Spa
Four Seasons Wellness of Life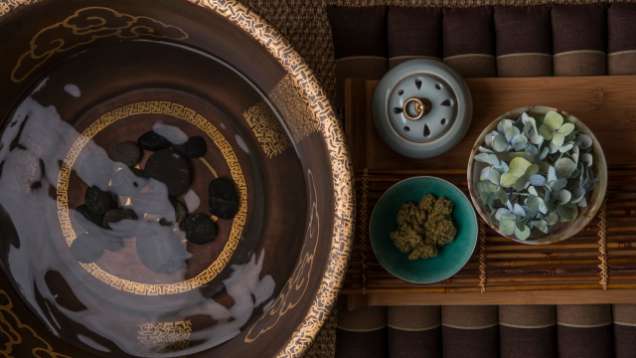 Four Seasons Signature Massage
Our popular signature treatment delivers a healing recipe of massage techniques and therapeutic oils, customized for you and your current state of wellbeing. Lymphatic drainage to detox, acupressure to target trigger points, Thai massage to ease and stretch muscles to promote energy flow may be included. This treatment is ideal for those suffering from dehydration or over indulgence.
Deep Tissue Massage
Soothe aching muscles and an exhausted mind with this exhilarating massage that stimulates the circulation, boosts energy levels and uplifts the mood. Firm strokes and trigger point work deftly combine with the application of herbal compress on areas of greatest concern, heat penetrating deep into the muscles. Ideal following a sporty hour of power or long haul flight or simply a stressful week at work.
Aromatic Massage
Tranquil and flowing, our Swedish massage delivers mesmerizingly soothing pressure that will melt even the most stressed out spirit, while Sodashi's world renowned blends of pure essential oils magically balance your mood – choose from be grounded, be purified or be revitalized. This uplifting combination of gentle touch and fragrant oils is perfect for calming the nervous system, reducing stress levels and encouraging a deep, restful sleep.
Detox Massage
This deceptively gentle treatment initiates a powerful detoxification, helping your rebalanced body and mind shrug off fatigue and lethargy. Dry brushing the length of the body increase the flow of lymph, which is enhanced with a lymphatic massage to help flush out toxins. You'll feel radiant and alive, cleansed and refreshed, inspired and energized.
Kyoto Heritage Massage
Steep yourself in traditional healing with this treatment influenced by the ancient Japanese philosophy of massage. Highly therapeutic techniques including kneading, acupressure, trigger point work and glorious stretches, help to encourage the flow of energy along the body's meridians, leaving you feeling physically serene and mentally at peace. This dry treatment is performed fully clothed for authenticity.
Mother's Love
Mothers-to-be are especially in need of physical support and this pre-natal treatment eases discomfort, helps allay pre-birth stress and passes on feel-good endorphins to baby too. Performed by our specifically skilled therapists for expecting mothers beyond their first trimester, this treatment uses our specially designed massage bed.
Traditional Foot Massage
This classic, healing foot massage influenced by the 5,000-year-old Traditional Chinese Medicine technique, Tiger Balm is used to invigorate the reflex points on the feet helping to treat specific malady and restore the body to a healthy balance.
Jet Lag Recovery
This rebalancing treatment eases the muscle tension and familiar aches associated with long-haul travel. This helps to reset the internal clock by combining body massage and gentle stretching movement.
*All 150-minute treatments include a blissful flower bath infused with seasonal oils, the warm water enlivening the circulation while the aromatics stimulate the mind.