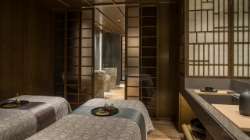 Spa Gift Card
Choose from a rejuvenating facial, full-body massage or any service at The Spa as a gift for your special someone. Your loved ones are spoiled for choice and in for a fantastic treat at this zen-inspired spa.
Spa
Four Seasons Hotel Kyoto Signature Ceremony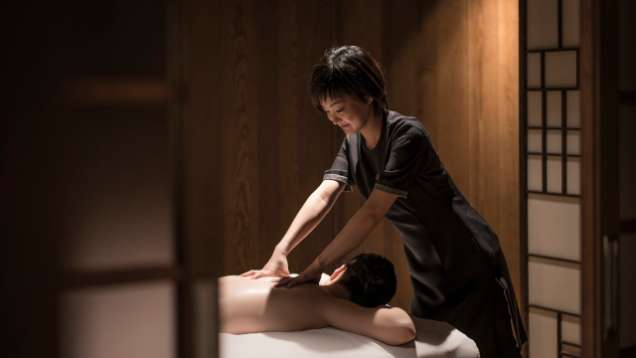 Kiyome (清) Purification
The principle of Kiyome comes from kiyo, sacred and pure, and mi, beautiful. Our Kiyome ritual steeps your body and soul in a purifying bath fragrant with skin softening Japanese sake. Emerge cleansed and refreshed for a skin-tingling scrub using artisanal Kyo-Tanba bamboo charcoal salt to further smooth the skin and calm the mind. The final blissful step is a bespoke massage, leaving you relaxed and radiant.
Zen (禅) Mind and Spirit
A traditional technique to ease modern day stress. Our Zen treatment artfully lightens the burdens of the mind until you are floating spiritually. A full body massage followed by warm towels encourage the ginger extract to be absorbed, complemented by a gently therapeutic shoulder and neck massage. Awakening the Zen spirit, slow stroke head massage then sends you into a profound state of relaxation. And finally a sake bath will ensure an all-encompassing peace.
Royal Enso (円相) Treatment
Sophisticated and luxurious, feel like a Japanese queen whilst enjoying this ancient, imperial treatment. A warming scrub of bamboo extract and organic green tea prepares the skin, before warm rice milk is poured blissfully along the spine and over the shoulders. Followed by body massage with a warm poultice dipped in creamy honey which provides, hydrating and softening results. Feel your body relax in the delicious warmth, a muscle-melting stone massage, which skin looks rejuvenated, and moisturized with silky texture.
Miyabi (雅) Rejuvenation: Couple Treatment
A serene celebration designed for two, this luxurious full-day spa ritual celebrates togetherness, of couples, of mothers and daughters or of friends. A Japanese plum sake bath eases stress, setting a tranquil ambience. A massage with aromatic seasonal oils then eases the body before a facial by TATCHA, exclusive to The Spa at Four Seasons Hotel Kyoto, nurtures the complexion. An express hands and feet nail treatment and delicious Brasserie lunch completes this memorable and sophisticated day.
Kyoto Shiki (四季) Ceremonies
Seasonal Beauty Like our wardrobes, our skin's needs shift from season to season. These signature body treatments capture the essence of the season by using ingredients that balance your skin as the climate changes from one month to the next. Exclusive to the Four Seasons Kyoto, our seasonal journeys take you on a seasonal experience within our luxurious private treatment room. At the end of the treatment, savor the profoundly peaceful ambience with a decadent cup of Japanese tea and seasonal sweets.
Shunsui (春水)
Ajisai (紫陽花)
Meigetsu (明月)
Kazahana (風花)
* All prices are subject to consumption tax and service charge.
* Prices are subject to change without prior notification.