Royally inspired, purple and olive-green hues help create a balanced and comfortable atmosphere in these residential-style suites, with a living room, a kitchen, a dining area and a separate bedroom that make them perfect for a family of four.
Explore your retreat
From floor plans to maps, discover everything you need to know about this remarkable home.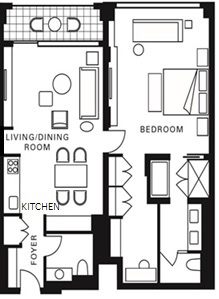 Beds

One king bed or two double beds, One rollaway in Living Room, one crib in Bedroom

Occupancy

4 Adults, or 2 adults and 2 children

Size

83 m2 (893 sq. ft.). 2nd, 3rd and 4th floors

Bathroom

One full bathroom and one powder room

Views

City or Myoho-in Temple

Decor

Kyoto purple or olive green carpet and wooden floor

Unique Features

Private balcony; Fully equipped kitchen with dishwasher; Washer and dryer; iPad to access Hotel services
Tailor Your Stay
Our dedicated team is on hand to help customize and add to your stay, so that every moment is distinctly yours. From welcome champagne to your dedicated Guest Experience Ambassador personally tailoring every detail of your stay, discover the exclusive benefits that make our Residential Suites the best guest experience in Kyoto, valid until March 31, 2021.
In-Suite Cooking Class

Enjoy a private cooking class in your Residential Suite's spacious, fully-equipped kitchen with Brasserie Chef de Cuisine Ryuji Koga.

Private In-Suite Chef

Ask our expert chef to prepare a three-course Omakase menu (featuring the chef's seasonal selections) for you in the gourmet kitchen of your luxury Residential Suite.

Private Island Dining

Savour sophisticated Japanese cuisine under the stars on a private island in our 800-year-old Shaksui-en pond garden, surrounded by weeping willow trees and winding streams. *Seasonal
The Elevated Kyoto Experiences above apply only to guests booking a Residential Suite stay and are valid until March 31, 2021. Fees Apply.
Features
With a large sink, a dishwasher, a refrigerator, a microwave oven and a bar counter, your fully equipped kitchen lets you easily prepare everything from a family dinner to a quick midnight snack.

From welcome champagne to your dedicated Guest Experience Ambassador personally tailoring every detail of your stay, discover the exclusive benefits that make our Residential Suites the best guest experience in Kyoto.

Learn more