Pools
Couples' Nests at Palm Grove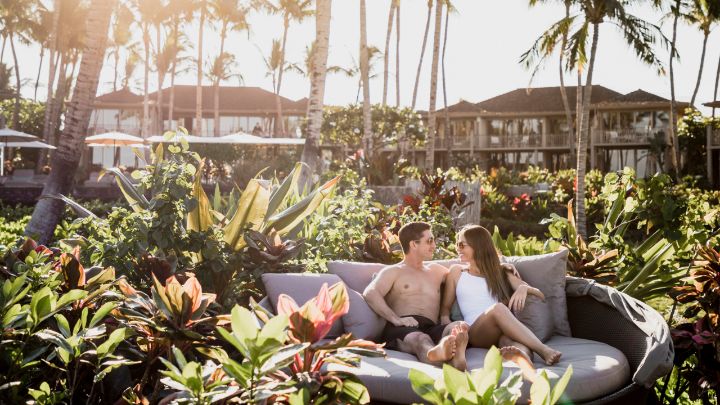 Our Couples' Nests are the finishing touch to our new Palm Grove Adult Sanctuary. While other guests are swimming and enjoying the pool, find privacy in your own secluded area of Palm Grove. The Couples' Nests not only include your own private lounging area, but also endless options for that extra bit of pampering you need. When you book our AMOUR package, choose from two spa treatment options. These treatments have been custom created by our Hualalai Spa massage specialists for guests to enjoy in the Couples' Nests.
TO BOOK ANY OF THE PACKAGES BELOW, OR FOR MORE INFORMATION, EMAIL US OR CALL US AT +1 (808) 325-8000. PRICES MAY VARY DURING OUR FESTIVE AND HOLIDAY PERIODS.
| | | |
| --- | --- | --- |
| PROGRAMS | | |
| DUO | Includes Sun Bum Day Tripper, cold-brew coffee, cold-pressed juice, Kona chocolate bar, assorted Macadamia nuts, bottled water and Taro Lavosh | Advanced reservations recommended |
| SIREN | Includes Duo package plus two daily cocktails, two fresh coconut waters and lunch for two | Advanced reservations recommended |
| AMOUR | Includes Duo and Siren packages plus two Amour spa treatments | Advanced reservations recommended |
AMOUR SPA TREATMENTS
Pono Lomi Lomi Sticks Hands & Feet Massage

Lomi Lomi is a traditional Hawaiian massage that uses the hands and carved sticks to realign the body, mind and spirit. Pono Lomi sticks are small versions of the traditional lomi stick, made of guava or waiawi wood, which enhance the deep-tissue massage on the hands and feet.
Island Hair Treatment with Neck & Shoulder Massage

Feel the essence of the island glide gently over your hair, neck and shoulders with our tropical lemongrass ginger oil. A pure blend of virgin coconut, Hawaiian kukui nut, avocado, macadamia and passion fruit oils, this treatment is specifically designed to penetrate deep into the hair to help repair, restore and hydrate, while relaxing the neck and shoulders.
To book any of these treatments, please contact a pool server while you are at Palm Grove pool.