All Food and Drink
Californian with Italian influence

Beach Tree

Taste, see, relax, be. Beach Tree is a lifestyle experience. It is a place where great food and intuitive service come together at the centre of the Resort. The essence of "barefoot elegance," Beach Tree restaurant has the feel of a Hawaiian beach house, where you can dine on the sand or in the open-air dining room as you savour Californian cuisine with an Italian twist.

Regional, Seasonal and Artisanal

'ULU Ocean Grill

Enjoy local seafood with flavours inspired by the Pacific rim, served steps away from the ocean surf and beneath a canopy of stars at our award-winning restaurant. The culinary philosophy is to begin with ingredients from the island and beyond – ensuring the freshest, most sustainable ingredients available. Working with over 160 local farms, approximately 75% of the food served is from the Island of Hawai'i, prepared oven roasted, flame grilled and wok fired – fusing the flavours of Hawaii with Pan-Asian techniques.

American Steakhouse

Miller and Lux Hualalai

Miller & Lux Hualalai is a new dining experience by celebrity chef Tyler Florence with an intimate club-like ambiance and views of Hualalai Golf Course's 18th green. Inspired by the cuisine and bounty of Hawaii Island, the menu features high-quality steaks from the best ranches in the country, a robust raw bar, fresh and sustainable seafood, and farm-direct vegetables. A thoughtfully curated menu of hand-selected wines and seasonal cocktails complement the cuisine.

Sushi and Cocktails

'ULU Sushi Lounge

Take a seat at the ocean-view bar or at the elegant, family-style table to experience Hawaii Island's freshest sushi and craft cocktails. Experience the nightly omakase menu where our tenured sushi chefs display the passion for their craft, creating artistically plated sushi, sashimi, and nigiri of the highest quality fish.

Cocktails

Beach Tree Bar and Lounge

Just steps from the water, our casual oceanfront beach bar offers deliciously fresh craft cocktails with a spectacular sunset backdrop, and all-day pupus.

Snacks and Shopping

Hualalai Trading Company

Stop at the Trading Company, an all-day social space for snacking and shopping, for a morning latte or post-beach ice cream.

In-Room Dining

Take in the views from your private lanai while enjoying our selection of In-Room Dining options, inspired by the diverse cuisine found throughout Hualalai, any time of the day, at your leisure. Let us pack a lunch for you to take on your off-property island exploration or on your departure flight. Whatever you crave, our In-Room Dining team is on hand 24 hours a day.

Seafood

Residents' Beach House

Nestled just beyond Waiakauhi Pond and the 18th tee box of the Hualālai Golf Course, is the Residents' Beach House. With casual lānai dining and menu of simply prepared seafood, this is a great venue to whale watch, take in an amazing sunset, or relax and sip on a decadent signature cocktail.

Dine alongside any one of our seven vibrant and relaxing pools by ordering directly from your chaise lounge chair or cabana. Each distinct menu was created to reflect the unique character of each pool experience, featuring signature cocktails and a range of gourmet options.
Let the flavours and scents of Hawaii unfold across your taste buds, as we introduce you to a world of culinary experiences that will light up your stay with every delicious bite in each of our Kona restaurants.
Featured Culinary Experience
Beach Tree Barefoot Table

Set on the beach in front of Beach Tree, up to 22 guests will enjoy a private, customized, Italian-countryside themed, family-style menu. Hawaii Island's freshest ingredients will be used and cooked alongside the table. Leave your shoes behind and enjoy a spectacular meal under the stars in paradise.

Learn More
Meet The Team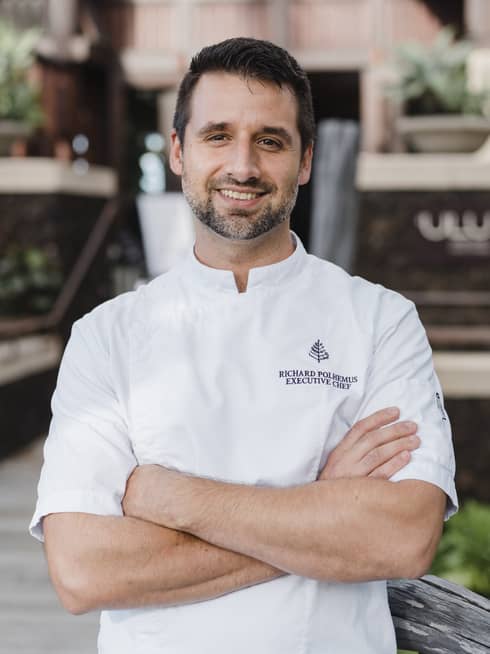 Richard Polhemus
Executive Chef
Chef Richard Polhemus joined the Hualalai culinary team in 2020, quickly adapting to the role of advancing the Resort's extensive hyper-local culinary philosophy. The close relationship of the Resort with the many farmers on Hawaii Island, as well as the flourishing Hualalai garden program, allows Chef Polhemus to tap into his passion for incorporating local, seasonal ingredients into his cuisine.
"My entire career has been grounded in a farm-to-table approach, I've always let nature and seasonality guide the creation of my menus."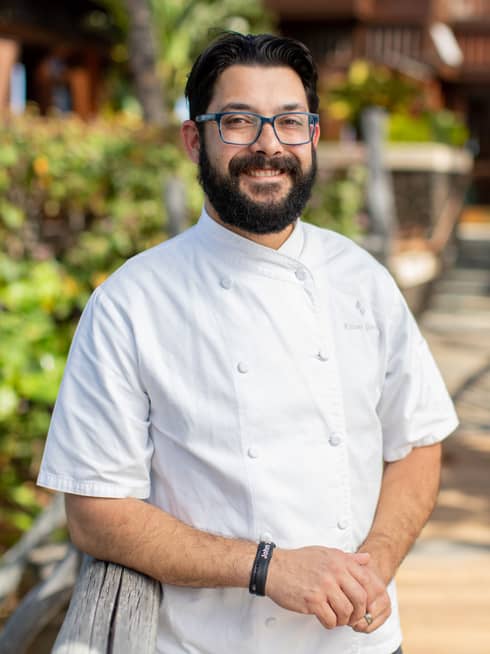 Kalani Garcia
Executive Pastry Chef
Born and raised in Maui, Chef Kalani Garcia started his career at the Hali'imaile General Store before joining Four Seasons 16 years ago. Chef Garcia has experimented with both sweet and savory local ingredients in his positions at Four Seasons, developing the signature desserts and breads our guests can't stop talking about.
"One of my favourite ingredients to work with is Ulu (breadfruit), a staple of Hawaiian diet. I love challenging myself to create breads and desserts using Ulu flour, which is something our guests have rarely experienced."