Discover Geneva's finest Italian specialties, given a seasonal twist by Chef Sena and accompanied by Italian, French and Swiss wines, in our Michelin-starred restaurant.
Hours
Lunch

Tuesday – Friday

12:00 noon – 2:00 pm

DInner

Tuesday – Saturday

7:00 pm – 9:00 pm
Signature Dishes
Lamb, Onion Tatin, Parmesan Ice Cream

Roasted Scampi, Assorted Vegetables, Sea Asparagus and Bisque

Wild sea bass by Chef Sena

Violet Artichokes, Vesuvio Falanghina Sauce
Events
Chef's Table at Il Lago

Enjoy a unique culinary experience showcasing innovative cuisine and wines by three inspirational female Swiss winemakers. Groups of up to 10 diners can experience an unforgettable culinary experience at our Chef's Table, with four tasting dishes crafted by Michelin-distinguished Chef Sena paired with a vertical wine tasting by one of the three winemakers. On each date, a winery representative will share details about the wines to be enjoyed that evening.
March 16, Annatina Pelizzatti, Annatina Pelizzatti
March 23, Ludivine Sper, Domaine Chappaz
April 6, Laura Paccot, Domaine La Colombe
For more information or to book, please contact +41 22 908 71 10 or email Illago.gen.dst@fourseasons.com.

Contact
The Team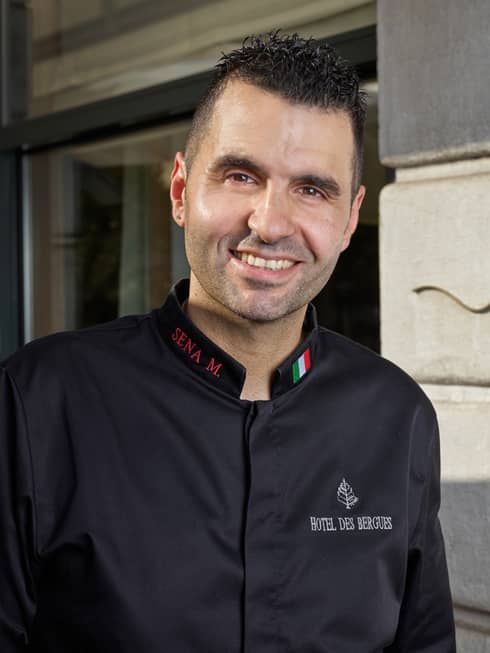 Massimiliano Sena
Executive Chef
Hailing from Sorrento, Italy, Chef Sena has worked around the world from London to Hong Kong, finessing his skills at top restaurants and hotels until his appointment in July 2016 at Four Seasons Hotel des Bergues Geneva – or "this fantastic boat," as he calls our lakeside Hotel.
"We've developed a special relationship with our guests. We have worked hard to earn their faith, and we're so pleased to see so many diners from around the world return over and over again."
IZUMI

Savour inventive Japanese-fusion Nikkei cuisine in our trendy rooftop oasis with views over the city and sparkling Lake Geneva.

Details

In-Room Dining

Ideal for time zone–hopping travellers, impromptu meetings or for a quiet, private meal, our extensive menu lets you dine in style in the comfort of your private space.

Details

Le Bar des Bergues

Geneva's most convivial meeting place features an all-day menu of imaginative light fare, plus innovative cocktails prepared by our talented mixologist team.

Details