Events
Every Saturday

Seaside Brunch

Go ahead, sleep in. Then join us at Sea Fu from 1:00 pm to 4:00 pm, when our savoury Okonomyaki Omelette and Akami Pizza are on the menu, and a DJ enhances the lively beachside atmosphere.

Every Day

Afternoon Tea

Meet friends and family in Shai Salon any day from 3:00 pm to 11:00 pm for afternoon tea in a stylish setting inspired by grand Middle Eastern architecture.

Football Tent

At SUQ, football enthusiasts can cheer on their favourite players while indulging in their teams' national cuisine. With plenty of screens at all angles, guests are guaranteed to experience every second of the action. Available as per daily match schedule.
The Team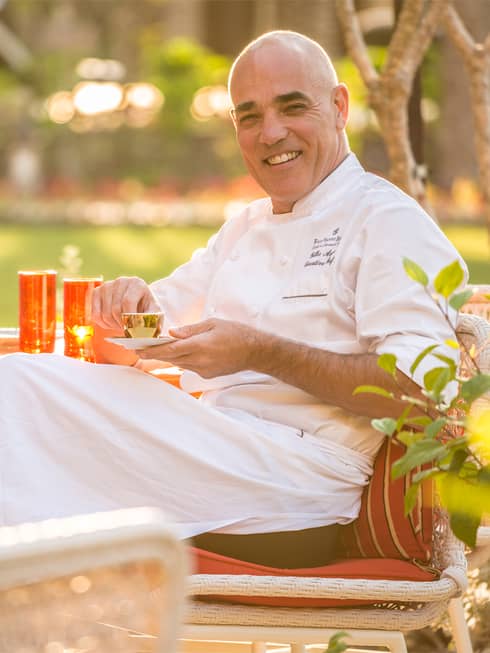 Executive Chef Gilles Arzur
Chef Arzur has plenty to be passionate about in Dubai, where he oversees five restaurants as well as in-room dining and banqueting. Raised in a small oceanside community in Brittany, he began cooking for his family at an early age, and his talent for contemporary cuisine is continuously inspired by the joys and challenges of creating menus with locally sourced ingredients.
"It is not just about getting the food to the table, but using service to share our passion for the food."
Culinary Experiences
Food is a fundamental extension of identity through which we are able to learn about new cultures. Dubai links the East and West, with influences from every corner of the globe.

Roger Geadah

Chef Concierge
Sit down to an intimate, customized dinner menu paired with panoramic skyline views in one of our open-air majlis, set within the tower above the Mercury Lounge.

A Meal You'll Always Remember

Toast the sunset with Champagne as we prepare a special dinner for two in our private villa overlooking the adults-only pool.

Details